When Satyajit Ray passed away in 1992, the world mourned one of the greatest Indian filmmakers, andalong-side, a 13-year-old girl found herself unable to get out of bed for the next two days. Having never met the man, the girl's parents thought she had lost it, but such was her love for the legend and his work. It was his films that inspired her to become an actress, and even while her family thought she was living in a fantasy world, she knew where her passion lay. The young girl is today a National Award winning actor, who has claimed a place for herself starting off, with absolutely no connections in Bollywood.
As we entered the photo studio where Vidya Balan was being shot, RJ Jhanvi's familiar voice from Lage Raho Munnabhai rang in my head, "Good morning, Mumbai!" Hidden behind all the cameras and the lights, there she was smiling and laughing. Sitting in a corner waiting, I was reminded of all her iconic roles, from Silk Smitha in Dirty Picture, to Begum Jaan; a pregnant wife on a quest for her husband in Kahaani to finally Lalita in Parineeta. I caught myself humming Piyu Bole, Piya Bole, a song I grew up listening to. Snap snap, click. Balan owned the camera, not even the slightest hesitance. Maybe, she really was born to be an actress.
Yet, it was only after her breakdown following Ray's death that her parents started taking her passion for acting seriously. Until then, her father would always say, "We will cross the bridge when we come to it." For Balan, her best support system has always been her family. Like most families, Balan's also had their concerns about the film industry but they continued to support the passionate teenager in her endeavour. At 15, her mother and sister accompanied Balan to her first audition, and sat through 12 long hours. And not just one, her mother went along to all her auditions, when she was just starting out. "I remember my mother often asking me, 'Are you sure you want to do this?' We have had our differences, but my family continued supporting me through it all," says the 38-year-old. After every rejection or a flop, her sister, Priya Balan, an advertising professional now, would encourage her with all sorts of stories, "Amitabh Bachchan had 11 flops before he became a superstar, Tabu waited six years for her first big break..."
When asked about her first experience in front of the camera, she recalls how nerve-wrecking it was. "I looked at myself on screen, during the test shot, and I thought to myself, 'Amitabh Bachchan and Shabana Azmi watch out!' But I hope no one ever finds those tapes, because I was horrible," she laughs. But it was her sheer instinct and passion that built up her confidence and acting skills in the field. Unlike most other established actors, she was an outsider, with no formal training. As a young actor, she recalls how, often she would pick up the wrong skills and proudly flaunt them. For instance, after reading a piece somewhere about theatre acting skills, she assumed it was important to enunciate every word, without realising that it didn't work in front of the camera. It was only after she started doing commercials that she understood the various facets of acting and the industry she had chosen to be a part of.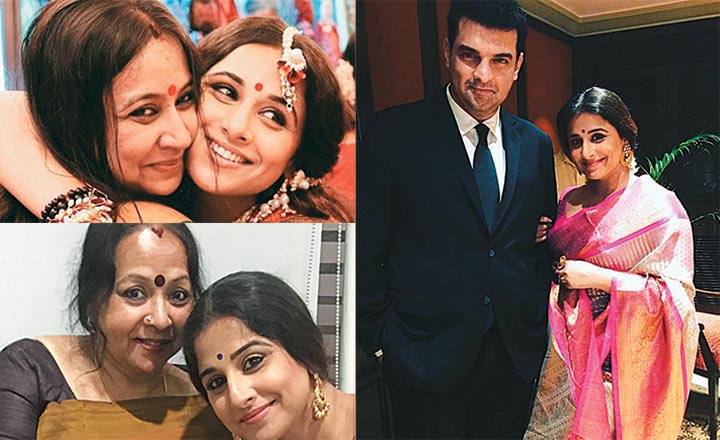 The fame game
While she was absolutely determined to work as an actress, the journey to stardom was not at all easy. With 12 shelved projects in Malayalam and Tamil between 2000 and 2003, her confidence was completely dented. "As an established actor today, I have some backup when a film doesn't do too well — it's comparatively easier to recover. Back then, I would be shattered, and to constantly have so much rejection was absolutely disheartening," shares Balan. Her way of dealing with setbacks and coping with failure was verbal diarrhoea. "My family got to hear every little detail, even things that they could do without," she laughs. During those times, a Sai Baba temple near her house became her safe haven, where she would go and cry for hours together. Out of protectiveness, her mother would sometimes voice her disapproval, which only made Balan a lot more anxious. She would pray, "If this [film industry] is not for me, then please show me some sign."
But through it all, no part of Balan was ready to give up — every night she would go to sleep thinking she could not continue on this path anymore, only to wake up wanting to become an actor. "I desperately wanted to express my feelings as an actor but, I never chased fame. I knew very early on that fame was only a by-product, it was never my end-goal." After a few months of failure, she did try her hand at being an assistant director, but soon realised it was not something she could pursue. In fact, she considers it to be the toughest and the most thankless job.
She knew within her, that she was meant to become an actor. So, she would take up any work she would get. Even when the Film and Television Institute of India would call her for small projects, she would ask for conveyance, stay at the college hostel, finish the project and come back — all she wanted was some form of exposure in the film industry.
It was however, a TV show — Hum Paanch, in 1995 — that got her into the limelight. Produced by Ekta Kapoor, this light-hearted, Indian family sitcom also happened to be a show that Balan's family watched regularly. She remembers her mother saying, "If you were to pick a role, you must act in a family show like this." It was almost like her mother's prayers were answered when Balan was asked to audition for a replacement role for one of the five lead actors. "I was extremely calm when I got the call. Ekta asked me why I was so calm, when others would've been overjoyed hearing about the opportunity. And I told her 'I take everything with a pinch of salt.' But now when I look back, it sounds preposterous to me," she laughs. Although, it wasn't a very popular character, people started recognising her. That's when the bug of fame first bit her, and she knew, it was just the beginning.
Glitz and glamour
It was as Lalita in Parineeta that Balan made her grand entry into the world of Bollywood in 2005. Like most debutants, the response was extremely overwhelming for her. "The phone at our place would just keep ringing, non-stop. The media, who had never heard of me, couldn't wait to get an exclusive with me," she remembers.
After Parineeta, her entry into commercial films like Heyy Babyy and Kismat Konnection, made her realise that 'fluffs' weren't meant for her. "At that point, I was a 26-year-old, who was new to Bollywood and I felt, commercial cinema was the way to go. However, it only made me realise what I wanted to do," she explains. Dealing with flops is never easy, and Balan thinks of it as a breakup, she says "You don't want to listen to the songs from the film and you don't want any memories creeping up, you just want to push it." After few such flops, she realised that her instinct is the only thing she should rely on instead. Her sister would often tell her, 'acting is not just about facial expression, it is about how you feel and how that gets expressed.' Balan took this advice very seriously and went on to bring about a revolution in Hindi cinema with her unconventional and female-centric films such as The Dirty Picture, Ishqiya, Kahaani and Begum Jaan.
While criticism is part of the business, for a newbie to hear, "I don't know how [Balan] can walk out of her house with clothes like that. She should just be kept under house arrest" could not have been easy. She talks about how with active social media users, trolling is even more prevalent now. "I have a huge problem with people giving unsolicited opinions on social media platforms and delivering unwanted sermons on everything," she explains. But she reveals her coping mechanism for this: venting it all out to her support system or being conveniently deaf. "It had only been two years into the film industry; it is all hunky-dory, until you suddenly feel like a victim — like everyone is out there to get you. And at that time I stopped listening, reading or watching entertainment news entirely and even now, it stays." But overtime, she believes, the key to success is accepting yourself and being true to yourself.
Ishqiya, she believes was her first instinctive choice and probably what became the turning point of her career in 2010. While researching for a role is an essential part of Balan's preparation for films, it is also the effort that she puts into understanding what the director wants. She explains, "I sit with them and talk for hours, sometimes about things that have nothing to do with the film. It is to simply understand what the director is thinking." So, what has been the toughest role for her? The Dirty Picture, hands down, she says. There had already been enough talk about Balan playing the role and if she could pull off a character like Silk, in those skimpy outfits. "Such speculation made me question my decision to actually do the film — could I pull it off? But a part of me knew, I wanted to do the film. So I sat down with my family to ask for their consent, since there were sex scenes and partial nudity involved. But once my family was alright with it, I had all the confidence I needed," she explains.
Surviving in Bollywood, let alone being successful was not easy for Balan — especially since she was a late entrant. Her passion and hard work came through, when she finally managed to carve out a niche for herself. Balan has been a lone ranger in the world of glamour where you can't get ahead easily without connections. "I have never understood how people manage to maintain friendships. The work consumes so much of you." She has some friends in the industry, but none she would call her 'sounding board.' She feels, being involved with a particular group of people on a film project for about three months, doesn't leave you with much time to socialise. While she does have her family, in terms of professional advice she now turns to her producer-husband, Siddharth Roy Kapur. "Siddharth empathises with me and gives me informed advice, since he knows how the film industry works."
More recently she has been asked to join the Censor Board, something that she is very much looking forward to. As a strong believer in 'to make a change, you have to be the change' she feels it's her time to make a change. In the future, she wishes to do biopics such as Indira Gandhi, MS Subbulakshmi and Meena Kumari. Balan's personality and passion is reflected in the way she talks, and as her famous dialogue goes, she has a lot of "entertainment, entertainment aur entertainment" in store for us in the coming years.