Bhuban Badyakar, a humble peanut seller from West Bengal's Birbhum district, would often sing this Bengali song to get more people to buy his raw peanuts. As the story generally goes, someone posted a video of Badyakar singing the Kacha Badam song on the streets last year and it became a global rage. Soon, everyone—from Bollywood celebrities, musicians, social media influencers from across the world to even general users—was releasing versions of the song along with a viral hook step. Badyakar himself did a remixed version of the song with popular Haryanvi singer Amit Dhull, which only added to the song's fame.
That is the power of social media today. A little-known person from a never-heard-of place can become an international name in a matter of days. As more people join this universe, thanks to the heavy use of smartphones—there are over 637 million smartphone users in India, spending an average of 4.6 hours per day consuming content—and the data becoming cheaper—just $0.68 per GB in India—the reach and relevance of social media and power of its influencers, big and small, are only set to grow.
According to Kalaari Capital's Creator Economy report released earlier this year, there are 80 million creators and knowledge professionals in India. Of these, at least 1,50,000 are professional content creators who are able to monetise their services effectively. About 50,000 out of these are creators on regional short-form video (SFV) platforms with over 60% of their audience coming from outside metros and regional content driving their consumption. That means, it is Bharat where a massive chunk of India's influencer ecosystem is flourishing.
But it has been a bumpy ride. Content creators from India's hinterland, who once reigned over TikTok, a popular Chinese platform that was India's first large SFV platform with over 200 million users and 20 million creators posting at least one video a month, had to start from scratch after the app was banned in June 2020.
Two years on, while the space is vibrant again, now occupied by specialist SFV apps like Moj, MX TakaTak, Josh, Roposo, Chingari and Zili, and global giants like Instagram and YouTube, Bharat's influencers are still trying to find their feet, gain back their TikTok popularity and make other platforms their own as influencers. All this, while dealing with a geographical divide when competing with their Tier I counterparts.
Bharat Calling
A 2021 Bain & Company report, titled Online Videos in India: The Long and Short of It, reveals that the explosion of the SFV market in India since 2020, with more than 200 million Indians having watched SFVs at least once in 2020 and active users spending up to 45 minutes a day on them, has changed the game for influencer marketing.
It says that by 2025, 600-650 million Indians will consume SFVs and a high proportion of vernacular content will aid the space to scale up.
"Today, creators from Tier II and Tier III cities account for more than 65 to 70% of India's total creator base. Also, as smartphone and internet penetration in these markets continues to rise, it has a knock-on effect on creators gaining popularity and an engaged audience. In addition, unlike urban creators, some creators from Tier II and Tier III cities become local celebrities because of their social media presence," says Rahul Singh, co-founder, The Good Creator Co., an influencer management platform.
The credit of vernacular India leading the SFV wave certainly goes to TikTok which, in just two years of its launch in India, saw the country becoming its biggest market. What worked most for TikTok was its user-friendliness and availability in 14 Indian languages. Plus, by being a fully video-based app, a first for India, it blurred the barriers of the country's literacy divide to a great degree, giving a voice to hundreds of millions of first-time internet users in Tier II, Tier III and even smaller town.
The ban on the app in 2020 created a void for these regional TikTokers, but also presented other platforms an opportunity to tap into its massive, mostly regional, user base. Soon, big international players like Instagram and YouTube jumped in the fray with improved offerings. While Instagram introduced Reels, its short video format in India, YouTube came up with YouTube Shorts.
The space also saw homegrown platforms such as ShareChat, Moj, MX TakaTak, Josh and Chingari emerge in a bid to make the most of the TikTok ban. Today, these five players, led by Moj, account for 85% of the monthly active user (MAU) base of SFV platforms in India, as per the Bain report. Moj and Moj Lite (earlier MX TakaTak) have over 300 million MAUs, while ShareChat, also the parent company of Moj, has 180 million MAUs. These numbers are constantly rising because the apps are available in at least 15 regional languages.
With the reach of social media increasing across the length and breadth of the country, the number of creators emerging from smaller towns is also going up. "About 60-70% of creators on most homegrown apps are from Tier II and Tier III cities. In fact, 92% of the most watched content on YouTube is vernacular in nature. Only 8% is in English," says Raghav Anand, partner and leader, digital media (Africa, India, Middle East), EY.
Interestingly, Instagram, which is still considered to have a strong base in urban India, is also witnessing a growth in popularity in smaller towns.
Giving the examples of Meethika Dwivedi aka @the_sound_blaze from Lucknow, a comedian and actor with two million followers, and Naveen Singh aka @bihariladka from Ghaziabad with over 1.6 million followers, Manish Chopra, director and head of partnerships, Meta, says, "Both regional talent and regional content are growing rapidly. Several creators on Instagram are from the hinterland and their success is only cementing Meta's roots in Bharat."
The content is also becoming more nuanced as more young people are using their dialects to build a loyal following, he adds.
The Great Divide
"People still ask me what my profession really is. What do I do for a living? Paise kaise kamate ho? Naukri karte ho? ('How do you make money? Do you have a job')," says Prateek Bharadwaj, one of the top-rated influencers on Moj with a massive following of 3.5 million.
With a keen interest in acting, Bharadwaj, from the Garhmukteshwar town in Uttar Pradesh, began his social media journey by posting videos on TikTok and later moved to Instagram and Moj. Today, he claims to earn close to Rs 1 lakh per month and has a huge following in Tier I cities as well.
Punjab's Tina Sharma also started off on TikTok and chose Chingari and Instagram after the ban. Her funny videos have garnered her 5.58 lakh followers on Chingari and 3.44 lakh followers on Instagram so far. "I have been on Chingari for two years now, and I am earning good money. I wish to continue doing this in the future as well," says the influencer, who wants to become an actor but does not mind being a creator as long as it pays her well.
Despite the rise of empowered creators over the last decade, the distribution of income among them remains skewed. While social platforms solved the problem of discoverability, most of the wealth that these creators created was captured by the platforms themselves. The current monetisation options, as a result, are still mostly ruled by the platforms.
There are even issues about the original creators getting short-changed once their creation goes viral. In Badyakar's case, many were concerned about the Kacha Badam singer not getting credit. He even reportedly said that he had not made money even after his song was everywhere.
Also, the share of earnings from brand associations is highly tilted towards Tier I influencers. While the volume of brand assignments is higher for the Tier II and Tier III influencers, in terms of revenue, they just take about 10-20% of the pie.
Akhilesh Yadav, one of the top-rated gamers on Facebook Gaming, can relate to this divide. Currently earning between Rs 1.5 lakh and Rs 5 lakh a month, 24-year-old Yadav, the son of an autorickshaw driver from Nashik, agrees that the Tier I gamers have a clear advantage over people like him. "They have better equipment, are more polished and get better opportunities. Someone like me has to first work towards earning and buying more advanced gaming equipment to be able to achieve the same quality of gaming," he says.
"India still has to find a sweet spot around branded opportunities for the smaller influencers so that they get maximum mileage. These influencers, even though a rising number, earn just about 20% of what is available in the ecosystem," says Sagar Pushp, CEO and co-founder, ClanConnect.ai, a platform that manages influencers.
Even EY's Anand agrees that there is certainly a difference in rates between the regional players and the metro influencers. However, he points out, "It is seen that nano- and micro-influencers (who are mostly from the Tier II and Tier III cities) have a lot more impact in influencer marketing. Many brands are preferring them because these influencers are helping them reach local audiences and giving them better return on investment."
Brands and agencies seem to be waking up to that fact. They are now seeing that there is a certain amount of variety that these influencers bring in which they would like to tap into and are finding innovative ways to engage with them.
For brands to engage with them, ClanConnect launched an interaction model called the cost-per-view model. "Through the model, brands can engage with the creators on a cost-per-view basis—how much money they get paid depends upon how many views their video gets. The engagement then becomes extremely cost effective for brands, particularly the ones which are a bit wary of trying out these influencers. For the influencers, it becomes a big opportunity of monetisation," says Pushp.
This buffer is not available to the big Tier I influencers who mostly work on a branded partnership model with their fee being agnostic to the number of views received. So, if the campaign works, it is great for the brand, but if it does not, the brand cannot do much about it.
Bharat after TikTok
After the TikTok ban, many apps reached out to creators who had a strong following and invited them to join their platforms. While unpaid, the optimisation of creators' videos by the platform helped them generate views. As a result, some creators successfully migrated to other social media apps.
For some creators, TikTok was a ladder to fame and the only source of income during the initial months of the lockdown that rendered people jobless. The instant recognition that they got from the app could not get replicated.
Mahesh Kapse, a portrait artist from a village near Lonar in Maharashtra's Vidarbha district, had started posting videos of his art on TikTok and, within months, garnered a whopping 1.25 million followers. He even collaborated with Australian cricketer David Warner and Bollywood actor Riteish Deshmukh during his TikTok stint. His popularity also helped him earn a decent monthly income during the lockdown. Today, he is visible on other social media platforms like Instagram, YouTube and Moj but has not been able to match the success he got on TikTok.
"Initially, the ban came as a shock, because in just two months, the amount of fame I received on TikTok was phenomenal. While I am active on social media, my level of engagement and the zeal to post videos of my art has gone down," says Kapse.
Unlike him, Dimple Paul, who had close to two million followers on TikTok, has kept herself active on other apps, like Instagram and Chingari, where she has 4.74 lakh and 68,000 followers, respectively. Despite being successful, Paul, too, has not quite tasted the same success. Few, like Bharadwaj, are lucky to have been able to keep up their social media relevance and fame even after the ban.
"Several TikTok creators are now active on multiple social media platforms, including Instagram, MX TakaTak, Moj, YouTube Shorts and others, but they may not have regained their TikTok audience or earnings," says Singh. Is it also to do with TikTok's user-friendliness? "Absolutely. Only Instagram Reels comes close in terms of creator tools," he adds.
Most believe that the space TikTok was able to crack, no other homegrown social media app has done yet. "They are, however, not far away. As the short video app space consolidates, some companies will become large enough to invest in their product, creator acquisition, content algorithms, ad business and so on," says Singh. But he agrees that creators on the SFV apps (as against TikTok) earn significantly less from brands than those on Instagram or YouTube.
Having said that, with over 448 million social media users in India, a number that is estimated to touch over 650 million by 2026, the impact of the TikTok ban may seem to be fading out. "Initially, of course, there was a deep impact, with creators suddenly feeling left in the lurch. The effect has almost worn off. Covid also played a big role in keeping people glued to social media and encouraged TikTok creators to migrate to other apps," says Pushp.
In order to encourage and support their creator communities, large platforms have also launched creator-focused funds. According to the Kalaari Capital report, Meta has announced an investment of over $1 billion in programmes that give creators new ways to earn money for the content they create on Facebook and Instagram. YouTube plans to pay creators up to $10,000 per month for making videos on YouTube Shorts and invest $100 million into creators through this fund. Moj and Moj Lite both announced a $13.5 million fund to support their upcoming Indian creators.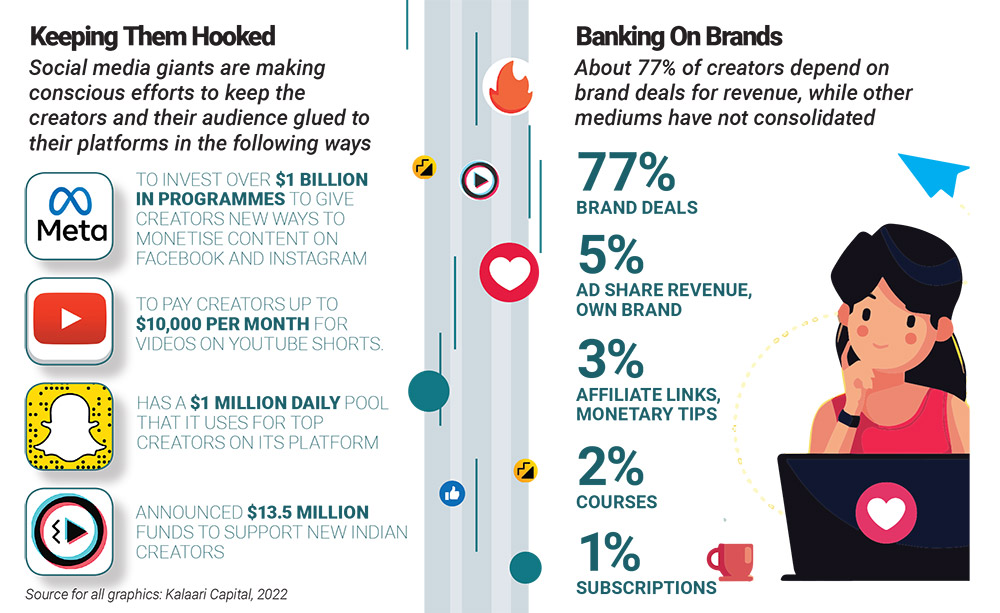 Platforms are also giving influencers reasons to stick with them. "While the homegrown platforms are getting brands spends, it is not as much as on Instagram or YouTube. But creators are still sticking to these platforms, because they also pay per video to these influencers, which is an additional revenue source for the influencers," says EY's Anand.
To expand their creator ecosystem, Moj recently launched the Moj for Creators programme and introduced different revenue avenues. It plans to facilitate creator earnings worth Rs 3,500 crore by 2025. It also introduced virtual gifting, which allows users to send virtual gifts in the form of digital tokens to creators.
Chingari moved a step further to incentivise users as well. It offers GARI, an in-app token for activities like uploading, watching, liking, commenting and sharing videos, to its creators, influencers and brands to monetise their content. These tokens can be traded and withdrawn to their accounts on crypto exchanges.
"Major tech behemoths have hundreds of millions of users on their platform, but the money is concentrated either with them or with the big creators/influencers. There is nothing for users who are spending hours on these apps. We wanted to disrupt this arrangement to incentivise both users and creators," says Sumit Ghosh, CEO and co-founder, Chingari.
There is no denying the fact that it was TikTok's ban that opened the floodgates of homegrown apps. Ghosh agrees that his platform witnessed a huge jump in app downloads immediately after the ban came into effect but adds that the app has continued to make sustained gains on part of user acquisition over the years as well. "We are making significant investments in understanding the needs of India's growing internet audiences and delivering the best-in-class solutions for them to create social and shareable experiences," he says.
Even for ShareChat and Moj, it came as a booster dose. "In just two years, short videos have taken the largest slice of the digital video pie, with significant growth in consumer adoption," says Shashank Shekhar, senior director, content strategy and operations, Moj and ShareChat.
The platform has witnessed videos going viral pan India. Bullet Song, from the Telugu movie The Warrior, gained high traction pan India on Moj, receiving nearly 17 billion plays within days of being released in June. "Similar trends have been observed in Tamil (Baby Nee Sugar and Mayakirriye with over 1.2 billion views), Bhojpuri (Lenden Ke Chakkar Mein with 11 billion views), Punjabi (Pani Di Gal with 615 million views; Rog with 150 million views; Mitti De Tibbe with 210 million views), Bengali (Deluxe Mamoni with 317 million views), Marathi (Radha Radha with 300 million views) and Haryanavi (Saiyaan with 161 million views)," adds Shekhar. For ShareChat and Moj, what worked was the relatability and the comfort of showcasing talent in the language of their choice, he adds.
The Social Shift
Along with a few macro factors, the rise of the creator economy and the widening social media audience have taken place because of certain fundamental changes in consumer behaviour. In a country obsessed with Bollywood and cricket, the audience now wants to follow people they identify with. This is also slowly leading to a shift in power from large brands and corporations to individual creators.
The Kalaari Capital report lists reasons behind the evolution of the social media ecosystem: greater emphasis on individuality and ownership over the way we live, work and express our creativity; reduced attention spans, increased need for bite-sized, instantly gratifying content leading to the rise of micro-blogging and short-form videos; desire to form strong communities even in niche segments; increasing emphasis on authenticity of content and products over high-quality production; and the desire to self-curate the type of content consumed rather than be fed curated content by third-party distributors.
"As a society, we now embrace imperfection. There is also a rise in interest in how we find solutions to social problems as individuals, because of which public spaces (such as social media) are seen brimming with these narratives about biophysical triumphs and tribulations," says Dr Anjali Mukherjee, head, sociology department at the University of Calcutta.
She says that social media is significant as it allows us to have synchronous communication and influencers are able to use the platform to make content relatable. "Even the followers do not want any ideal notion of the perfect when they watch any social media content. Therefore, brand endorsements by perfectionists and the elite are not as attractive as it used to be," Mukherjee adds.
Brands, too, are understanding this shift. While the quality of content continues to be the biggest differentiator between the Tier I and Tier II/Tier III influencers, mostly due to the availability of high-quality equipment, small-town influencers score high on relatability.
Giving an example of a top hair colour brand which wanted to engage with its target group in Maharashtra through small-town influencers, Pushp says, "We engaged with creators from Kolhapur, Sangli and Satara, and, surprisingly, the brand generated 3x the return on investment while spending a much lesser amount than they did last year." The comparison is with a similar campaign the brand had done with Tier I influencers. "In the next three to four years, the revenue sharing will become 50-50 or even more in case of Tier II influencers," he adds.
Pushp's optimism rests on the growth of the creator economy, which looks robust presently but has also shown signs of saturation. Going forward, India could see its creators trying to become more effective owners of their content, something that has been more controlled by the platforms till now. Experts believe that as the industry evolves, creators will possibly create their own monetisation channels with their fans, forcing platforms to come up with better engagement and creator tools.
If such a cohesion takes place, not again will someone like Badyakar have to complain about not being given due credit or royalty for his song that was monetised by scores of others.