In 2016, Beena Thomas found herself in a tight spot. On one hand, she had a flourishing career as the head of the Enterprise Business Systems department at Chennai-based technology service company Doyen Systems, which she had joined in 2012. On the other, due to a personal emergency, she and her family had to relocate to Kerala immediately. Doyen Systems did not have an office in Kerala, which only meant one thing — she would have to quit her job. With a heavy heart, Thomas decided to bite the bullet and approach her manager to inform him about her decision.
However, what happened next left her completely surprised. "When I told my boss about my predicament, he immediately offered me the option of working from home from a remote location. The company also temporarily eased my workload till the personal crisis was overcome," says Thomas, who currently heads the Custom Development department for the company from Kottayam, Kerala. She has been working from home for over three years now, and says that there has been absolutely no difference in either her productivity or the organisation's expectation from her, making it a win-win proposition for both.
While relocation might be one of the reasons for an employee to work from home, it is by no means the only one. Take for instance, the case of Anisha Khanna, who heads Supply Chain Management at Gurugram-based Comviva Technologies, a value-added services provider for mobile operators. She is the mother of fifteen-month old twin daughters, and juggles between her personal and professional commitments to the best of her ability. But some events aren't under her control — such as the babies falling ill, or the caretaker taking a sudden day off.
In such cases, instead of taking the day off, Comviva offers her the flexibility of working from home. "It is extremely comforting to know that I can simply call my manager and take permission to work from home. As long as we deliver on our work, nobody views it negatively," says Khanna. She adds that when employees of the UK or US-based organisations are working so well sitting in an office in India, "I don't see why in India, in the same city, it will not work!"
Khanna's optimism points to the increasing popularity of the concept of 'work from home' (WFH), which allows employees to continue with their work from the comfort of their homes. Don't you think making the all-important presentation might just be a tad easier if you were in your comfortable pyjamas, sitting back on your bed and working? Or when it rains incessantly, wouldn't it be easier to turn on the laptop at home and work, instead of wading through flooded roads and stranded trains?
Well, you aren't alone. WFH is gaining ground, especially as an option for urban, working women in the country. Roydon Gonsalves, director, personnel search services, Ray & Berndtson, says that companies have learnt the importance of creating an environment where they can retain talented and high-performing women workers. "We have to recognise that they have other responsibilities as well, and should support them as much as we can," he adds.
Experts say that, today, WFH option has a direct bearing on retention or attrition rate of the company. "Therefore, from being a marginal, fleeting phenomenon, work-from-home policy has become a core operational and strategic option," says Manish Pajan, an independent business and leadership consultant.
Companies such as Doyen Systems, Comviva, HP, Mahle Anand Filter Systems and First American (India) are among those who allow flexible work timings and the option of WFH for their women employees. Not surprisingly, they are a part of the top 25 of, a list released by Great Place to Work Institute, India.
Growing Need
The concept of WFH was first introduced in India in the mid-90s, when the domestic economy opened up, paving way for an influx of foreign companies. With it, they brought in the flexible work culture of their home market. Indian IT and software companies soon began dabbling with this concept. "The Indian IT and software companies, who had major customers as well as employees based in the US, were among the early adopters," says Pajan.
Eyebrows were still raised when an employee was allowed to 'work from home', but an attitudinal shift had begun.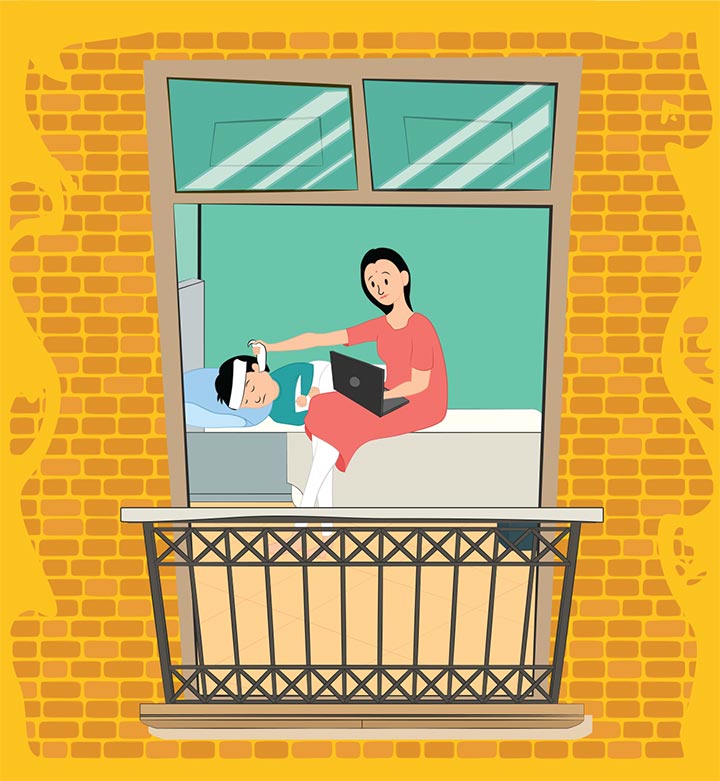 This shift was owing to the realisation that a vast majority of women quit their jobs when it becomes difficult for them to manage both personal and professional commitments. Marriage, motherhood, lack of support at home and transferability of husband's job are among the most common reasons for women to quit the workforce. As per India Skills Report 2019, participation of Indian women in the workforce had dropped from 32% to 25% between 2016 and 2018. Further, according to data made available by the Ministry of Statistics and Programme Implementation, women make up 42% of new graduates but only 10% (approximately) reach senior-level management roles and 1% reach the CEO level.
Gonsalves, who helps companies recruit for CxO and non-CxO positions, agrees that women are "missing" as you go higher up the chain. "Many clients would say they have diversity issues and need to hire a woman for a senior position. But it is a real challenge to find a talented woman executive to fill that vacancy," he adds. A skewed gender ratio means less diverse inputs in any decision-making process in a company.
Taking cognisance of these realities, progressive companies in India began drafting policies that provided women, among other things, a more flexible work routine.
In most companies, WFH has been left to the discretion of the direct manager. At Gurugram based-Mahle Anand, for instance, WFH was created as a policy for women returning from a maternity break but the department head takes a call on extending that option. "This is very important in today's time. On one hand, we have a generation who looks forward to flexibility in almost everything, on the other, it helps save cost. Certain roles may not need physical presence and therefore, office space can be used optimally," says Ruchi Dhawan Sharma, head of HR at Mahle Anand, an auto parts manufacturer.
Shilpi Wadhwa, deputy general manager, corporate HR, Mahle Anand, made use of the WFH option when she was facing a serious health issue a year ago. "There was no impact on my career progression. I was in constant touch with the manager and knew the day's priorities. So, work isn't about punching in and out," says Wadhwa.
Similarly, at First American (India), Giridhar Rajagopal, country manager, says that WFH option is available to anyone who completes their confirmation with the company, especially women employees returning from maternity leave. "Bringing in the right policies that support professional growth is the key to retention and employee satisfaction," he adds.
While earlier the companies gunned for work-life balance, today, they aim for work-life integration, says Sandyp Bhattacharya, chief people officer at Comviva. "We have recently launched flexi-working 2.0 programme, which almost doubles the number of days one can work from home. Going forward, the programme will provide 60% work-time option from a near-home satellite office located in our major R&D centers in India," he adds. The company also offers its employees the freedom to choose mutually convenient work timing, or opt for a combination of WFH + in office. It even lets you go on a paid sabbatical on completion of three years.
This means, you can practically choose when to work, where to work and how to work. Exactly the way millennials like it. Employees such as Hanu Bhambi, senior technical manager in Digital Lifestyle Solution product unit at Comviva, say that such freedom has allowed them to continue their jobs, despite personal hurdles. Bhambi stays in Delhi and finds it difficult to travel to the Gurugram office every day.
Like Comviva, HP too has the Family Flexible Work Arrangement Policy, under which employees (expecting parents, returning mothers and employees caring for their child/immediate family members) can choose to work from home for four hours a day, for a minimum of three months and a maximum of 12 months. "Workplace flexibility is a critical requirement to meet the often-competing demands of work and personal life. Employees appreciate organisations with work-life balance initiatives and tend to invest more in work," says Binu Mathew, HR director — India.
Employees at HP hold the same sentiment. Vijaya Sukankara, who works at the Bengaluru office, says that like every mother, her greatest challenge was to leave her child under the care of a full-time help and step out to work after the maternity break. "There were times when I pondered if I was giving my best at work or whether I was being a terrible mom for not being there for my child round the clock," she says. However, the managers at HP allowed her the option of working from home whenever required. "There is no other place in the world I wish to be but HP," she says with a smile.
Another tech firm that knows how to keep its employees happy is Doyen Systems. Here, any employee working beyond 10 pm is entitled to one day of WFH and there is a mandatory WFH option for women working on international projects beyond 7 pm. Many of their projects are US-based, so employees start at 2 pm or 3 pm and stretch till 12 or 1 am.
Srividya Srinivasan, who heads human resources at Doyen Systems, says that formulating a WFH policy also gives everyone an equal chance at availing it. "There are many women in those projects, and the WFH option was extended according to the project manager's discretion. That isn't good for an organisation, because everyone should get the same treatment," she says.
Over and above this, Doyen Systems extends the WFH option for employees in urgent need. Like Thomas who operates from Kerala, another high-performing employee, Jeevitha, wanted to relocate to Hyderabad post marriage and had resigned in 2016 after a three-year stint with Doyen Systems. However, in 2018, she rejoined the team and now remotely works from Hyderabad, managing the recruitment process for the company.
"We live on the outskirts of Hyderabad and travelling to any IT company would mean a 1.5 hour journey one-way. I came back to work only because it was Doyen Systems, and because I could log in from home," says Jeevitha.
Similarly, Sathya Naresh, who had joined the Custom Department last year, received a huge setback when her mother was diagnosed with breast cancer. "After the surgery, she was advised complete bed rest. But I could not leave the job due to financial constraints. At the time, the company allowed the option of working from home despite me having just joined," says Naresh.
As is evident, WFH is no longer a pipe dream. Nor is it limited to the start-up, freelance or 'gig' economy, for which WFH is an economically viable option.
Measuring Impact
It goes without saying that the 'need' for work from home was always present. But the tools to take care of this need did not exist for a long time. Telegraph, fax and snail mail wouldn't really make the cut. The digitally-connected world has changed that. Besides calls, emails, video conferencing and apps that can act as a secretary, added layers of security such as fingerprint log-in and private servers when operating out of office means that it is possible for employees to work anywhere, anytime. In fact, Gonsalves chuckles as he says that regardless of a company having a WFH policy, work does come home. Therefore, it is only a matter of time till it gets formalised as a policy across more organisations.
To be sure, it isn't just employees who benefit from a WFH policy. Companies, too, see a huge advantage. Firstly, it saves the company the cost of hiring and training new candidates. That's because companies who have incorporated WFH as a core policy see a sharp decline in attrition rate among women employees. "No woman from our company has resigned in the last two years," says Srinivasan. Sharma and Bhattacharya concur, and say that they have seen a drop in attrition amongst women who otherwise would take career breaks.
Secondly, Ajay Shah, head of recruitment of TeamLease Services, a leading human resource comapny, says that WFH adds to the much-needed diversity — in gender, regional and demographic — in offices. "Thanks to technological today, a progressive management can hire anyone, anywhere, as long as he/she has the required skill," he says.
Third, there is a spike in productivity, says Khanna, as women don't need to worry about booking a cab or missing their train to travel back home. "They don't wait for the clock to strike six to pick their bag and leave. Instead, they adjust their routine around their work to maximise output. Very often, they end up working until late in the night as they are equally passionate about their career as someone working from office," says Gonsalves.
Fourth, WFH ensures that a company's business is uninterrupted. "It is not merely an employee benefit, but a tool to ensure continuity of critical talent on an assignment when a break due to her personal needs could hurt business," says Bhattacharya, adding that the fifth and one of the key benefits is isolation. For certain jobs that need focused attention without distraction, WFH can truly raise the productivity graph.
Conditions Apply
Bhattacharya's point leads us to a crucial 'condition' in the work-from-home policy — not every role is suited for WFH. Broadly, it works for jobs that can be done in isolation, but would not work so well in jobs requiring team work.
For example, roles in software/IT, creative fields, knowledge-intensive or professional service providers and consulting companies such as accounting and legal service are better suited for WFH than customer-facing roles, or ones that require day-to-day interaction with the team. While availability of collaborative tools on cloud have helped bridge the gap, it is still not easy to execute such functions from home. Thomas, who heads the team from Kottayam, agrees that working from office helps in observing non-verbal cues such as body language during interaction, which greatly helps during discussion. "Also, at times, if there are guests at home, they expect me to be available for them. They don't understand that it is my 'office hour' as WFH is not a popular culture yet. That is slowly changing now," she adds.
There are other possible drawbacks too, like loss of competitiveness, difficulty in getting approvals and keeping oneself motivated when working from home for an extended period of time. Bhattacharya adds that the productivity of isolated WFH will go up and stay uninterrupted only for people who can find that uncluttered and undisturbed personal space.
That apart, there is a more pressing concern in the successful execution of this policy — trust. "One of the reasons WFH is successful in the US is because it is a high-trust society. Culturally, India is a trust-deficit society," says Pajan. This means that the manager has to trust the employee working at home, and the employee has to trust that there will be no discrimination towards her just because she is working from home.
And that is a difficult balance to achieve. Gonsalves draws attention to the idiosyncrasies of Indian employees — they love to be 'seen' working in office; if the boss is waiting, they all wait back, and; when given an option to WFH, they invariably wonder if this might alienate them from the team. Similarly, some bosses might be very control-oriented. "When you have your whole darbar sitting in front of you, you feel you're in control. This is nothing but an illusion. Companies need to instead focus on getting the work done," says Gonsalves.
Walking the Talk
So, how can companies work around these challenges? The simple answer, Pajan says, is in maintaining a completely transparent approach. "It is not enough to have a work-from-home policy. Companies also need to clearly define what it entails, who can avail it, when they can avail it and for how long," he adds.
For instance, in Doyen Systems, Srinivasan has made it clear that in regular instances, an employee can avail at most two WFH in a month. After that, every time they take a WFH, half a day of paid leave will be deducted. "No one works beyond 4-5 hours on a usual WFH day. To ensure that no one takes an undue advantage of the privilege, we had a frank discussion with the employees regarding the half PL. They were very understanding of this," she says.
Gonsalves, however, points out that in majority cases, employees working out of home tend to work for longer hours and are more productive. There might be a few who misuse the privilege, but, he says, "You should not define your rules by abusers, but by performers."
It is also important for the employee and the manager to have a clear understanding of the deliverables so that the feasibility is rightly evaluated. In Doyen Systems, the employees have to mail their task list for the day to the manager and get it approved before they take WFH. But in some cases, it isn't possible as certain jobs cannot be measured on per day productivity. "Hence, the track record of the employee and their sincerity and commitment must be highly reliable. As a manager, one cannot always conclude that the day led to adequate output. We don't want to solve this as we trust our employees and managers to mutually address these challenges," says Bhattacharya.
Rajagopal agrees and says that First American (India) has established several controls, especially around monitoring. The company also focuses heavily on employee awareness and education on WFH policies, providing them guidance on how they can communicate effectively with their colleagues and reporting managers while working from home. "A good monitoring and feedback mechanism ensures that work-from-home policies are successful," he explains.
This means that apart from setting targets when working from home, there needs to be a strong infrastructure support such as collaboration tools, laptop with adequate configuration and systems access and connectivity to make it viable for tech jobs that might need high performance environment and access. Companies offering WFH are already investing in technology that ensures seamless workflow. "Access and reach was one challenge that came up initially, especially for work that needed the HP exchange server. However, our remote access capabilities are extremely robust and have ensured seamless connection for flexi work employees," says Mathew.
Besides managing work, WFH also requires a complete change of mindset. Mathew says that, initially, employees thought taking flexitime could reduce their chances of being promoted. This prompted them to organise sensitisation meetings and one-to-one connects with managers and employees.
Similarly, at Doyen Systems, Srinivasan says that the men were questioning the WFH privileges extended to women working beyond 7 pm. "Their concern was that when everybody earns equally, why should there be a special policy for women. I met them in small groups of six to 10 people, and made them understand that this isn't a favour. The expected output is still the same," she says. She also called women who have faced difficult times managing home and family to come and speak in those meetings, in order to communicate the need for the leeway provided to them. Organising leadership development programmes to ensure the employees do not lose out on learning or team spirit, and keeping them engaged even when they are working out of home are also vital.
Gonsalves says if WFH is to become a success, it is important that both male as well as female employees are provided the option. "Today, employees work not just for a lifestyle, but for quality of life. And this need exists for both genders," he says. Shah of TeamLease adds that both men and women seek freedom to work anywhere, anytime, and balance it with their personal commitments. "Our jobs are not 9 to 6 anymore. When you become 24x7, you don't have to be 9 to 6 everyday," he opines.
When an employee on a critical project has a personal emergency, WFH ensures continuity at work. At the same time, it inspires confidence in the mind of any employee that during periods of personal stress the company will stand by you. "An employee–employer relationship is like any other human relationship. Flexibility on both sides is critical. Policies such as these reflect this intent in action," says Bhattacharya. "Companies need to trust employees and review periodically. At the same time, employees need to take responsibility and deliver. There is no free lunch," he adds.
Evidently, when it comes to working from home, the benefits far outweigh the challenges. Sure, the policy is still not adopted by a vast majority of corporate India and will take more fine-tuning before it becomes a priority for companies. But, with progressive companies and passionate employees leading the way, it isn't long before more follow suit.