Barely two hours away from Nainital, Pantnagar came into existence on the country's industrial map only around a decade and a half ago. Up until then, its only claim to fame was India's first agricultural university, named after Govind Ballabh Pant, which was set up in the 1950's. This town in the Terai belt saw the first signs of industrialisation only from 2003-04 onwards when the industrial tax holiday zone was set up.
The State Infrastructure & Industrial Development Corporation of Uttaranchal (SIIDCUL) Integrated Industrial Estate offered a 10 year rebate on central excise duty and five years on income tax to companies to set up shop here which worked like a charm. Automotive giants like Tata, Bajaj, Ashok Leyland, Mahindra and several other big names from other sectors started manufacturing units here. However, even as the tax incentive is expiring for a bunch of companies, apart from a handful of smaller players in the pharma and electrical space, almost all the players have stayed on. For the final lot of companies that came in 2010, the tax exemption expires in 2020. With very little space left in the industrial zone, plans are on to develop new zones close by. "We only have 65 acres available here now. We are developing new industrial areas in nearby Khurpia (13 km away) and Sitarganj (44 km away)," says Kamal Kishore Kafaltiya, regional manager, SIIDCUL (Pantnagar & Sitarganj).
Fresh Start
Five years ago, almost everyone was battling the downturn and sluggish demand. Today, the cluster seems to be in better shape with a turnaround in demand, although, with short-term hiccups related to structural reforms like GST. With the auto industry having one of its best years and with Pantnagar being home to almost all leading automotive majors, the mood is much more upbeat this time around.
Anil Mohgaonkar, who heads the Bajaj Auto plant in Pantnagar recalls how
Uttarakhand's first chief minister ND Tiwari actively pursued and convinced vice-chairman Madhur Bajaj to set up the plant here. Bajaj Auto, which acquired 260 acres of land in 2006-07 to set up the plant, produces models such as Platina, CT 100, Discover and Pulsar here. The auto giant came here not only to take advantage of tax incentives but also to cater to the northern market. The company decided to bring 16 vendors and allocated land to each vendor. "It was a unique setting. They are all within 1.5 kms from our plant, supplying more than 85% of our parts. So there was absolutely no time delay and we managed to keep logistics costs to the bare minimum," Mohgaonkar says.
With 1,000 acres of land, Tata Motors has a larger presence in Pantnagar. The company manufactures their popular Tata ACE small commercial vehicle, famously known as 'Chota Haathi' from here. Interestingly, the first Tata Nano was rolled out here, before the Sanand, Gujarat factory came into being. "The plant was set up to cater to the increasing demand of four-wheeler SCV segment. Its vicinity to the three capitals (Delhi, Dehradun and Lucknow) made it a more attractive destination. The company has no plans of shifting the manufacturing base from Pantnagar," says Satish Borwankar, chief operating officer, Tata Motors.
With the country's leading auto manufacturers setting up shop in Pantnagar, the ancillaries weren't far behind. One such player that has set up their base here is Spark Minda, a $540 mn group. Minda makes ignition locks, switches, petrol tank caps, and wiring harnesses etc. LM Joshi, head-operations at Spark Minda says that it was difficult for vendors in the first few years. "Things settled for all of us when Ashok Leyland invested in 2010. They have done well during the past three years and so have we," he says. Thanks to an increased flow of orders, the company clocked revenue of Rs.1,278 crore in first half of FY18 as against Rs.1,113 crore during the same period last year. "We have added some new products and invested in expanding plant capacity over the past two years," says Joshi. He thinks it will be a while before the entire ecosystem gets used to GST. Their core business doing well helps them get over these regulatory bumps a lot easier than other industries.
Rough Road
After making huge investments over a decade, it is clear that the big players such as Bajaj, Tata and Ashok Leyland aren't going anywhere even after the tax exemption expires. But Mohgaonkar feels there is still a lot of work to be done. "The area should be developed more. Connectivity needs to be improved. There is quite a good opportunity to export to Nepal and Bangladesh from here for players like us. But if things remain unchanged, some people may start assessing the viability of manufacturing from here. After the initial investment, the government hasn't been able to attract any big players to invest in the area," he says.
While the attractive tax holiday was a definite lure to set up business in Pantnagar, there is neither a local market for any of the goods manufactured, nor can businesses source any raw materials locally, so good connectivity is critical for movement of goods in and out of the industrial town. Jovees Herbal Care, a herbal cosmetics manufacturer set up their second plant in Pantnagar in 2005, their main unit being in Noida. For Jovees, the tax exemption came to an end of 2015, which meant the company had to deal with lower profitability over the past two years. "The raw material and our finished products have to be flown in and out of here. We may choose to manufacture out of Noida if incentives on transportation and power are not provided. It's a call that promoters and senior management have to take after working out costs and demand in the future," says Kamlesh Kumar Majila, general manager at the plant.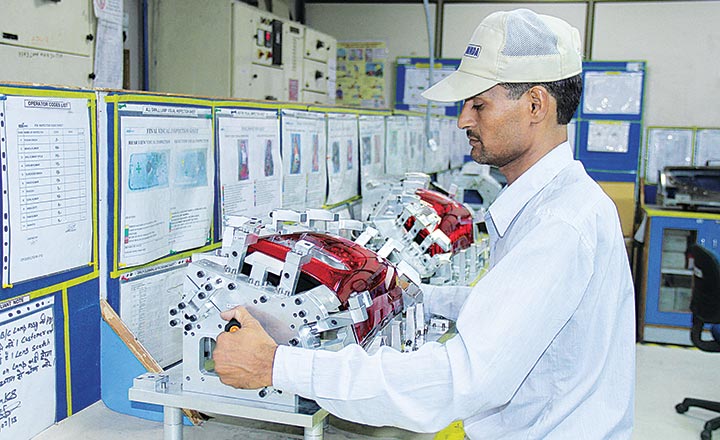 Pantnagar sits at the border of Uttarakhand and Uttar Pradesh and the connectivity bottleneck around the border has remained a chronic irritant. The stretch from Rampur in UP to Rudrapur (near Pantnagar) is a narrow strip riddled with potholes and frequented by heavy vehicles. "Now, with both states being ruled by the same party, widening of the road is finally taking place, it may still take six months to one year but connectivity should finally improve" says Manoj Tyagi, President of SIIDCUL Entrepreneurs Welfare Society.
Tyagi is also the associate HR head at Perfetti Van Melle, the maker of Happydent and Mentos. "Labour costs are nearly 30% cheaper than the NCR region and that is a considerable saving for us," he says. Though lower labour cost in Pantnagar, compared to NCR region, is something to cheer about, the business hasn't given Tyagi much reason to celebrate as GST impacted overall sales in FY18 due to higher tax rates. "Initially gum was in the 28% tax slab under GST which was later reduced to 18%, so for 3-4 months, margins were impacted," says Tyagi.
Bajaj Auto initially had trouble in finding skillful workers and had to bring in outside labour. But now they have developed a pool of trained people. "Good technical people are willing to relocate to this peaceful town. However, we still need to get good hospital and education facilities to retain them here," points out Mohgaonkar.
The power situation has also improved in the industrial area during the past one year. Reliable power supply has ensured fewer power outages leading to better productivity. "They have tied up with UP and Haryana to ensure uninterrupted power supply," says Tyagi. Powercuts that extended to 4-5 hours daily has now come down to 1-2 hours a day.
Green shoots
Apart from improving power supplies, the other thing that has improved the business environment in Pantnagar is setting up of a container terminal. SIIDCUL and Container Corporation jointly set up a terminal here about one and a half years ago. The inland container facility has been a boon for businessman Ashok Agarwal who owns KLA Rice Mill. If Pantnagar's SIIDCUL is home to auto and FMCG majors, the Udham Singh Nagar district is home to more than 500 rice mills such as KLA (rice is one of the largest crops under cultivation in this Terai belt).
Set up in the 1960s, this Rs.250-crore company started exporting rice in the 1990s. "There is savings of nearly Rs.2,000 per container by exporting from our local facility. That is pretty significant considering our margin can be as low as Rs.1,000 per container at times," says Agarwal. They manage to export 500 containers per month to about 24 countries including Mexico, Australia, UAE. Apart from its Indian operations, they have leased 10,000 hectares of land for 50 years in Mozambique. "We will cultivate and process rice from there for supplying to countries in southern Africa like South Africa, Zimbabwe, Tanzania and Malawi," he says. KLA's Agarwal is one of the few people who embraced GST implementation happily. Expecting to clock revenue of Rs.315 crore in the current fiscal, he feels GST has opened up the Indian market for him. "State boundaries have vanished and I can now address a large national market," he smiles.
Good times
It is not just Agarwal who is upbeat about the next year. Almost everyone we spoke to expect their business to do better in FY19 and are optimistic of maintaining their profitability. Thanks to the current buoyancy in the business, almost 67% of them are looking to expand their capacity in FY19 to meet the increasing demand. All of them are hoping that the government will also step up its efforts to improve the overall infrastructure in Pantnagar and increase the ease of doing business considerably. While tax benefits managed to bring in some of the leading names in manufacturing, better infrastructure will ensure Pantnagar is able to build on the gains it has accumulated over the past decade.