It's quite unusual to find fully occupied hotel rooms in a city like Raipur in Chhattisgarh. As we struggle looking for a place to put up, a localite tells us that the hospitality industry there is booming with most hotel rooms being booked by visitors. The effect of demonetisation was not to be seen. However, a stark contrast awaited us in the adjoining industrial cluster, Urla. Things aren't as busy as Raipur here. The industrial hub, which is about 30 kms from Raipur, is the key driver of economic activity in the surrounding areas and houses about 70 small to medium-sized steel units. Along with products such as rods, bars, wires, which are used in building roads, construction materials and sliding materials for railways, flat products such as sheets and plates used for fabrication and housing materials are manufactured in these units. The cluster has an annual sales turnover of about Rs.10,000 crore, and caters mainly to the domestic market.
Of the 70 units that are operating in the cluster, about 17 of them are believed to have applied for closure. It is not a smooth ride even for other operating units. With 20-30% fall in demand and prices, small steel plants are finding it difficult to recover their operating costs. The cost of raw material has increased by 10-30% over the past six months. "Almost all the steel producers in this cluster are currently incurring a loss of Rs.1,100-1,500 a tonne as a result of slackening demand, lower steel prices and high raw material costs. It is difficult to survive just on the hope that things would improve," says Manish Dhuppad, managing director, Chhattisgarh Ferro Trades, who is also the general secretary of Chhattisgarh Mini Steel Plant Association.
Urla has attracted many small entrepreneurs, thanks to supportive government policies and easy accessibility to iron ore. National Mineral Development Corporation (NMDC), which is India's largest iron ore mining company, has some of its largest mining projects in Chhattisgarh. "Steel is the backbone of Chhattisgarh. The formation of industrial units at Urla in 1982-83 has now become a major industrial hub providing direct employment to about 50,000 people," says Vikash Agarwal, director, Gravity Ferrous, whose unit mainly caters to construction industries. The unit is currently clocking revenues of Rs.250 crore. "Apart from the availability of abundant raw material, the government has been very supportive. For instance, the electricity rates were hiked from Rs.4.2 per unit in 2014 to Rs.4.8 per unit in 2015 and further to Rs.5.6 per unit in 2016. Now, after a 33% rate hike during the last two years, electricity accounted for 66% of the total costs. So, we approached the government for some relief and within a week, a subsidy of Rs.1.4 per unit was granted," says Agarwal.
Thin wire
While the main raw material, sponge iron, is procured for about Rs.15,000 a tonne, the end-product, steel, is sold at around Rs.25,000 a tonne. Of the conversion cost, companies lose raw material worth Rs.4,000 per tonne when they melt the iron ore due to the high black tar content. With another Rs.4,000 spent on electricity and labour, there is barely enough money left in the hands of manufacturers. Steel firms operate on wafer-thin net margin of 1-2%, which is much lower than the 5-6% net margin that they were making four-five years back.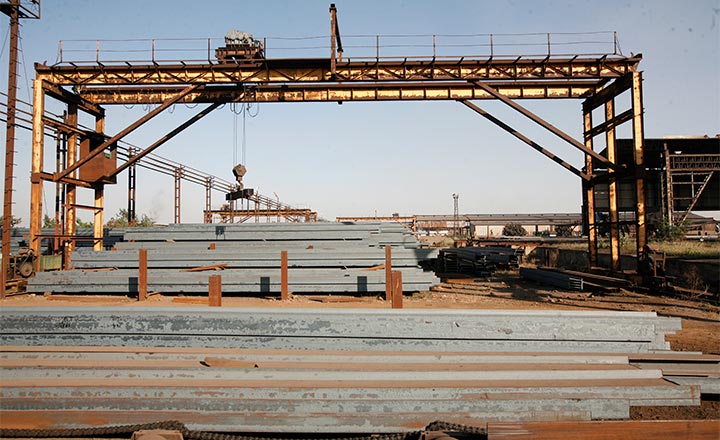 Urla produces close to 3-3.5 lakh tonne of steel per month. However, post demonetisation, the steel production has fallen to around 2.75 lakh tonne a month due to a slump in sales. "FY16 was a challenging year. Ever since the NDA government has taken over, there has been policy paralysis leading to weakening demand. While the government has made a lot of promises, it has not kept up to its words. Two successive droughts have impacted rural demand. On top of this, the Chinese slowdown has had a significant impact on prices. Now we are stuck in a slow lane due to demonetisation," points out Agarwal.
While the steel sector is tackling multiple problems, companies that are catering to some niche segments such as roads and railways have managed to handle the downturn better. "Orders from the railways and roads have been good. We only cater to the railways and currently, we are operating at 80-85% capacity utilisation. Our order book has been strong and growing," says Rajesh Shah, managing director, Bridge Track & Tower, which employs 400 people, and generates a turnover of around Rs.100 crore.
Many firms who do not have the luxury of a strong order book are now cutting down on production rather than manufacturing at unviable costs. About 88% of the respondents surveyed by Outlook Business are operating at less capacity than they were last year. "In 2012-13 and earlier in 2007, the companies in this cluster operated at capacity utilisation in excess of 95%. But today it has dropped to 65-70%," says Agarwal. However, some firms are choosing to opt for longer inventory cycles, since they cannot escape the fixed costs even if they have to cut down on production. A typical inventory cycle, which consists of about 15-20 days, has now gone up to as high as 40-45 days.
In this scenario, some companies, particularly those who are able to maintain their sales growth or operate at high levels of capacity utilisation are willing to give longer credit to buyers. "Our customers are asking for extended credit and you have no option but to provide credit to keep utilisation higher, so that we can recover our costs. Companies and promoters who have money and ability to fund debtors are able to survive in these difficult times while the others are suffering," says Sanjay Gupta, managing director of Rajat Enterprises, which manufactures steel ingots used to make TMT and structure bars in rolling mills. The firm that generates around Rs.45 crore in revenue uses its own capital to fund the extended working capital cycle. Most companies have or are forced to soften their terms of payments to keep the sales momentum going and recover operational costs.
The combined increase in inventory and debtors' days has lead to an overall increase in the working capital cycles. The banks aren't exactly jumping in to fund the gap. "Unfortunately, the banks have become averse when it comes to lending to steel companies. Even if they do, they ask for additional security. So, we have to mortgage our plants and residential properties — basically every asset we own, which has made things even worse," says Gupta. So, even as the cost of borrowings have come down by about 50-75 basis points for companies in the cluster, most companies that participated in the survey claim that it is difficult for them to raise fresh borrowings from banks.
Silver lining
Despite the challenging environment due to demonetisation, most of the companies are hoping that the coming year would be a better one. FY18 would be better based on the hope that the government would step up infrastructure spending. "The impact of demonestision will fade away in few months and steel prices will start to stabilise. If the government starts spending on infrastructure, it helps in reviving the demand for steel. We expect that government strengthen its initiatives such as Make in India and provide better infrastructure facilities so that it helps in more utilisation of steel products," says Rajesh Agarwal, Mahamaya Steel Industries that manufactures rail sliders, and generates a turnover of Rs.300 crore.
Most of them are looking to optimise their existing capacity and manpower before making additional investments if the revival happens on cue. While 38% of the respondents are looking to increase their manpower, only 13% of them are looking at increasing their overall capacity, given the current capacity under-utilisation.
Apart from increased government spending on infrastructure, steel companies are hoping that the government would give additional sops to spur demand in housing and construction sectors. Both these sectors, which are leading consumers of steel, are significantly hit due to demonetisation.
If things go as planned, companies expect the utilisation rates to move to 75% and sales realisation to improve by 8-10% in the next year. While their profitability is a function of how other input costs like raw material, labour and power behave, about half the respondents in our survey are hopeful of being more profitable in FY18. It is clear that the industry which is battling a slowdown since 2013, is in no position to fight an extended downturn, which might only lead to more units shutting down. The cluster believes that the worst is behind them and is hopeful that the government would help in reviving demand.