In the heart of Rajasthan's capital city Jaipur, right at the busy Panch Batti junction on MI Road, stand two of the region's biggest — and most Instagram-friendly — icons. At Lassiwala, the first, you can line up for a tall kulhad topped to the brim with the refreshing yoghurt drink. But for jewellery aesthetes, it is Amrapali Jewels' multi-level store next door that will be the real draw, featuring shelves upon shelves laden with enough stone-encrusted pieces to make them momentarily go weak in the knees. And it turns out even actual blue bloods are not immune to the charms of Jaipur's famed stone-studded jewellery — at a recent engagement in April during her first trip to India, Catherine, Duchess of Cambridge and wife of Prince William, sported a pair of lapis earrings by Amrapali. Years ago, an equally intrigued Bill Clinton and daughter Chelsea had stopped to check out a few pieces during their India visit. So, how exactly did the company go from hawking silver jewellery from a cramped 150 sq ft store in the highly congested Chameliwaala Bazaar area of Jaipur to becoming the go-to jeweller for the stars?
Sparkling start
Founder Rajiv Arora chalks it down to serendipity and a keen interest in his college major. Arora and his co-founder and friend Rajesh Ajmera were both history graduates, who in 1978 decided to tap into their training to source and make Rajasthani handicrafts for buyers. A chance conversation with a friend two years on drew their attention to the quality of cut and polished stones the city was famed for, and the duo started exploring the possibilities in silver jewellery. As son Tarang — also the company's CEO and creative director — explains, "Antique silver preserved by a family wouldn't be as ruined as, say, a 150-year-old wooden table. The chances of the jewellery being intact and the scope for remaking it were much higher, so they started going from one village to the other in Rajasthan, Gujarat and Maharashtra, buying traditional tribal jewellery from pawn shops in sarafa bazaars before the shopkeepers had a chance to melt it." The duo would then repurpose the jewellery and give it a new life, while simultaneously increasing their customer base. "So, a high-priced necklace with 14 paatadis — a flat silver pendant that depicts local Hindu deities — would be dismantled and turned into seven pairs of lower-priced earrings, and sold to seven clients."
These business smarts ensured that within years of inception, Ajmera and Arora — both of whom had no business background, although the latter had completed his MBA — had achieved record export volumes from their tiny corner store. And as the shop grew in popularity, it started drawing the kind of audience — from foreign ambassadors and film stars such as Reena Roy, Dimple Kapadia, Shabana Azmi and Kirron Kher in the past to Sonam Kapoor, Deepika Padukone and Vidya Balan today — that is loyal to the brand till date. Explains Kher, "I have been wearing Amrapali jewellery since I was a young girl. Be it heritage, revival or ethnic silver, no one can match the brand. Its designs stand out and there are several options for every occasion." Of course, it took a lot of blood, sweat and tears for the company to get there. Arora recounts how, from not being able to work with silver or gold in the initial years because they couldn't afford it, the company slowly ventured into silver jewellery, then semi-precious stones, then precious stones, then gold and finally, to diamonds and fine jewellery. "It was an evolution; each step took two to three years. We started manufacturing at a small workshop in the city, and set up our first full-fledged manufacturing unit 17 years ago when the export promotion industrial park came up in Sitapura. Today, we have more than 1,500 artisans working at three units in Jaipur and some more out of their own homes."
Making the cut
Today, the company's jewellery is sold out of 35 distribution points across the country (some owned by the brand, some franchisees and some store-in-store arrangements), four stores in London, trunk shows at stores like Barneys, pop-up shows across the world and a dealership office in New York. The sprawl in London took some time — and careful planning — to orchestrate. "The starting point was this Selfridges promotion called 23-and-a-half Days of Bollywood back in 2002, when I had just moved to London to study gemology. After the success we found at the event, which saw the who's who of Indian and international celebrities visiting, we made the city our international base. Now, we have stores at Beauchamp Place, Harrods, the Victoria and Albert Museum and Selfridges," explains Tarang. The company's carefully thought out international strategy has meant that it is possibly the only ethnic Indian jewellery brand to succeed on the global stage. "There are very few brands that get international recognition on this kind of scale. And while some of our competitors might do more business than us, people aren't familiar with their brands outside India. At best, they might know them as commodity or investment players," avers Arora.
Even before 2002, the company's founders had worked hard to forge fruitful relationships with international stores and buyers. "We have always wanted to showcase the best of our cultural heritage, but when we started out, the impression about Indian craftsmanship overseas was very poor. You wouldn't see Indian products in high-street shops." So, on trips abroad, the founders convinced iconic stores such as Le Bon Marché or Galeries Lafayette in France to come to India for store promotions. "This way, they would be exposed to not only Indian jewellery, but also items such as handicrafts, clothes and furnishings." This experience gave Amrapali an insight into how retail chains buy, design and plan for the future, and into processes such as stock purchase and visual merchandising. "Because I had no background in jewellery manufacturing, designing or making, I learnt from my buyers and took feedback on our pieces, which helped us improve on our mistakes." This hard work has paid off, with both international and local boutiques, stylists, filmmakers and designers using the brand's jewellery in their campaigns. From the Miss India beauty pageant to designers like Tarun Tahiliani, from movies like the sequels to Baahubali and The Best Exotic Marigold Hotel to The Far Pavilions, all have used Amrapali's pieces.
"All these things take a lot of your energy and commitment, and you don't earn as well in the interim. But each time, we feel very satisfied that our pieces are being used for such epic projects and that people are able to appreciate Indian craftsmanship." Adds Tarang, "Although there has been global interest in the 'Indian look' over the past decade, there weren't any brands that were willing to ship things out as per interest expressed." What does he mean by that? "Say, for instance, if you get a call saying Halle Berry wants to wear a necklace, there weren't many companies that would go out on a limb and send their merchandise from here to America on a cost thinking that maybe Halle Berry is going to wear it. But we took that chance, almost 14-15 years ago." The pay-off? For each of the first five to six years, the brand owns an archive of nearly 1,500 images from each year of international celebrities wearing Amrapali jewellery, with some of the pictures finding pride of place at the Panch Batti store. "That's the most valuable asset you can get in terms of fashion and business for a jewellery brand," adds Tarang. Of course, it doesn't hurt to have these very celebrities act as the company's unofficial ambassadors. Actress Vidya Balan, who sported the brand's jewellery during her wedding ceremony, explains, "Amrapali's designs have always been a top choice for me, as I feel that they complement my personality and dressing sensibilities perfectly. I not only wear their jewellery at local and international events, but also own several beautiful pieces of my own."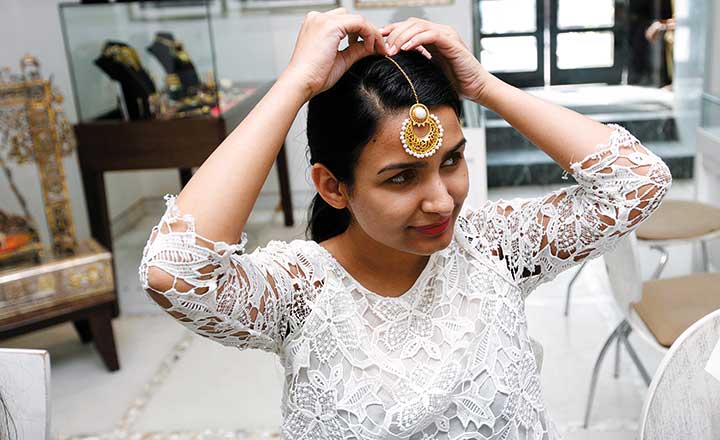 Today, Amrapali exclusively creates fashion jewellery for export at one of its three factories; the final pieces aren't sold under the Amrapali brand but under the name of the large multinational retail stores they are bought by, which the company declined to identify citing client confidentiality norms. It did, however, mention a successful co-branding exercise it had undertaken with the California-based Lucky Brand Jeans. For such fashion jewellery pieces, the ticket size varies from $5-40 and the order size from 40-50 pieces of each design. Amrapali has all but cornered this market, winning the highest export award from the government of India six years in a row in the past. The pieces at its stores in India, however, range in price from Rs.5,000 to upwards of a few lakhs or crores. Tarang estimates that about 80% of these products are one-of-a-kind. "We make very high-end, handcrafted fine jewellery, and we also make something for the average customer. To take this concept a little further, and because there is an aspirational value to our jewellery, we started our e-store Tribe by Amrapali," says Arora. Tribe features the same calibre of pieces but in a lower price range, all dispatched in packaging good enough to be collectible. This is achieved by the use of semi-precious stones and silver or base metals instead of diamonds and gold. The brand's motto of exclusivity continues here, with only 100 pieces of each design being sold in the Rs.500-5,000 price range. Designer Masaba Gupta attests to the quality of its offerings. "Amrapali offers something for everybody, and at great price points. It brings in new products very quickly, so the variety is huge. It's my go-to place for any kind of jewellery."
Currently, the company has a turnover of Rs.120 crore through domestic sales, Rs.40 crore from exports and about Rs.10 crore through Tribe. In courting international business and championing the cause of Indian craftsmanship, Amrapali has also inadvertently given a boost to other such local businesses — even those that filch its designs. "When we started exporting silver jewellery from Jaipur, it was a very, very small business; exports were only in some lakhs of rupees. But because we as a company got in so many buyers from all over the world, the whole industry benefited, and many of our own former workers started their own companies. Today, 50% of the country's silver exports are from Jaipur," says Arora. Given the founders' educational background, the company's focus also continues to be on the history of the designs it churns out, with a large part of its portfolio dedicated to traditional Rajasthani jewellery traditions such as jadau, meenakari and kundan. The founders collaborate with both in-house designers and design interns from institutes such as NID and NIFT for the same. In fact, some of the pieces that the company's founders have curated will also find their way into a museum of Indian tribal silver that the brand is setting up in Jaipur.
Stairway to success
All this is not to say that the brand hasn't seen its share of setbacks. "There was definitely a change in buying patterns after 2008. Companies we had been working with for years were going bankrupt," explains Tarang. "But we keep learning from challenges. Thanks to fluctuations in the prices of gold and silver, we started innovating with costume jewellery using brass and copper," adds Arora. More irksome are regulatory challenges such as the recent imposition of 1% excise duty on jewellers and governments reneging on tax and SEZ promises. "The commercial policy should remain the same across decades," says Arora. The duo also expresses surprise at the fact that gems and jewellery is not part of the government's Make in India call. "You will find shops making naths, borlas, paayjebs and kadis at every street corner in small Rajasthani towns. In craftsmanship, no one can compete with India. Given the level of skill in traditional communities and that this industry is pollution free, we can make India the next big jewellery hub." While most of the artisans the brand interacts with learn jewellery making at home itself, the company also trains them in the use of any new technology, in addition to running skilling programmes at its factory. Arora says he is mulling opening his own skilling school in future.
The company also partnered with flamboyant fashion designer Manish Arora for a successful jewellery line in the past. Says Manish, "Amrapali follows a rich jewellery tradition. During our collaboration, I tried to find a balance between its elements and my design aesthetics." What does the future hold for the brand? For starters, Amrapali is planning to promote its e-store in a big way. "Physical stores are slowly becoming irrelevant because people are buying through their phones or laptops. So, we want to widen our base through Tribe by Amrapali," says Arora. Although the brand doesn't do any newspaper or billboard advertising, it does have a digital marketing plan in place for Tribe. Thus far, the greatest traction for the site has been in tech-savvy cities such as Bengaluru, Delhi and Gurugram. "We also get a lot of orders from smaller cities, but percentage-wise, metros are more responsive. We are now concentrating more on the domestic market because we feel that there is a lot of scope in tier 2 and 3 cities," says Tarang. Tier 1 business or otherwise, there is a company-wide ethos that Arora and Ajmera have ensured they pass on to the next generation. "I want to make sure that there are no compromises in quality and that we continue to create masterpieces. This way, our jewellery will end up being the next generation of heirlooms," smiles Arora.