I have been a contrarian at heart, looking for interesting ideas among the fallen angels. Many a times such stock or sector-specific pessimism provides excellent entry levels. These stocks tend to try one's patience but they generally provide a superior risk-return trade-off. Jyothy Laboratories (JLL) grabbed my attention when it fell sharply by 14% early November after Henkel, it's
licensor for a few brands, decided not to exercise its option to buy up to 26% stake in the company. I asked myself whether Henkel was the lifeline that JLL was eagerly awaiting for and does this refusal mean the beginning of the end? Let's explore
The power of blue
JLL was set up by its current chairman and managing director M P Ramachandran in 1983. His attire of white shirt and trouser is a testimony of his fascination for his company's flagship product 'Ujala', a fabric whitener which has 72% market share in the segment with a turnover of over Rs.400 crore. In the past decade, having more than doubled the market share of its closest competitor, JLL also realised that it was limiting the growth of the company given the dearth of a strong portfolio of brands. So, how did this primarily one-product company become one of the key players in the Indian FMCG landscape, having a significant presence in the fast-growing fabric care and dish washing segments?
The answer probably lies in the story of how visionary promoters forge a long- lasting bond with key professionals who execute their plans. For Ramachandran, it was Ullas Kamath, a chartered accountant, who joined him in the 1990s and now elevated as the joint managing director and chief financial officer. The big opportunity came when Kamath successfully closed the deal to acquire the beleaguered Indian arm of German major, Henkel AG, which had an array of brands. It is said to be Kamath's unstinted effort, spread over a decade, to convince Henkel, which finally decided to throw in the towel. However, JLL also had to takeover about Rs.450 crore of debt, a tall task for a debt-averse company.
The buyout was though a great fit. JLL had an excellent distribution network, which Henkel lacked. JLL has about 2,000 salespersons with a reach of more than 12 lakh outlets and 24 manufacturing facilities across the country. Henkel's failure was partly attributed to the logistics costs incurred owing to its single manufacturing unit at Puducherry. Secondly, for a brand to be successful, one has to relate to the regional community and culture, have ears to the ground and decision making needs to be quick. Henkel's bosses made the cardinal mistake of centralising decision making in Germany for the Indian business, resulting in a huge communication and cultural gap with the target consumers as well as their own employees at the ground level.
The passion, agility and responsiveness of JLL resulted in a turnaround for the Henkel brand basket within five years, which the German major could not do in 20 years. JLL, which had one powerful brand 'Ujala', successfully nurtured five more power brands, Henko, Pril and Margo, which it took over from Henko, as well as its own in-house brands, Maxo and Exo.
JLL's topline grew manifold by around 2.7x (from Rs.626 crore in FY11 to Rs.1,682 crore in FY17) over the past six years with bottomline outpacing it with 3.1x growth. Currently, the brand basket is growing close to 10% annually, but specific brands have had a spectacular run, of late. Margo, a neem-based soap brand launched by the erstwhile Calcutta Chemicals in 1920, has been resurrected with a stupendous growth of 58% in the latest quarter. Another product, which may witness a similar revival, is Neem Toothpaste. This also proves that Patanjali's aggression has had a positive rub-off on competitors having similar products in the herbal arena.
JLL spends around 9% of its revenue on advertising and sales promotion, in line with the FMCG giants. Every new campaign has had an incremental effect – a recent campaign on Ujala IDD Detergent helped it grow by 20%. A new campaign is now planned for the flagship product Ujala Supreme in the current quarter which should provide a fresh impetus.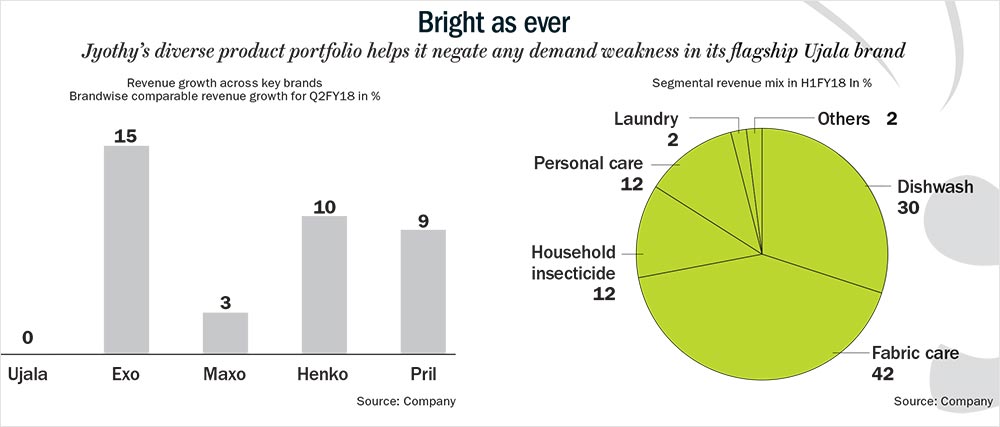 Nothing to lose, more to gain
Coming to the question of Henko refusal's to exercise the option to buy into JLL, or was it the refusal of JLL management to bend backwards for the international giant? Whatever be the case it has probably disappointed opportunistic investors who were awaiting for an open offer, but I wonder why it should deter a long-term value investor? With the deal, Henkel would have brought in the benefits of research & development, and technology but in the bargain it may have shackled the Indian management, thus destroying the ethos on which its success was built upon. JLL today is free to pursue other partnerships as well to buy out brands. Meanwhile, it continues to pursue a non-exclusive partnership with Henkel, which, on the other hand, doesn't have much of a choice in the Indian market, but for continuing with its licensing arrangement with JLL – a "once bitten twice shy" syndrome.
Now, I expect JLL, with the experience of resurrecting Henkel brands and the consequent confidence in repeating such success stories, will aggressively try to expand its product portfolio to further improve the efficiency of its distribution network. The balance sheet, too, can support such a move especially with healthy operating cash flow. The cash flow from operating activities, as of FY17, stood at Rs.163 crore.
Coming to the recent financial performance, similar to other FMCG players, JLL, too, was impacted by an inventory scale-down before GST and the restocking commenced during the latest quarter. Canteen stores department sales, which too were disrupted, is now slowly getting back on track. Despite these constraints, JLL displayed a strong performance in the recent quarter. Its net profit rose 47% YoY to Rs.429 crore, while operating margin improved 195 basis points to 16.5%. The only negative aspect is the tax breaks the company enjoys which may cease to provide much cushion in future. At current levels, the stock quotes at 29x estimated FY19 earnings, which may be surpassed with a new found aggression, post-Henkel's pullback. Given JLL's operating margin of over 16%, a generous dividend payout ratio, and the fact that FMCG sector is expected to grow at 15% CAGR, I would recommend adding Jyothy Labs to your portfolio.
The author has an interest in the stock and has also recommended it to his clients