So how did last year's 13 stocks suggested by market experts fare? Of the list, nine stocks ended the year with gains, while four ended in the red. The most violent stock of year, unfortunately, turned out to be Wockhardt which lost 60% as it fell foul of the US FDA and its net profit plummeted over 80% in Q2FY17. Jubilant Foodworks (-42%) and VA Tech Wabag (-33%) were the other two big losers followed by Bata (-8%). While Jubilant and Bata were hit by slowing demand coupled with the sudden demonetisation move, VA Tech Wabag, despite a robust order book, saw pressure on margins and project-related hurdles spoiling the show. But what's pertinent to note is that in August, Bata did hit a high of #614, a 27% gain from the recommended price, before heading south.
Among the winners, Gaurav Parikh of Jeena Scriptech Alpha Advisors tops the chart with Astec Lifesciences dishing out an impressive 160% return. Dalmia Bharat, the cement major recommended by Maybank Kim Eng Securities' Jigar Shah, is the second-biggest gainer with 76% return. In fact, Astec is the only stock to churn out three-digit returns, while the rest eight clocked gains in the range of 11% to 76%.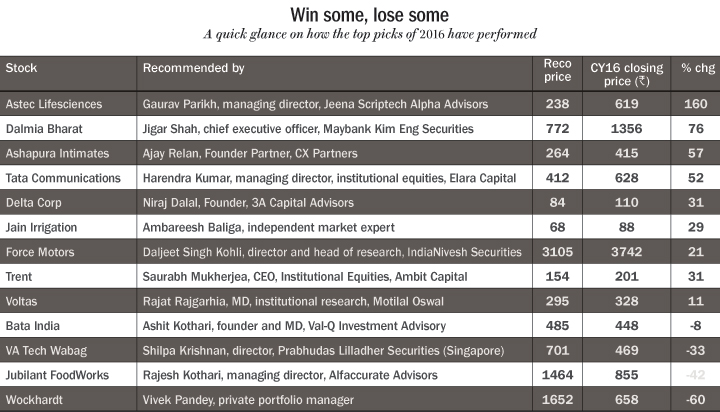 In a year when the Sensex barely managed to stay in the green with 2% return, a majority of the stocks fared well. As we enter the New Year, we have a bouquet of 17 stocks to choose from. As usual we have a clutch of names from the consumer space, followed by IT, pharma, banks, technology, and commodity. Interestingly, we have quite a few large cap stocks in the list this year, unlike 2016. To know what makes these 17 stocks a compelling bet, keep reading.