Sitting in his Barakhamba Road office in Delhi, Amit Jain seems relaxed. It's not a sight you come across very often these days — business after all has been rough in the past couple of years. But Jain, chairman and managing director of CMI, a Delhi-based specialty cables company has nothing to complain as his company has been going from strength to strength. "We made a Rs.100 crore acquisition when we were a Rs.140 crore company — it was the boldest decision I have ever taken," Jain elates.
The corporate presentation shown to us before he arrives for the meeting paints the acquisition as a game changer for CMI. In 2016, Jain bought the Baddi plant of US-based General Cable for Rs.96 crore. The acquired facility complements the products already manufactured by CMI. Jain tells us how the 'prized catch' came through. General Cable invested Rs.400 crore in 2009 to build a cable plant in Baddi. In August 2013, the plant commenced operations but barely a year later production was halted. The appointment of a new CEO at the parent resulted in a major policy shift wherein they decided to sell all their plants in the Asia Pacific region, which cumulatively contributed 10% to General Cable's $7 billion revenue. The Baddi plant was among those.
At the time of the acquisition, CMI had only one plant in Faridabad with revenue of Rs.300 crore, which had peaked in its utilisation. General Cable's Baddi plant offered the potential to triple sales and Jain grabbed the opportunity.
Even though the acquisition has not yielded results yet, it has refueled the company for the next lap. Over the past five years, CMI has been on the fast track with sales and profit growing at CAGR of 45% and 42%, respectively. The company is expected to achieve sales of Rs.550 crore in FY18, with profit of around Rs.30 crore. When you ask Jain about the company's performance over the past five years', he goes into flashback mode, "In the past five years, we have reaped the fruits of our toil between 2008 and 2013."
Sound foundation
Jain wasn't a cable maker until 11 years ago. He worked in his family business and supplied metal conductors to cable manufacturers. During the course of business, he realised that all the people in that segment were doing well except CMI. It was because the company was focused on a single product — telecom cables. Confident that he could turn it around, Jain acquired CMI in 2007. He reveals, "It was a sick unit which we bought from the bank. We had been dealing with them for a long period and promoter Shantilal Choudhari's next generation was not keen on taking over the business. Their core focus was telecom and after the change in technology, procurement stopped for their cables."
Jain was looking for some kind of forward integration and that's why he bought CMI — a good brand, which had a plant in Faridabad. But he had to revive the sick unit. While putting all eggs in the telecom basket had killed the company, there were other things that needed to be fixed.
"At that time, unity of command was missing, a lot of scrappage was happening, there were production slippages, and the focus was only on a single product. We started multiple products and created multiple verticals to insulate ourselves from the cyclical nature of a particular sector," says Jain. The good thing was that the Faridabad plant was already up and running. The first thing he did was to create a lot of fungible capacity by adding processes to make the same plant versatile. In simple terms, the plant could now make cables for any sector. Today, CMI can make any kind of cable, except optical fibre.
In the cables and wires segment, there are many players specialising in specific sectors. In railways — Incom Cables, Tirupati Cable, Manoj Cables, and Polycab are key suppliers. In the power sector — KEI Industries and Delton Cables are big names and in telecom, Vindhya Telelinks is a known player. A company has to go through a lengthy approval process to become eligible to supply cables to any sector. The process takes around four-five years and that is why, a lot of players focus on a single sector instead of going after multiple sectors.
Jain knew that since his clients were largely government entities and PSUs, dealing with their tendering process was going to be a game of patience. It meant, investing and working today but not expecting results in the short term. "We knew it was going to be a gradual process. For Railways, it takes three-four years to get their enlistment, likewise for Engineers India (EIL) and Bharat Heavy Electricals (BHEL). It's only after that you get into the race and bid for projects," he adds. Once the approvals came through, Jain went on the offensive. "Initially, we bid aggressively. The whole idea was to get our foot in the door and reap the benefits later."
The bets have paid off. Today, the company counts Railways, BHEL, Indian Space Research Organisation (ISRO) and EIL as its major institutional clients. Apart from this, Jain also believes that their ability to offer customised products helped them win the confidence of clients. "Once you provide specialisation or customisation, you get a margin better than the industry norm of 11-14%. Also, since most of our products are customised, we don't have to stock inventory," says Jain.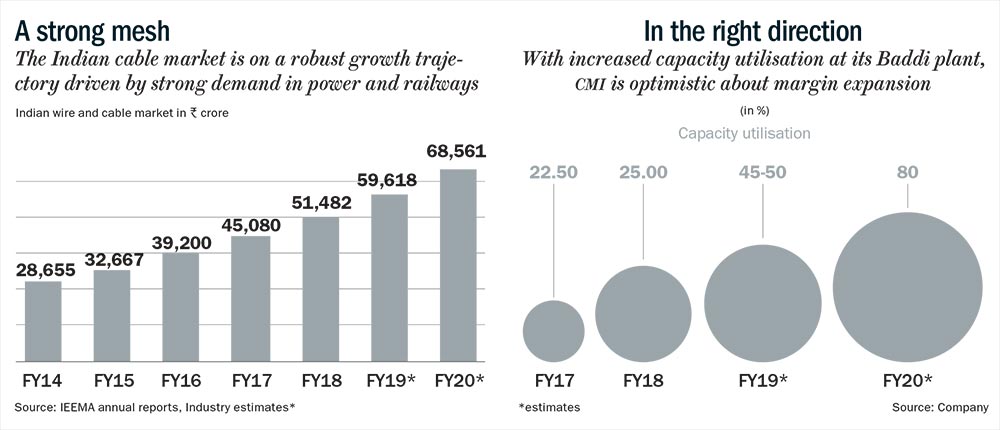 The list of specialised cables CMI has developed is impressive. For railways, the company developed a 1.4 axle cable, which was not available in the Indian market. Further, it developed gas insulation cables for Alstom, customised communication cables for Metro, heat-sensing cables for NTPC and the list goes on. "What we supply to ISRO is a feather in our cap even though it is a small vertical currently," says Jain. CMI worked with ISRO when they were looking for a cable for their multi-object tracking system. ISRO required a cable that could withstand the temperature of a rocket launch. At different stages, the rocket separates and vessels fall in the ocean. So they wanted a cable, which could survive that heat; at the same time, once the object came into contact with water it needed to transmit a signal so that it could be traced and reused. Jain's team then developed a Teflon cable.

Ditto for refineries, a vertical CMI entered in 2014. They needed a cable, which had to survive 950°C for 90 minutes while maintaining circuit integrity. "Despite the fact that the metal content burns at 800°C, we developed a cable for refineries. Now refiners have mandated its usage in all new refineries," points out Jain. The vertical clocked revenue of Rs.30 crore in the first year and now, in the third year, is expected to rake in Rs.45 crore.

Another customer, Shubhashree Agni Cement that commenced operations at its Nepal plant three months ago bought Rs.1 crore worth of motor wires from CMI. "Motor wiring is critical to the running of a plant. In case of a breakdown, the repair has to be done quickly to revive production. We opted for them, because of servicing quality," says, Rajesh Mudgal, head, commercial & industrial division, Shubhashree Agni Cement.

Competitive edge
If the first five years after the acquisition of CMI, laid the foundation for future growth, the recent acquisition of General Cable's unit will take it to the next level. "We are six years ahead after this acquisition. It takes four to five years to build such a capacity, and another couple of years at least to get approvals from customers. While our competitors are 5x–10x bigger than us, reaching that level shouldn't be a problem for us anymore," says Jain.

CMI started commercial operations from the newly acquired Baddi facility in September 2016 and claims to have raised the capacity utilisation to around 25% in FY18 from 5% in FY16. While the capacity utilisation may seem low, it is because the Baddi plant is currently being utilised only for power cables. "After making the plant more fungible, we should reach a utilisation of 80% in the next two years," informs Jain.
As of today, CMI's order book stands at Rs.300 crore with Rs.2,000 crore of bids in the pipeline. In FY17, the company's profit jumped from Rs.10 crore to Rs.30 crore. Jain says the spurt was because the Faridabad plant was fully depreciated and its capacity utilisation rose to 85% from 60-65%. In FY18, the company is aiming to achieve a turnover of Rs.550 crore, with the profit remaining at last year's level — Rs.30 crore. That's because the Baddi plant has to provide depreciation of Rs.10 crore despite its low capacity utilisation. In comparison, the depreciation for the Faridabad plant stands at Rs.50 lakh even as it produces sales of Rs.300 crore. "Once we start utilising about 50-60% of the new capacity, the proportion of expenses will shrink and Ebitda margin will move to 14.5% from 11.5%," says Jain.
Solid connection
With a diverse range of cables under its sleeve, CMI is well-positioned to ride any capex surge in the manufacturing and core sectors. For the next five years, Indian Railway's budget is Rs.850,000 crore – which, by the way, happens to be China's rail budget for just a year. Indian Railways embarking on several new projects is expected to generate good growth for CMI over the next three-five years. Then, the newly acquired Baddi plant complies with international standards and is hoping to bag export orders. Jain himself is bullish on growth from refining and solar sector due to ongoing projects like Smart City Mission and Solar Mission.
He feels that their growth coincides with India's growth story. If that derails, CMI will also feel the heat. Even though most sectors are showing good growth currently, to insulate itself from a possible derailment in the future, the company has started looking beyond Indian shores. Last year, exports to South East Asia and North Africa contributed 2-3% to the company's revenue. "They were all educational orders, placed by customers to familiarise themselves. We will look at exports as a serious vertical in the future," says Jain. So far, it has been a story of making bold bets and waiting patiently and CMI intends to continue on that path.