Priyadarshi Kumar Sehgal has had an enduring relationship with the Hyderabadi biryani. PK, as he is known, has feasted on the dish no less than five times a month. This Hyderabadi knows his food and for over two decades, Paradise has been his chosen restaurant. PK nostalgically remembers the time he paid Rs.15 for a plate of his favourite mutton biryani in the early 1990s. "It tastes as good even now. Good biryani leaves no oil on the fingers and this does just that," he says.
For folks in the twin cities of Hyderabad and Secunderabad, the biryani is a necessity, and a visit to Paradise a ritual. Started in 1953 as Paradise Café and seating 100 people, it has now grown vertically within the same structure to accommodate 1,500. With time, its presence has moved outside Secunderabad, where it has become iconic, to another 10 outlets in the twin cities apart from venturing outside the state as well. In all, Paradise Food Court, the company that houses the business, has 22 outlets, with 12 in the twin cities, six in Bengaluru, two in Chennai and one each in Visakhapatnam and Gurugram.
Apart from biryani, Irani tea is a huge attraction to Paradise, as are its biscuits and samosas. These, with the biryani and kebabs, accounts for a substantial portion of Paradise's food offering.
Edible roots
There was actually a movie theatre called Paradise in Secunderabad that gained prominence for being the first one with an air cooler. At a stone's throw away from the theatre, Paradise, the food joint, opened in 1953 a month before the theatre did. Anjaiah Goud who owned the theatre, was looking for someone who could run a canteen to serve patties, popcorn and beverages. This contract landed with Hussain Hemati and his brother-in-law, Gulam Hussain, the owners of Paradise Café. Today, Hemati's sons, Ali and Kazim run Paradise but the movie theatre succumbed to entertainment taxes and modernisation in the early '80s. Till 1978, the café looked no different from what it did when it opened. Ali, the older sibling, returned to Hyderabad after he was done pursuing his masters in political science at the University of Mumbai. According to him, the café was in a shabby state and had to be renovated quickly — the first serious change it was to go through. "It took 6-7 months and we worked only during the night to ensure business remained unaffected. We changed everything from the furniture to the fans and lights," he recalls. He reached out to German architect, Frank Handrich, actress Dia Mirza's father who gave Paradise "a big facelift" in 1985.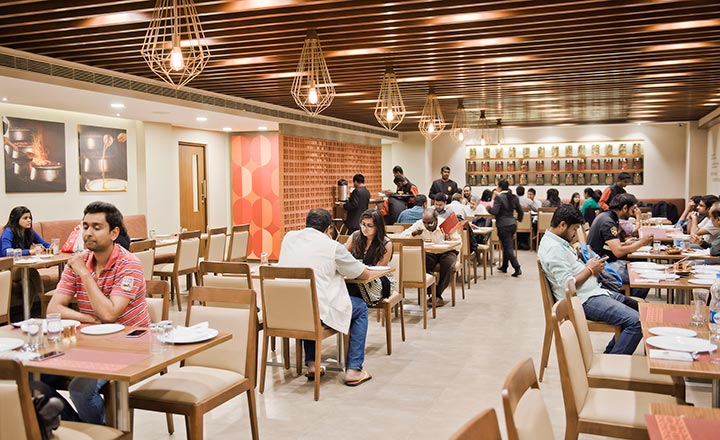 In a city known for its laidback culture, most of the traditional Hyderabadi biryani restaurants, such as Mughal Darbar and Azizia, have either fallen out of favour, lost business or just disappeared. But the biggest factor in Paradise remaining relevant even after six decades has been its continuous focus on growth and in bringing in a newer set of consumers. The likes of Sachin Tendulkar, Aamir Khan and Sania Mirza, P V Sindhu have visited the restaurant.
Kazim insists that it's not just the consistency of the Paradise food that is important. "Our ability to reach out to a cross-section of society and give a value-for-money offering is what has set us apart," he says. Today, in terms of pricing, a plate of chicken biryani, that weighs around 850g, costs Rs.261, while mutton biryani costs Rs.279. kebabs start at Rs.275 a plate.
In FY16, Paradise Food Court clocked in a revenue of Rs.179 crore as against its Rs.120 crore revenue in 2015. Typically, biryani accounts for 50-60% of Paradise's revenue and kebabs bring in another 20%. But with the company is still in expansion mode, its operating expenditure increased sharply by 61% from Rs.104 crore in FY15 to Rs.167 crore in FY16 on opening six new outlets and refurbishing its existing ones. As a result, its net profit declined to Rs.4.72 crore in FY16 as against Rs.8.86 crore in FY15. The company is yet to file its FY17 financials with the registrar of companies.
The cuppa inspiration
In 2012, a visit to Starbucks' Pike Place store in Seattle — the first outlet that has to date preserved its original look — had Kazim, 51, thinking. "We have so many international food chains in India but no Indian food brand has gone global. Paradise itself was 60 years old with a presence in just one city," he exclaims. It was obvious to him that biryani ought to be sold wherever there was an Indian diaspora. Once he returned to Hyderabad, he began discussing expansion outside Paradise's home turf. Paradise is working on its investments in an effort to test the waters in Dubai, Sharjah and Abu Dhabi next year, before moving on to rest of the Gulf region.
In March 2014, Samara Capital, through its subsidiary Burrp Investments, decided to invest Rs.70 crore. "Good food has to have a back story or a legend on its provenance, and must be able to replicate the original quality and taste consistently. Here, we see a huge potential for the Paradise brand to travel nationally," says Sanjay Purohit, partner-consumer & retail, Samara Capital.
Prior to Samara's investment, Paradise had a presence only in Hyderabad with six outlets. According to Ali, moving out of Secunderabad itself was a big decision. This was when he realised people would drive for 45 minutes just for the food. This prompted Paradise's outlet at Hyderabad's Masab Tank area in 2009, which was a takeaway largely for people on the way to the airport. Later, four more outlets were opened by 2014 in other parts that included HITEC City, the IT hub. "There was only so much that we could do ourselves. It was quite clear to us that to grow, we had to move with the times and the old way of thinking had to be abolished," says the 64 year old.
New turfs, new troubles
Much as Paradise is very well set in Hyderabad, the going has not been easy in other cities. Beyond the state, Bengaluru was the first stop where an outlet was opened in April 2016. Gautam Gupta, Paradise's CEO who has been at the helm of affairs since last July after stints at Samara Capital and Reckitt Benckiser, says that there is a marked difference in the IT capital's culinary preferences as compared to Hyderabad, which was not understood initially.
According to Gupta, a person in Hyderabad will eat the Paradise biryani 7-8 times a month, out of loyalty. "In Bengaluru, he will eat out at least 5-6 times but with a desire to experiment. Besides, the average consumer there is more cosmopolitan, well-travelled and younger as well, compared to a more traditional Hyderabadi," he explains. Another insight was the high proportion of folks in Bengaluru who came alone to the restaurant. The generous biryani quantity that Paradise was known for would not work for the more health-conscious consumer here. Consequently, the portion was halved and offered at a lower price — at 450 g, a single version chicken plate cost Rs.169 whereas mutton cost Rs.180.
To make the full-service restaurant work, he cites the case of scaling down the size of the menu from 150 items to less than 100 with a focus on the most-sold food (biryani and kebabs).
Like Bengaluru, Chennai too has presented its own peculiarities. Paradise opened its first restaurant in the middle of last year with about 200 seats. Quick service is a preference in Chennai with the consumer not always having the time for a 45 minute meal. That paved the way for the express format, launched four months ago, with just 60 seats and 50 items on its menu. "It did not make sense to have a roti or a curry. The objective was to offer faster service and get the consumer to decide quickly," he explains. Apart from the Secunderabad outlet, which is their largest at around 10,000 sq ft, the average size of the Paradise restaurants is around 5,000 sq ft. In the express format, a smaller size of about 2,000 sq ft means the opportunity to scale up is hard to ignore.
After Chennai, Paradise has positioned itself on the platform of "fast casual" or mall food courts, according to Gupta. Its first mall outlet of about 500 sq ft was recently opened at Hyderabad's Inorbit Mall. "Even for a large, old organisation like ours, learning the nitty-gritty of each format is necessary. It makes sense to spend more time in the beginning and then get to a sweet spot, which makes scalability easier," thinks Gupta, adding that the plan is to be in the top 20 cities, such as the NCR, Pune, Kolkata and Mumbai, and smaller centres, such as Vijayawada and Guntur in the next five years. The smaller formats could work well in Mumbai where real estate costs and getting a large space are both a bane. While all the properties are leased, the thumb rule for outlets is a capex cost of Rs.7,000 per sq ft that includes its interior and furniture costs. For the average 5000 sq ft outlet, this translates to Rs.3.5 crore for just space with another Rs.60-70 lakh going into other expenses such as security deposit. At that level, a capex break-even typically takes at least five years.
The restaurant chain has just opened its first outlet in Gurugram. This 5,000 sq ft outlet will also house a centralised kitchen and a full-service restaurant. The company has centralised kitchens in Hyderabad and Bengaluru, which are housed in one of the outlets. The rest have their own kitchens that cook the biryani and kebabs from the ingredients that come from the centralised kitchen. As far as sourcing goes, in Hyderabad, there are a finite number of suppliers for rice, masala, meat and so on. Once it is outside Hyderabad, it is either the same supplier or someone that he recommends. The objective is to have a limited number of suppliers to ensure consistency. "Replicating the original taste and quality of food consistently and driving operational excellence is really the secret sauce in the restaurant business. This is often underestimated and has been the reason for many a restaurant brand to fail," says Purohit.
Raymond Andrews, a hardcore Hyderabadi, first unveiled Biryani Blues in 2013 in Gurugram, and with Series A funding from Carpediem Capital in 2015, rolled out 20 outlets across the NCR. According to him, the opportunity lay in selling a good biryani that could be delivered quickly. Prior to its launch, chefs were moved from Hyderabad and trained in-house. Paradise too has done just that, with the difference being the chefs, from say Gurugram, spending time at the outlet in Hyderabad to pick up the intricacies of the cuisine. Each Biryani Blues outlet is around 1,000 sq ft and since the time they debuted, the market as well as rice consumption has grown.
Vishal Jindal, co-founder, Biryani By Kilo, says there is little to worry on the issue of demand. He has four outlets in the NCR with delivery being the only option, and plans to open another four this fiscal. "Our model is about having a focus on low capex and low rentals, which means revenue per outlet is higher," he explains.
Gupta says that with Gurugram, the NCR and later other cities, the plan is to adopt a cluster approach consisting of a centralised kitchen, a full-service restaurant and a couple of express outlets. "We can have multiple clusters in a city depending on the size. Delhi could easily accommodate three to four clusters," he adds. Paradise has also joined hands with Swiggy, Zomato and Food Panda to bring the biryani home. Currently, Paradise gets around 10% of its orders from delivery, 20-30% from takeaway and 60-70% from dining in services.
Unlike those in the food business who failed to identify the key issue of supply chain management or just succumbed to unbridled expansion, Gupta is clear that Paradise's approach will be measured and slow. Paradise will need to focus on how the Hyderabadi cuisine is interesting to an audience that has not had enough of it. "Our USP has been to offer a good quality meal at an affordable price. As we expand across the country, sustaining could be a challenge," says Ali. If they get that right, this regional brand could take some large steps.