Every other person assumes that the mythical unicorn is of Western origin. Maybe it is because Naturalis Historia by the Roman naturalist Pliny is one of the better-known recordings of its 'sighting'. Or maybe it is because we have been taken in by popular movies, which show them gambolling about with blue-eyed royals. But really, unicorn may have been Indian. What may have fascinated the ancient adventurous heroes could have been our humble and reclusive rhino. We gave the world the first unicorn (most likely) and now we are unleashing a glory of them.
Except this time, our unicorns are start-ups, as defined by venture capitalist Aileen Lee. She had coined the term in 2013 to describe any new business with a billion-dollar valuation. According to a report by CB Insights, India had the fourth highest number in the world at the end of 2018 (See: The billion-dollar club). Of the total 360 unicorns, the US has nearly half. China comes in second with one-fourth, followed by the UK.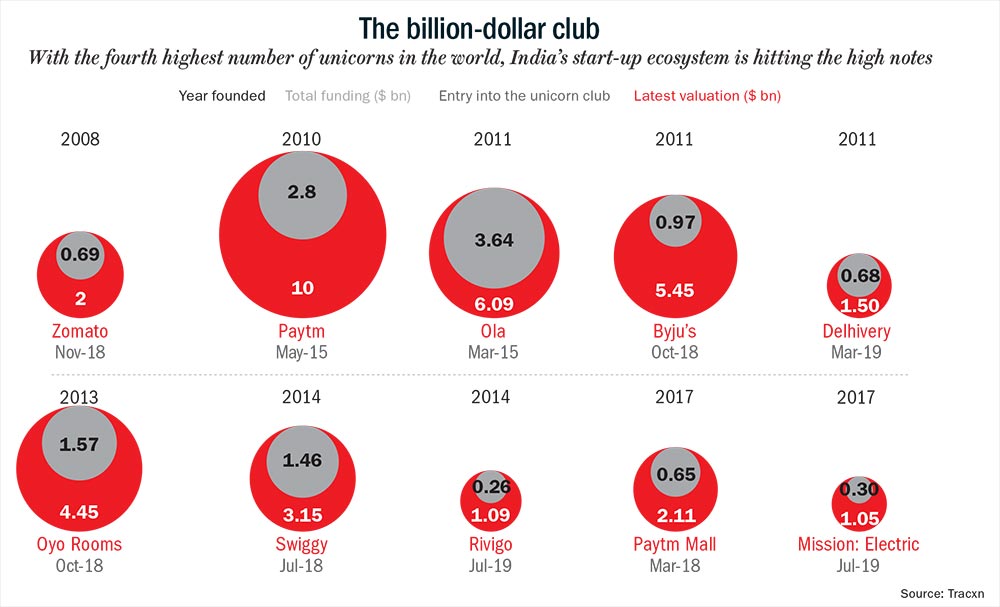 Year 2018 saw the maximum number of unicorns emerging out of India, with eight firms joining the elite club. These include foodtech companies Swiggy and Zomato, edutech firm Byju's, insurance marketplace Policybazaar, hotel aggregator Oyo, online retailer Paytm Mall and India's fastest unicorn, Udaan. The B2B e-commerce start-up was barely two years old when it raised $225 million from DST Global and Lightspeed Venture Partners in September 2018 and joined the billion-dollar club.
Ola's electric vehicle arm Mission: Electric bagged the benchmark valuation when it raised $250 million from SoftBank as part of its Series B round this July, even as the rollout of its first product is only expected by 2021. To drive home the contrast, in the six years between 2011 and 2017, only ten start-ups had joined the unicorn club.
A wave of optimism is sweeping across the world. Investors today are more confident about placing big bets of over $100 million in mega rounds of financing. When Lee wrote 'Welcome to the Unicorn Club' around six years ago, there were only about 39 unicorns across the world. They were as rare as the mythical creature. Today, there are nearly 10x that number. In 2018 alone, 119 start-ups entered the unicorn club — one every three days — compared to 71 in 2017, according to CB Insights.
This year, India may better its 2018 tally. Seven firms have already joined the billion-dollar club, taking the overall tally to 25, and we are only half way through the year. According to data from Venture Intelligence, start-ups in India have raised nearly $3.9 billion during the first six months of 2019 — nearly 44% higher compared to the same period last year as investors bet big on the Indian market post the Flipkart-Walmart deal. Until the deal, there were niggling concerns about the ability of the Indian start-up ecosystem to offer liquidity to investors. With Flipkart offering stellar return, even to investors such as SoftBank who joined the funding party pretty late, there is renewed confidence that India can offer good exits and has a market where businesses can be built at scale.
Deep pocket investors such as Tiger Global, SoftBank, Naspers and Tencent are now looking to chase bigger opportunities, ensuring that capital is made available at an earlier stage to help firms scale up not only in India but across global markets. China was once a promising market but winter has set in there, with valuation, investments and deals beginning to dwindle. India, which is still at a fraction of its neighbour's size, offers better growth prospects. In this season of good cheer, which start-ups will emerge as the next billion-dollar babies from India?
New favourites
While consumer tech and fintech have been the sectors that have spawned a majority of the unicorns, the B2B and enterprise software space, or SaaS, as it is popularly known, are also throwing up some winners. In B2B, logistics is a hot favourite. One, the market opportunity is so huge that there is space for more than one or two billion-dollar companies. Two, the fragmented industry needs disruption by tech-enabled solutions that can improve its overall efficiency.
Delhivery, a third-party logistics service provider to offline businesses, entered the billion-dollar club this March when it raised $413 million from investors including SoftBank, Fosun and Carlyle Group. Delhivery was joined by another Gurugram-based logistics provider Rivigo, when it raised $65 million from its existing investors SAIF Partners and Warburg Pincus in May 2019. The firm owns and operates over 2,000 trucks and has a pan-India network that covers 29,000 pin codes.
Waiting in the wings is Bengaluru-based online freight-service provider BlackBuck with a valuation of $950 million. The four-year-old start-up connects businesses with truck owners and freight operators across the country and has raised about $230 million in equity and another $100 million in debt. Co-founder Rajesh Yabaji was one of the key members behind the transformation of ITC's tobacco supply chain. During his stint with ITC, Yabaji was responsible for bringing down the supply-chain cost by 20%.
After identifying transportation as the biggest expense in the chain, he founded BlackBuck in 2015 to build an effective and seamless system. It uses technology to ensure better price discovery by matching the shipper's requirement with a trucker, apart from providing insurance and financial services, and helping with payments. "We want to do anything and everything that is needed by the trucking industry. By introducing cutting-edge technology to an unorganised sector, we have improved the overall efficiency, thereby raising income levels and transparency in an otherwise opaque market," says Yabaji. The company has over 300,000 truck owners on its platform and counts Asian Paints, Coca Cola, ITC, Tata Steel and Hindustan Unilever as its clients.
While consumer-tech start-ups in India were initially favoured by investors, today, moneybags gravitate to the more capital-efficient SaaS start-ups. Take, for instance, the youngest unicorn Icertis — an enterprise contract-management software firm that has Google, Microsoft, Daimler, Airbus, Johnson & Johnson, Infosys and Cognizant as its clients. The firm manages 5.7 million contracts, with two million-plus subscribers. The company joined Zoho, Freshworks and Druva as SaaS unicorns from India when it raised $115 million in funding last month. The firm, clocking $100 million in revenue, is looking to expand its global footprint and invest in newer technologies such as blockchain, AI and machine learning. "We are very bullish about SaaS. Thanks to Zoho and Freshworks, which act as role models, there is a learning curve on how to build a global business out of India," says Mukul Arora, partner, SAIF Partners.
Digital play
A lot of privacy related concerns came to the fore when our 12-digit unique identity number was rolled out on a massive scale in 2016; there was even litigation. But the same year, Jio came out with its cheap-data schemes and nearly every squabble was forgotten. Indians became more comfortable transacting on their reasonably-priced smartphones as well as having a digital identity. It opened up the possibility of offering services that were unthinkable earlier. That's why the potential pipeline of unicorns, which includes start-ups that are currently valued at around $500 million, is spread across fintech, content generation, B2B, e-commerce and enterprise software (See: Super starts). For instance, fintech companies, thanks to the digital infrastructure created by Aadhaar, can offer loans to the under-banked population, who earlier didn't have access to credit because they did not have the requisite paperwork.
According to a report by Assocham-PwC India, digital payments in India are expected to more than double from $64.8 billion this year to $135.2 billion in 2023. Transaction facilitators such as Policybazaar and BankBazaar have been the biggest gainers from increasing digital transactions. Their marketplaces for investment options ensure better price discovery and transparency.
BankBazaar's second investor was Amazon which led a $60-million round in 2015. Other investors included Sequoia Capital, Walden Trust, Experian and Fidelity Growth Partners. The Chennai-based firm, whose valuation is estimated to be over $500 million, is now said to be looking to raise $80-100 million. BankBazaar helps consumers compare and choose the best offers on credit and debit cards, loans, savings, investment products and insurance policies. "We are seeing a significant transition from offline to online transactions as millennials are more comfortable transacting on their mobiles," says Adhil Shetty, co-founder and CEO of the start-up. BankBazaar's paperless transactions have gone up from 3% in 2014 to 30% currently. Shetty sees further surge in these transactions once video KYC is approved by RBI, since customers will then be able to access financial services from anywhere in the country.
But fintech firms are not just going after individuals who want to bank. They sense a big opportunity in India's 50 million small businesses whose electronic footprint and payment track record can be leveraged. Digital lenders such as RazorPay are also relying on big data, machine learning and alternative data to assess behavioural risk of loan applicants better and process requests faster. "India remains a truly phenomenal opportunity in financial services," says Bhupinder Singh, CEO of InCred, adding, "This story has many years to play out and the current challenges are only a blip." His start-up offers home, education, personal and SME loans, and raised Rs.6 billion in one of the biggest Series A rounds, valuing it at $300 million.
Inclusion will be the catchphrase in this brave new world, be it banking or infotainment. According to a report by KPMG-Google, about 75% of India's internet user base will consist of regional language users by 2021. So, as the next 300 million Indians come online, vernacular content firms such as Dailyhunt and social-commerce firms such as Meesho, which connects resellers and buyers in smaller towns, have a huge opportunity. Take the case of Dailyhunt, India's largest regional news and entertainment content app, which keeps adding between 12 and 15 million new active users every month.
"Dailyhunt was operating in vernacular languages even when it wasn't fashionable to do so. So, the premise with which we began, that India is a diverse country and we must celebrate that, was correct," says Umang Bedi, president, Dailyhunt, which has raised $187 million so far and is currently valued at $525 million. By further personalising its content and focusing on videos, Dailyhunt is aiming to reach 300 million monthly active users (MAU) and $100 million annual run rate (ARR) by March 2020, which according to the company, will make it 2x the size of the nearest competitor in user base. "As we established our presence in Tier-I and III towns, we also saw a lot of interest from local businesses to advertise and target consumers in their area. These businesses can do pin code, demographics and even interest-based targeting, among other things, to get the best return on media spends," says Bedi.
Open season
Everyone is sensing immense opportunities and some of the potential unicorns are being built by entrepreneurs who, after exiting their successful start-ups, have come back for more. These are heady times, hard to stay away from.
Myntra's Mukesh Bansal is one such entrepreneur. While he was part of Flipkart after Myntra was acquired by the former, he was bit by the entrepreneurial bug soon enough. So, he joined hands with Ankit Nagori, with whom he worked closely at Flipkart, to launch CureFit, a health and fitness start-up in 2016. Just like PayPal in the US, Flipkart in India bred some remarkable entrepreneurs who have gone on to build successful businesses in real quick time. At Udaan, which started as a marketplace for SMEs, the founders Amod Malviya, Vaibhav Gupta and Sujeet Kumar were what gave the investors confidence. It was a pre-product bet for Lightspeed India Partners, but Malviya had been Flipkart's CTO, Gupta led its finance and product-management functions and Sujeet was the president of operations. "Not only did the founders have a good understanding of the market, given their deep experience in building Flipkart, we knew they had what it takes to double down and go after the market," says Harsha Kumar, partner, Lightspeed India Partners.
At CureFit, while the space was new to both Bansal and Nagori, they had a clear idea on how they would leverage the huge opportunity. This helped the company scale up rapidly over the past three years. The firm runs gyms through its CultFit brand, promotes healthy eating through EatFit, mental wellness through MindFit and primary care through CareFit centres. It currently has over 200 CultFit centres, 40 EatKitchens that delivers 40,000 meals a day, and about 31 MindFit and five CareFit centres across seven cities with 500,000 active subscribers. Since its launch, the firm has raised $275 million from investors such as Accel, Kalaari Capital and Chiratae Ventures, as well as $75 million from its existing investors in the last round in May 2019, making its total valuation over $500 million. "We are the first to provide five interconnected offerings on one platform that enables cross-selling of products, helping our revenue growth," says Ankit Nagori, co-founder, CureFit. The company, clocking revenue of $100 million, has set itself a rather ambitious target of growing its revenue 10x by 2022, to be fuelled by its Indian and global expansion and the launch of new products.
Nagori is definitely a man in a hurry. "By 2020, we plan to expand our services across 50 Indian cities with 800 centres. We have identified four regions for our global expansion — South-East Asia, West Asia, Europe and North America; with entry to South-East Asia by the end of 2020," he says. There are already reports that the company is in talks with SoftBank to raise $200 million dollars to fund its expansion plans.
Similarly, for Sandeep Aggarwal, Droom is his second innings in India after he co-founded ShopClues in 2011 with Radhika Aggarwal and Sanjay Sethi. After parting ways with his ShopClues co-founders, Aggarwal saw how painful the process of buying and selling old cars was and decided to fix that. In 2014, he launched Droom, an online platform where you can buy and sell used cars, motorcycles and even aircrafts. The company has gone on to add more verticals such as financial services and fleet-management services to become a more comprehensive player in this space. It also offers inspection services before your car is certified by one of their 7,000 technicians, apart from providing history records for 200 million vehicles online.
To improve the price-discovery process, it developed an AI and data-science led price engine called Orange Book Value in 2015, which determines within seconds, the fair price for the vehicle based on its model, insurance, ownership and condition. "Orange Book Value has become the de-facto pricing standard for used vehicles in India and we have launched this service in 38 countries. The price-discovery platform will help us understand the depth of the market in these countries before we open for business there," says Aggarwal. The company has already launched its services in Malaysia, Thailand and Singapore and the plan is to introduce its services in Philippines, Vietnam and Cambodia by the year end.
"We have invested heavily in AI and machine learning. AI forms the foundation of everything we do. We use AI for our financial services, credit scoring, loan approval and prediction of a consumer's repayment track record," says Aggarwal. According to him, the company, which is currently clocking revenue of $35 million and a gross merchandise value (GMV) of $1.3 billion, will finish this year with a revenue run rate of $55 million and GMV of $2 billion. Droom is in the process of raising its final pre-IPO round of $200 million. It has raised $133 million till date with its current valuation at around $550 million. The company plans to list on Nasdaq in 2021, after achieving its 2020 revenue target of $120 million and GMV of $3.5 billion.
Droom competes with Jaipur-based CarDekho, which became a serious contender for the unicorn tag after its last funding of $110 million earlier this year valued the company at $460 million. A full-stack player that offers price discovery, inspection, financing and insurance, the start-up is now focusing on having an offline presence and has opened 48 stores across Delhi, Jaipur, Lucknow, Pune, Hyderabad and Bengaluru over the past six months. "We will expand our footprint to 200 stores across 25 cities by the end of 2020,"says Anurag Jain, co-founder, CarDekho. Apart from the used-car business, which gets 40% of CarDekho's revenue, the start-up generates leads for OEMs, which contributed 15-30% of its annual sales in FY19. "Our consumer data is being leveraged to upsell, offering car owners the option to upgrade to a new car or a used premium car, or providing interesting financing offers," says Jain. According to him, the company is expected to clock revenue of Rs.10 billion in FY20, more than double of what it did in FY19.
Deep dive
In India, the first few unicorns were e-commerce players who sold everything from books and clothes to electronics, and the general belief was that the Indian market wasn't deep enough for specialised players focused on a single vertical to scale up. Debunking that theory, India's largest online beauty retailer Nykaa has not only built a business of scale but is well on its way to becoming a unicorn. "The focus was never on valuation but on building a long-term sustainable business. I believe when you build a fundamentally strong business, valuation will follow," says Falguni Nayar, founder, Nykaa. And it certainly did, with the seven-year-old company commanding an impressive valuation of around $750 million. According to company estimates, revenue has more than doubled to Rs.12 billion for FY19 compared to the Rs.5.7 billion it clocked in FY18.
While catering to the long tail in beauty products (niche offerings such as vegan cosmetics or handcrafted floral soaps) has always been a challenge for offline retailers, Nykaa turned the business on its head by offering endless aisles through e-commerce. The company offers over 1,000 beauty and wellness brands and attracts 50 million visitors a month. Its strategy of building private labels and an omnichannel presence, and increasing engagement with its consumers on social-media platforms through curated content has worked for the company. Nykaa is also working on increasing its offline footprint and the plan is to take the count from 38 stores currently to 180 by 2023. "We realised that customers prefer the omnichannel route where they like to shop at stores and replenish online, and if we don't have a store, we will lose them to competition," says Nayar. Nykaa is now looking to replicate the success it had in beauty, in its fashion and accessories' business. In fact, Nayar expects the fashion business to do one better and deliver the growth that the beauty vertical has generated so far, in five years. "While it is a tough business to execute, the market opportunity is much larger compared to beauty. We may not have the first mover advantage here, but there are definite gaps in the market and we are looking to fill that. We will be using the same playbook that we used in the beauty business, where we carefully curate our products and content and pursue partnerships with global brands," says Nayar.
Unicorpse?
For some specialised players, the journey to becoming a unicorn has been far from easy. Take the case of online-grocery player Grofers, which raised $220 million in its last round of funding from SoftBank, Tiger Global, Sequoia Capital and other existing investors in May 2019, which valued the firm at $800 million. Starting off as a hyperlocal marketplace in 2013, the company pivoted to an inventory model in 2016 as the unit economics of being a marketplace didn't quite work out. So, the company scaled back its operations and even went in for a down round in February 2018, where it raised money from existing investors at a valuation nearly 40% lower than what it did in its previous round in 2015.
But things have taken a turn for the better since then. Its private-label business is growing steadily, contributing nearly 40% to its overall revenue. "We started with the notion that convenience is the motivator for a lot of people to buy online. But, over a period of time, we realised that Indian customers value savings over convenience. Our biggest learning has been that if you want to build a grocery business at scale, you have to build a business whose core value is focused on savings. So, the way we design our supply chain, and the way we think about product assortment and price points are focused on that single core value," says Saurabh Kumar, co-founder, Grofers. The company is working with kirana stores to convert them into branded outlets. The initial target is to convert 200 stores and Grofers has already converted 100 stores in NCR. While the alliance gives the company a chance to push its private labels, the start-up will help kirana stores in managing their inventory and cash flow better by providing insights on the right product mix and price points. "Customers may go to larger stores for their planned purchases but they will still rely on kirana stores for top-up and impulse buys. We help owners manage their stores better and procure products cheaper, enabling them to have a better cost and margin structure. For us, it is an opportunity to increase the visibility of our private labels and the more volume we push through our supply chain, the more efficient it becomes," says Saurabh. The company hopes to clock a turnover of Rs.50 billion by the end of FY20.
While the tag of being a unicorn is nice to have, things can go wrong quickly if the founders misstep as they scale up. Remember e-commerce players Snapdeal and ShopClues? They made an entry into the unicorn club only to flap about when funding dried up. After several cost-cutting measures and laying off a chunk of its employees, Snapdeal is trying to make a comeback and its revenue grew 73% and losses declined 70% in FY19. While it has managed to score a personal investment from Anand Piramal, its valuation is a far cry from the peak valuation of $6.5 billion.
Evidently, ample funding doesn't always ensure smooth sailing. Take the case of newly minted unicorn Rivigo which has raised $268 million from its investors so far. The company is going through a transition to improve unit economics and is moving away from its asset-heavy model of owning trucks to a more asset-light model as investors have turned up the heat on improving metrics. In a bid to cut down costs, it recently laid off 75-100 employees and rolled back campus offers it had made earlier. While it is still a fancy tag to have, becoming a unicorn doesn't guarantee success. Only unicorns whose businesses come with the right unit economics enjoy a longer stay in the billion dollar club.
ShopClues, an e-commerce player that catered to Tier-III and Tier-IV towns and entered the unicorn club, is struggling to stay afloat after talks with Snapdeal to be acquired for $250-300 million fell through in May. The company recently let off 200 people and the fate of rest of the staff hangs in the balance. The fall from grace is harder the higher up you are in the valuation table. Yes, they have a term for unicorns that are worth much less — unicorpses.
Luckily for India, we are just getting started on the unicorn cycle, so there are more happy stories than those that didn't work out. Successful investors, with early unicorns such as Flipkart, Ola and Paytm, have paved the way for the next set. The next round of validation for Indian start-ups would be successful IPOs of the unicorns. Already a handful of them, such as InMobi, Freshworks and Oyo, are working towards listing in the next one to two years, and their success would bring in newer investors to the Indian market. And that's exactly what these 'soonicorns' (that's what unicorns in waiting are called!) need.