01 HCAH
Healthcare Convenience Beyond Hospitals
Launched in 2012, a few years before Covid-19 struck, Health Care at Home (HCAH) India aimed to provide healthcare services to patients within the comfort of their homes.
HCAH India is backed by the Burman family, which is also the promoter of FMCG major Dabur. Besides spreading awareness about the healthcare options available to people, HCAH trained professionals to provide home healthcare services. It became the first company in the out-of-hospital space to be included by insurance companies for cashless delivery service.
Today, the company has three different verticals—homecare services, elder care services and transition care services. These cover patients who need care after treatment, the elderly and those with chronic diseases. HCAH claims to be one of the few players with such a broad homecare service network.
---
02 Mosaic Wellness
Digital Coaching for Personal Care
After co-founding a start-up in the food domain and investing in early-stage tech start-ups, Revant Bhate decided to venture into the healthcare sector when he observed a lack of attention to health in the country. In 2019, Bhate and Dhyanesh Shah launched Mosaic Wellness, a digital healthcare platform. The company provides personalised solutions to specific health problems through its three distinct platforms—Man Matters, Bodywise and Little Joys—that cater to men, women and parents of young children. It scaled up revenue to
Rs 84 crore in FY22 from Rs 15 crore in FY21. While it has come a long way, the founders believe that the overall awareness about health is lacking among people, especially young adults. Mosaic Wellness aims to engage around 10 million people and help them remain focused on their health goals.
---
03 EKA Care
On the Digital Path to Health Management
Sensing the gaps in the management of medical records of patients, Vikalp Sahni, Deepak Tuli and Abhishek Begerhotta established healthcare platform Eka Care in 2020. The platform creates and manages the health profiles of patients digitally, which helps them take informed decisions for better health outcomes.
According to the founders, a lack of a unified structure for patient record management makes it difficult for patients and doctors to access essential information. Eka Care designed the Personal Health Record (PHR) app for patients, which can be used to oversee their medical records and monitor vital health indicators. For doctors, it offers Electronic Medical Record (EMR) services, enabling them to manage their clinical practices.
The company claims to have helped over eight million users, including more than 12,000 doctors, since its inception. Additionally, it managed to secure $15 million in Series A funding.
---
04 BEATO
Diabetes Care at Fingertips
Friends Gautam Chopra and Yash Sehgal decided to launch BeatO, a platform to help with diabetes management, after being diagnosed with high levels of sugar—while Sehgal had full-blown diabetes, Chopra was at high risk of developing it. The alarmingly high number of diabetics in the country further made a case for an impactful indigenous service model that would make diabetes care in the country more accessible.
Established in 2015, BeatO provides products and information to patients to help manage diabetes. The services on its app help patients with everything related to the condition. Users can monitor their sugar levels through a glucometer and receive counselling from certified experts. Moreover, they have an option to purchase products suitable for them. BeatO's products and services help patients manage issues related to blood pressure and cholesterol as well.
---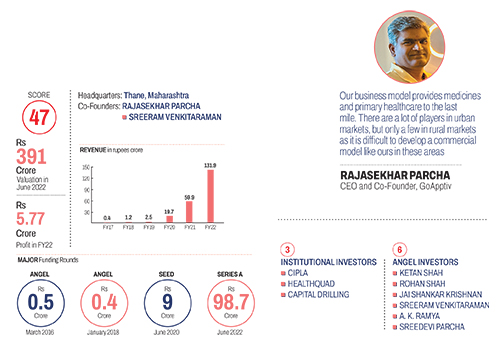 05 GOAPPTIV
Taking Healthcare Services to the Underserved
Recognising the challenge in last-mile delivery of medicines, particularly in remote villages, GoApptiv decided to build digital infrastructure that would bring various industry players on a common platform to fill the distribution gap in these markets. The aim was to transform healthcare access in India.
With a business-to business model, the start-up, launched in 2015, facilitated healthcare companies in making their products available in villages. GoApptiv's customers include doctors, chemists and wholesalers among others, both in urban and rural parts of the country. It uses complex analytics to identify clusters across all regions, including the unstructured rural markets, for stakeholders to engage with the platform.
The company claims to have connected close to three lakh villages in India so far and aims to connect every village in India. It posted revenue of Rs 132 crore in FY22.