01 Property Share
Creating Wealth for Real Estate Investors
Founded by Kunal Moktan and Hashim Khan in 2015, Property Share is a tech-enabled commercial real estate investment platform. It allows people to invest in institutional grade assets that offer around 10% in-place rental yields and around 19% returns.
Property Share currently owns three warehouses in the UK. It is now looking at bagging a full-fledged licence from the Financial Conduct Authority, a financial regulatory body in the UK, to market its assets to the country's residents.
The founders, who own more than 50% of the start-up, want to have a much larger play in the alternative investment space, going beyond global real estate assets to alternative investment funds.
The company is focused on increasing its assets under management, currently worth around Rs 1,400 crore.
---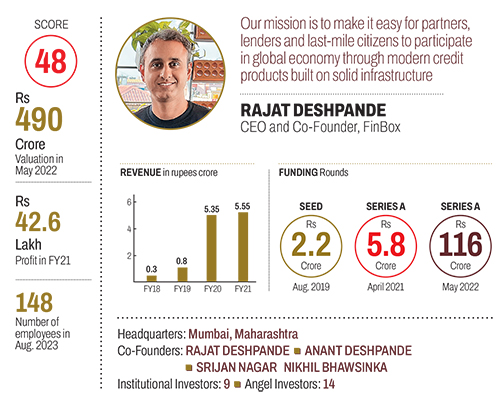 02 FinBox
When Financial Institutions Build on a Start-Up's Credit Infrastructure
FinBox, founded in 2015, is an embedded finance infrastructure company that offers a comprehensive mix of underwriting, automation and infrastructure solutions to its clients. The company's clients use its credit infrastructure to launch credit programmes and its risk intelligence platforms to power their underwriting, collections and cross-selling capabilities.
In 2022, FinBox expanded its global presence by closing significant deals with large financial institutions in Southeast Asia, besides launching new products like the no-code business rules engine Sentinel and multi-bureau risk platform BureauConnect.
FinBox raised $15 million in 2022, which saw the participation of A91 Partners, Aditya Birla Ventures, Flipkart Ventures and many individual investors. The fintech's cap table includes Arali Ventures and IIFL among its key investors. According to the founders, FinBox has been focused on building a cash-flow-positive business that creates value for its partners.
---
03 Propelld
Easing Credit Financing for Education
Propelld, a fintech start-up, aims to increase the affordability of education through easy financing options, targeted primarily at new-to-credit and self-employed customers.
Its gross revenues in FY22 stood at Rs 32 crore, which doubled to Rs 75 crore in FY23. The overall loan disbursement through its platform grew by 250% YoY to reach Rs 1,010 crore per annum, while the online education loan disbursement grew to Rs 700 crore per annum. Propelld is backed by investors like WestBridge Capital, Stellaris Venture Partners and India Quotient. In the last quarter, its wholly owned subsidiary, Edgro Finance, secured an NBFC licence.
---
04 Credable
Beating Tough Times With Financial Innovation
When most of the start-ups in the country struggled to survive the funding autumn, CredAble, a fintech platform founded by Nirav Choksi and Ram Kewalramani in 2017, decided to use it as an opportunity to reinforce its presence in the country and grow.
"Through the year, we innovated and enhanced our working capital solutions, introducing new features and functionalities that empower our users to manage their working capital more effectively," says Ram Kewalramani, MD and co-founder of CredAble.
An accomplishment, in FY23, was the expansion of its technology offerings to banks and financial institutions with respect to its expertise in banking-as-a-service and embedded finance technology in new geographies. CredAble is now looking to tap customers in diverse markets, including Singapore, the UAE, the UK, Australia, the Philippines, Indonesia and the United States.
---
05 GetVantage
Mainstreaming Alternate Financing
GetVantage, a revenue-based financing platform founded in 2020, has endeavoured to take alternate financing mainstream with a data-driven approach. Last year, it secured a non-banking financial company licence from the Reserve Bank of India for its lending arm, GetGrowth Capital. This has the potential to boost the firm's revenue pipeline and enable co-lending alongside other institutions.
Prioritising cost efficiency, governance and compliance has helped GetVantage build and sustain investor confidence. The company is backed by Chiratae Ventures, Dream Incubator Japan, Varanium Group, DMI Sparkle Fund, InCred and Sony Innovation Fund. GetVantage has funded over 650 businesses with a total gross merchandise value of Rs 6,000 crore.