It is among the most admired companies in India. Not only for constantly grooming leaders for India Inc, and for being an outstanding marketeer, but also for its sincere effort with social responsibility and environmental matters – something that is becoming an important part of any corporate legacy.

That's not all. The story looks even better when you look at how the stock market has showered its adulation on Hindustan Unilever over the past decade. HUL's stock price gained nearly 10x between March 31, 2010 and March 31, 2020, adding Rs.4.5 trillion to its market cap. Over the past five years alone, the stock price compounded at 21%, amid irrational exuberance in the sector. Trading at a price-earnings (P/E) multiple of 67x trailing earnings, the company will have to grow a minimum of 10% every year for the next 35 years and about 5% thereafter to justify the current valuation, according to research done by Abakkus Asset Manager founder Sunil Singhania, a year ago.

That seems like a tall order going by its past performance. The best period of business growth for HUL in this millennium was between FY05-FY15 when sales compounded at 11.67% and net profit at 13.79% as against nominal GDP growth of 15.86%. Thereafter, its growth has been more muted. Over the past five years, its sales grew a modest 4.47%, lagging real GDP growth of 6.61% and nominal GDP growth of 10.69% for the same period. Its earnings growth of 9.08%, while double the sales growth, was still lower than the nominal growth in GDP.

Even though India continues to be a consumption-led economy, with 60% of GDP driven by consumption expenditure, HUL's portfolio is increasingly not capturing a considerable share of consumer spending. While consumers tend to allocate a higher share of their wallet to durables and other indulgences such as travel and entertainment as per capita income rises, a trend that has been established over the past decade with rising household credit spurring penetration in several consumer segments, HUL has not adequately captured new segments in the staples space either, say analysts.

HUL's product portfolio covers a wide range of products in personal care straddling all price points and a narrow range of foods too, but that hasn't proved enough to track India's growth. To lift its sales growth curve, the company will have to add significant new high-growth categories to its portfolio. Although HUL has premiumised its portfolio over the years and added new categories that have better growth runway, its portfolio is still dominated by product categories that have attained high penetration and that poses a limitation to growth going forward, according to analysts. "The best case for HUL would be to match GDP growth," says Singhania.

A relatively easier way to fix the growth deficit will be to snatch market share from competitors or enter newer sub-segments through acquisitions, and then gun for disproportionately high bottomline growth by doing a great job of extracting synergies from these acquisitions, something the current management has been doing with high degree of success. Even then, the 10% growth that the market expects may be a tough ask. "Acquisitions will be the best route, but given their elephantine size, it will need a very aggressive strategy to better the past track record," points out Singhania.
The market has a way of tempering unrealistic expectation, but that process could be long and painful. For 10 long years, between 2000 and 2010, the HUL stock remained flat as the company managed a 4.95% growth in sales and 6.6% growth in net profit.

After a decade of relentless optimism, which kept the stock climbing (See: Hot streak), the sentiment towards the HUL stock is changing finally. The flat growth of last year and fears about COVID-19's impact on consumer sentiment has dragged down consumer stocks including HUL. A more serious question now is, in the face of an economic slowdown, can the industry leader prevent its growth from declining? The very fact that the company has been able to better its operating margin from around 15.82% in FY2010 and 17.64% in FY15 to nearly 22.92% in FY20 raises doubts over further efficiency gains that the company can pocket. This makes sales growth even more imperative.

Post COVID, HUL, like several others in the sector, saw a strong business recovery in June. Its production and supply bounced back to 90% of what they were before the pandemic. Rural demand, new product launches and focus on new distribution channels, analysts say, will fuel growth over the near term. Meanwhile, the company is confident that 90% of the portfolio, which constitutes essentials, will continue to post a strong performance. Even if there is downtrading by consumers, HUL with its portfolio across various price points is confident of garnering a good share of volume growth.

While synergistic benefits from GSK Consumer's acquisition may contribute to operating margin growth in the coming quarters, the company might need more such big-ticket acquisitions that can bring growth in sales as well as bump up its bottomline. CEO Sanjiv Mehta and CFO Srinivas Phatak talked about the company's strategy for growth, COVID-19 impact and more, in a free-wheeling conversation with Outlook Business. Edited excerpts:

In a recent interview, Sanjiv, you said that the government should act before it is too late. Isn't it too late already, and aren't the government's hands tied?

Mehta: I am an optimist. I believe in going long on India and that we have a great future ahead. Let's pause and rewind a bit. If the government had spent money on stimulating demand when the country was under a lockdown, it would not have yielded any benefit. So, it's still not too late. Now, people may save money or spend it. That is the risk. Therefore, any fiscal or monetary intervention has to be done in a manner that the money gets spent.

Demand leads to investment and investments to livelihoods, and that's how the virtual cycle of economy restarts. For funding, we need to gather resources. Disinvestment should be speeded up, that's one way. Even if the fiscal deficit goes up, if you have a glide path and if you were to tell investors and the rating agencies that with discipline we will reign in the deficit, I am absolutely certain they will understand.

Now, they have to see how they can restart some of the sectors that create employment. Of course, we should not use these resources to wash off the sins of the past. Instead, we should use it in the most prudent manner to protect the most vulnerable sections and businesses that create employment.

It is important that we play our cards well and I believe we will. We will come out of this crisis stronger.

The question still is how do you muster resources? The disinvestment track record so far has been abysmal.

Mehta: Mustering resources won't be easy, but then again there is plenty of money going around in the world. Look at the financial market. It's not that money is a constraint. If you make an attractive pitch and if people believe in the long-term story of India, I am sure investors will come.

When do you see growth coming back?

Mehta: I firmly come from a school of thought that towards the latter half of 2021 and definitely 2022, we should see consumption revive in the country.

What trends are you seeing in consumer spending and how do you see that playing out over the next one to three years?

Phatak: The first trend is that everyone is concerned about health, hygiene and nutrition. Second, because of the turmoil, lockdown and migration, people are looking for value. They want to try and save money where they can. Earlier, people made lesser number of trips and bought more, now they make more trips and buy less. So, we are selling some of our low unit-price packs more. Third is increasing e-awareness. There is a massive explosion of data and digital, and e-everything. We are trying to include all these trends into our thinking process. An example of how that is playing out is, today, 80% of our business is in health, hygiene and nutrition.

With the lockdown, less than 5% of our business has been significantly impacted. This is the vertical that has everything to do with out-of-home consumption, such as ice creams we sell to restaurants, and out-of-home vending operations, the kind you find in offices. This less than 5% posted negative growth of 60-70%, while 80% of the business did extremely well. In the middle we have about 15 % of the business, which is typically skin and hair care, which has started to pick up. The important thing in an environment like today is retaining your consumer and focusing on volume growth. So, when the turnaround happens, we will be able to capture that growth.

Mehta: As an FMCG company, we can be recession resistant, not recession proof. So there are products people would consume even when the times are tough, though they may downtrade to a lower price brand or may go down to a smaller unit-price pack. But, those essential habits, people don't give them up completely. For example, categories like detergents, soaps and shampoos are highly resistant.

Post COVID, there are some categories where the consumption level is very high. These product categories are what I call 'obsessives', such as sanitizers and handwashes. We used to spend crores of rupees every year, trying to inculcate the right habits, even the basic habit of washing hands with soap and water. But COVID-19 has raised the consciousness of hygiene to a whole new level, and we believe this heightened awareness will remain even after the pandemic is over.

COVID-19 has also increased the focus on health and wellness. People have suddenly realized that boosting your immunity is critical. That is the reason I say the marriage with GSK Consumer was made in heaven. It came at the most appropriate time. Hygiene and nutrition, from our perspective, are going to be key drivers even beyond the pandemic.

HUL clocked 4.5% annual sales growth over the past five years, trailing GDP growth during the period (See: The big picture). Why?
Mehta: Let's add perspective. This was also a period when demonetization and the GST disruption happened. This was also the period when there was a big rural slowdown, in 2015. Over the past nine to ten years, we have grown at 9% CAGR, of which about 60% has come from volume growth. If you look at our Ebidta margin, which has grown handsomely around 890 basis points, and our return of capital employed, which has been in three digits, it has been a great story considering the size of our business and the economic upheaval. From a value-creation perspective, we were about $17 billion in 2013, and now we are about $68 billion. And, on top of that, we have used that market cap to do this fabulous acquisition of GSK Consumer.

HUL has always been like a proxy for the economy in a certain sense. The upheavals over the past five years are supposed to reflect in the GDP number as well, unless we say the GDP number is exaggerated because of the change in base and so on…or does it have something to do with the nature of the consumption basket?

Mehta: These are questions which an economist can best answer. We should accept that neither a country nor a company grows in a linear fashion. There are ups and downs. The bigger you are, the more are the variables that impact you. But, we look at it through the 4G model, which is about consistent, competitive, profitable and responsible growth.

Phatak: In designing our product portfolio, we follow three clear principles. The first is to focus on how to make products more relevant to people. Therefore, in most of our categories, we have products priced from Rs.1 to Rs.800. The second is market development. These are not existing businesses but ones that you create over time, by telling customers how it helps them, such as detergent powder for washing machines or body wash. The third is premiumisation. The premium market today is 28-29% of the total and we are over indexed by 700 basis points. Every year, we see nearly a 1% shift into this segment. This gives us higher realization and margins.

One important leg of our strategy has been the 'Winning in Many Indias' framework. We now look at the country through a lens of 15 clusters. These clusters are different from each other in terms of socio-cultural preferences, tastes, competitors, our competitive position and per capita turnover, and consumption etc. Therefore, they need to be served differently. Apart from this, we split our Rs.400-billion business into 15 mini-companies which are our categories like oral care, skin care, tea and so on. We call them CCBTs (Country Category Business Teams). These two initiatives help us to have the right strategy, the right portfolio, the right kind of pricing and the right distribution.

HUL has gone through a lengthy stretch of flat growth in the past. What levers can you rely on to maintain market share and sustain margin?

Phatak: India and the business of HUL today are very different from what they were in the 90s. We have a stronger portfolio and solid market position. Also, ours is not an auto company, or a heavy industry or massive machinery company. For us, growth comes in even from people who buy products for Rs.1 or Rs.2. These are very large and very profitable businesses.

Even when people downtrade, we have business models to tap into that. We have many different avenues to explore and therefore the ability to maintain and improve margins. There could be periods of margin dilution linked to economic cycles or significant commodity inflation, but that does not change the overall trend.

For instance, in June quarter, our base business had negative 7% growth, because of massive supply-chain disruption in April and May. We acquired Horlicks during this time, and it helped us improve margins. Despite many challenges, our Ebidta margin for the business in June quarter was about 25%, which is quite healthy.

So, in essence, we have achieved fair amount of sophistication in the way we set prices, sell our products, manage our portfolio and drive our savings agenda.

What kind of savings potential do you see going forward?

Phatak: We are undertaking a massive supply-chain transformation project. Once, we had more than 40 distribution centers. After GST, we are bringing it down to about 24 or 25. Then, GSK Consumer has brought us iconic brands such as Horlicks and Boost, and on these, there is potential for another 550-700 basis points margin expansion.

This will be done through several ways. One, we will combine the distribution centers of GSK and HUL. We will get scale benefits on media and raw material procurement, too. We are also looking at some of our factories, to get them a better configuration.

Given where we are, we have got healthy margins. The idea for us is not to try and take margins another 1,000 basis points from where we are. That would be a wrong strategy. What we really need is growth. The equation of getting growth at a healthy margin means a bigger value creation model. Get more growth, hold on to the margins, and you are in a great place.

Mehta: We don't run the business for few years, we run it for the long term. During this period, our focus would be to ensure that our volume share keeps growing and we remain competitive.

How do you see the ecosystem of venture-funded consumer brands shaping up? For most start-ups, capital is coming cheap. Will they create disruption similar to that caused by regional brands, earlier for HUL?

Mehta: The small ones do not necessarily have to beat a large incumbent. It depends on whether we are agile enough to win in today's world. During the last few years, we have regained leadership in the tea category. We have increased our market leadership in the hair category and crossed the 50% threshold. We have taken our laundry market shares to over 40%. I am giving you three examples from three different divisions. The steps that we have taken – whether it is 'Winning in Many Indias' or setting up CCBTs – are meant to take the organization much closer to the consumer and, to make the organization much faster.

Is acquisition your favoured strategy to play new growth categories?

Mehta: Over the past few years, we acquired Indulekha, which was small and now has grown to become a fabulous brand. Then, we bought Adityaa Ice creams and VWash and now GSK, the largest acquisition in the FMCG space. We will always be on the lookout for acquisitions that fit in with our strategy.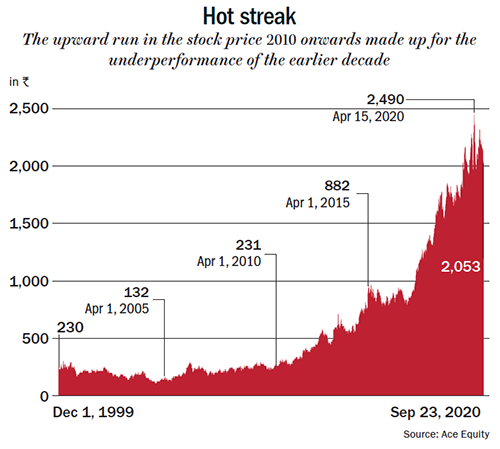 That said, the opportunity for organic growth in a country with per capita consumption of FMCG at just $40 is massive when you compare it with other countries. Indonesia is at 1.5x, China is at 3-4x and Philippines is at 5x (See: Enough headroom). The runway for growth here is long. Our focus will therefore be on market development, which is growing the nascent categories; renovating our big brands in the core categories to keep them contemporary; and premiumising our portfolio with higher order benefits.

Phatak: Unilever has globally made 28-30 acquisitions, in beauty and personal care, and in foods and refreshments. At an opportune point in time, we can bring some of those brands and businesses into the country. We are quite excited about foods and refreshments, beauty and personal care, and even house cleaning products within homecare. What we are not interested in are commoditized categories, such as atta and dal. Equally, we are not interested in categories such as biscuits which are not core to our foods and refreshments portfolio.

What kind of shifts are you seeing from the sales channel perspective? How is this dynamic working for you?

Mehta: There are two channels that have really stood out during the pandemic. One is e-commerce, which still constitutes a miniscule 3-4% of the total categories. It is going to gallop at a much faster pace. The other is the humble grocer because people have suddenly realized the benefit of a neighbourhood store. The share of kiranas may go down from 75% to 60-65% over the next 10 years, but they will remain the most dominant channel.

At the beginning of the century, when modern trade stores came, people thought it would mean the end of the kirana. But, that never happened. FMCG distribution costs in India are very efficient, as compared to many other nations. It is not that it is a high-cost distribution setup which is ripe for disruption. If the grocers adopt technology, then this channel can not only survive but thrive. Our Shikhar app has now been adopted by over 200,000 stores.

Phatak: Before the pandemic, the share of modern trade (such as supermarkets and hypermarkets) in retail used to be 15-18%. Over the past few months, a large part of this channel was shut down. On the other hand, the pandemic has given a massive fillip to the e-commerce channel. Pre COVID this was growing anywhere between 60% and 150% because of the small base. Definitely, there will be massive acceleration going forward.

But, soon these equations will change again; modern trade will make a comeback. Our market share and profitability in e-commerce is higher than our market share and profitability in modern trade. Our share and profitability in modern trade is higher than our share and profitability in general trade. As consumers continue to uptrade, you get into segments with better share and better profitability. All this is by design. Over time, general trade will reduce but it will still continue to be healthy.

Post COVID, have you tweaked your advertising spend? What has been your experience with digital?

Phatak: In April and May, there was a significant reduction in ad spends by the market. If you can't have the physical product into the market because of various supply disruptions, why would you spend? We, too, reduced spend in March and April, but we have been progressively increasing spend after that.

All of India has now started to open up. Everybody has started to spend. As far as digital versus traditional advertising goes, yes, progressively digital will gain more ground. We have lots of models on how we would want to use digital and we continue to do a lot of thought leadership there. Equally, TV continues to be relevant for Tier-2 town and villages. So, we will continue with that medium mainly.

Tell us about the company's ESG (environmental, social and governance) goals. How do you set them?

Mehta: Our vision has always been to make sustainable living common place. Unilever has three fundamental beliefs, that brands with purpose grow, companies with purpose last and people with purpose thrive. These are the three fundamental beliefs which drive us. We have a classic, multi-stakeholder model. We believe if we look after our consumers, employees, society and the planet, shareholder value gets created.

For goals, we picked audacious ones. For instance, our goal for water conservation stemmed from the fact that, if India is not able to solve its water problems in the next couple of decades, the water supply can meet only half the demand. The water table would have gone down significantly. So, over the past seven to eight years, we worked in about 5,000 villages and created a water potential of a trillion litres. We are now aiming to create another 1 trillion litres potential over the next five years. Just to put it in perspective, 1 trillion litres is the drinking water India needs for an entire year. That is the scale at which we work.

Similarly, in plastic, we are particular that by 2025 all the plastic that we use will be reusable, recyclable or compostable. Even when it comes to substrates such as sachets, we have been working to make them recyclable. By the end of the year, recyclable sachets would be 60% and, in another year or two years, 100% of our sachets will be completely recyclable.

Also, by end of this year, we will be collecting 50% of the total plastic that we use from the environment and reprocessing it or recycling it or getting the energy back. In another couple of years, we will collect 100% or more than what we use. So, we clearly pick up big, audacious goals and, if there is a cost to be incurred with no immediate benefits, so be it.

What has been your biggest learning from the lockdown?

Mehta: Personally, this was the first time in many years that we had our daughters with us. We have twin daughters; one studies at MIT and the other at HBS. We spent a few months together, which we had not done for many years, so that was a fabulous thing.

From a leadership perspective, it drove home the point that for companies to succeed in the future, they should be more than efficient. They should be resilient and adaptable. COVID-19 brought about behaviour change at a scale never seen before, that meant you had to keep a close watch on the consumer behaviour patterns that are emerging.

Next, even if we are a cash-rich, zero-debt company, we still need to have a laser focus on cash and cost. Last, but not the least, going back to the fundamental belief, is that you need to look after your people and the community.