The Economic Survey 2021-22 pegged a high annual growth rate of 3.4% for vegetable oil imports till 2030. It recorded changing dietary habits of people as the reason for this growth. "As urbanisation increases in developing countries, dietary habits and traditional meal patterns are expected to shift towards processed foods that have a high content of vegetable oil. Vegetable oil consumption in India is, therefore, expected to remain high due to high population growth and consequent urbanisation," the survey said.
Over 60% of India's edible oil consumption is import driven. In February 2022, India imported 10,19,997 tonnes of vegetable oils, which included 9,83,608 tonnes of edible oils and 36,389 tonnes of non-edible oils. Vegetable oil imports increased 22% from 8,38,607 tonnes a year ago. According to data released by the Ministry of Agriculture, India is the largest importer of vegetable oils in the world, followed by China and the USA. The Solvent Extractors' Association of India says that the country's edible oil import bill rose by 75% to Rs 1,04,354 crore during April-December 2021 from Rs 59,543 crore in the first nine months of the fiscal before.
Alarmed by the rising import bill and price volatility caused by global events, the Centre announced the National Mission on Edible Oils–Oil Palm (NMEO–OP) programme in August 2021. The total approved cost of the NMEO–OP scheme is Rs 11,040 crore, out of which Rs 8,844 crore is the Central share and Rs 2,196 crore is the share of the states. For 2021-22, around Rs 1,042 crore have been approved for various state annual action plans. Through these allocations, the government wants to increase domestic production of edible oils, which presents opportunities to large private players but poses policy, environmental and execution challenges.
Smooth Run for Edible Oils
Experts believe that the increasing demand for trans-fat-free oils is anticipated to boost the growth of the market as well. According to an industry expert, who did not wish to be quoted, the Indian edible oil market is expected to grow significantly due to growing urbanisation and rising preferences for unprocessed, unrefined and healthy oils. "The rising prevalence of lifestyle-related diseases, such as diabetes, high cholesterol and hypertension, drives [the consumption of] premium or value-added edible oil, such as canola, olive and rice bran oil. Moreover, the increasing population base and a growing economy will augment the Indian edible oil industry's growth in the forecast periods. Additionally, the rising trend of eating out is expected to foster the Indian market growth," says the expert.
"Studies show that soy oil accounted for more than 33% of the market share in 2019. Mustard, palm and sunflower oil will also have a higher growth. The preference for olive oil is increasing in India--its share stood at just around 1% in 2019. The olive oil market is expected to grow in the longer run," Abhijit Banerjee, senior research analyst, agri commodities, at Religare Broking, says.
The Great Palm Oil Rivalry
Palm oil is the mainstay of the edible oil market in India. Of the total edible oil imports, the share of palm oil is the highest at about 60%, followed by soybean oil at 25% and sunflower oil at 12%. The palm oil market in India is largely dominated by Ruchi Soya and Adani Wilmar Limited (AWL). The two look set to capitalise on the opportunity to capture the palm oil supply gap in India. Ruchi Soya, which recently launched its follow-on public offer (FPO) worth Rs 4,300 crore, has announced its plans to start oil palm plantations in Assam, Tripura and other northeastern states. The company, which was acquired by the Patanjali group in 2019 for around Rs 4,350 crore through an insolvency process after it slipped into the red, has already done field surveys for the palm oil plantations, which it wants to set up through contracts that guarantee farmers a buyback by Ruchi Soya's processing plants.
Post FPO, shares of Ruchi Soya have been up 12% and were trading at around Rs 950 in the second week of April. FPO investors could book profits of over 44% from the launch price of Rs 650. Of the Rs 4,300 crore the company raised through the FPO, Rs 1,290 crore were raised from anchor investors. The company wants to use this amount to settle debts worth Rs 2,669 crore and provide for incremental working capital requirements amounting to Rs 593.42 crore.
Staying true to his swadeshi branding, Ramdev, the yoga tele-evangelist and backer of the Patanjali group, wants to turn Ruchi Soya into the chief player in making India self-sufficient in edible oil production. "The groundwork for the plan has been done. It can be started at any time," he had said at the time of launching the FPO. The stock performance of the company since then seems to convey that investors have bought his claims. Ramdev wants to reroute the Rs 1.5 trillion worth of edible oil imports of India to Ruchi Soya, positioning the company in the race to acquire the top spot in the edible oil market.
But, is it just Ramdev's positioning that matters in the market? "Ruchi Soya has a bright future because it has palm oil plantations. The next two to three years will be eventful [for the company]. But, it has a history of corporate governance issues, which could be a little bit of a spoilsport because markets do not forget history. The FPO was also priced at a steep discount, which did not invite the confidence of merchant bankers. Normally, FPO discounts are not more than 10%. Here, it was more than 30% because of the kind of share price movement that has happened as there was hardly any floating stock in the market. So, the share price can reach any level. Almost 98% equity was with Ramdev before this FPO," explains Avinash Gorakshakar, head research, Profitmart Securities.
Such issues of governance came to the fore when Securities Exchange Board of India (SEBI) asked bankers of Ruchi Soya to allow investors of its then ongoing FPO to withdraw their bids citing the circulation of "unsolicited SMSes" about the share sale. Its FPO was scheduled to close on March 28, which then closed on March 30.
Prime Minister Narendra Modi in a meeting with then Malaysian prime minister Mahathir Mohamad on the sidelines of the 5th Eastern Economic Forum in Russia in 2019. Photograph: PIB/PTI Photo
These perceived missteps of Ruchi Soya and run-ins with SEBI over regulatory issues could prove to be a boon for its chief competitor in the edible oil segment--Adani Wilmar. The latter, which aims to be the numero uno in the edible oil sector, had also shown interest to acquire Ruchi Soya. Adani Wilmar had made a Rs 5,474-crore offer which it later withdrew over delays in the closing process.
The company also wants to win the trust of retail investors. Its three-day initial public offering concluded on January 31 and was subscribed over 17 times. Since March 15, the company's share price has shot up 79%, extending the total returns, since the company was listed in February, to 164%, as investors seek to benefit from the larger geo-political tensions that have resulted in elevated commodity prices.
The company, an equal joint venture between Adani Enterprises and Wilmar International, is among the largest FMCG companies in India. Its product portfolio spans mainly across three categories—edible oil, packaged food and FMCG, and industry essentials—with further subcategories in each of these segments. It is a leader in the edible oil segment and commands the highest market share of about 18.3% through Fortune and other brands.
"The company benefits from raw material sourcing through its market standing and extensive business networks. Its market leadership has facilitated it to source raw materials from across the globe from top suppliers. The company was the largest importer of raw material as of FY20, which provided better bargaining power to source raw materials at favourable terms," ICICI Securities said in a report.
The Wilmar part of the joint venture gives it a great competitive edge. The Wilmar group is the largest palm oil supplier globally and about 30% of Adani Wilmar's imports are sourced from Wilmar. The joint venture also benefits from market intelligence on price movements in international market from the Wilmar group to manage its price risk associated with imports of raw materials.
Now, Adani Wilmar wants to up its domestic capacities. "AWL wants to garner market share as fast as possible. Its management has also gone on record to say that it is open to acquiring companies where there are good brands and product capacities available. Going by how it brands products, it has realised that if it has to compete with other FMCG companies, it should spend a lot on corporate visibility. Secondly, it has to have capacities. Its stock movement has already factored in the positives that it could make in the future in the [palm oil] sector," Gorakshakar says.
The Tough Domestic Route
With NMEO–OP, the government wants to take domestic oilseeds production and palm cultivation across India beyond its existing rate of growth, which is steady but not spectacular. "Indian palm oil output has turned out to be dwarfed sized against the ever-growing domestic-consumption demand. As a result, India has to import over 90% of its total palm oil requirements every year. With production estimates of less than three lakh tonnes in 2021-22, India needs to scale up its palm oil output by nearly 30 folds to keep abreast of consumption demand," Ravindra V. Rao, head of commodity research at Kotak Securities, says.
Special focus is on palm oil due to its vast application for commercial and household purposes. Through NMEO–OP, the government feels that it can rope in more farmers in existing palm plantation areas—like Assam, Tripura, West Bengal, the Andamans, Gujarat, Goa, Andhra, Karnataka, Kerala, Tamil Nadu and Maharashtra—as well as expand the scope of cultivation into newer areas where climate conditions could be favourable.
Palm farmers produce fresh fruit bunches (FFB) from which oil is extracted by the industry. Presently their price is linked to the fluctuations in the international crude palm oil prices. "The government will give a price assurance to oil palm farmers for FFBs. This will be known as the viability price, which will protect farmers from the fluctuations of the international CPO prices. The viability price will be fixed yearly for the oil palm from November 1 to October 31," the industry expert quoted above explains.
Experts feel that support from the government should continue till the country becomes competitive through scale of FFB yield improvement from 10 tonnes to 20 tonnes per hectare to match global standards. "Every element, like genetics, sustainable agricultural practices, farmers remuneration, process technology, infrastructure, location, etc., must be optimised. Farmers from Andhra Pradesh and Telangana are getting FFB yield, on an average, of 20 tonnes a hectare, which is approximately equal to global standard. Palm oil has been accepted by farmers of Andhra Pradesh and Telangana wholeheartedly," says Rao. These two states account for about 97% of India's crude palm oil production.
The main challenge to palm oil self-sufficiency is its direct threat to the environment, especially in fragile coastal areas. Malaysia and Indonesia have vast areas under oil palm plantations. Together, they supply over 85% of the global palm oil demand. Indonesia upped its production by 400% between 1994 and 2004 and oil palm plantations came up by replacing huge tracts of rainforests. Several endangered wild animals, like Sumatran rhinos, elephants, proboscis monkeys and tigers, have lost their habitats in Indonesia and Malaysia to these plantations. Both these countries are home to about 80,000 endangered orangutans, whose habitats are also under threat from continuous deforestation.
"The production of palm oil has resulted in widespread deforestation. It reduces soil nutrients and enhances the global greenhouse gas emission threat. The resulting loss of biodiversity and its vital ecosystem services poses threats to indigenous and local communities which are reliant on the cultural ecosystem services of the rainforest and its resources for their livelihoods," Banerjee says. He adds that governments around the world and international organisations are waking up to this reality and making policies for sustainable palm oil production.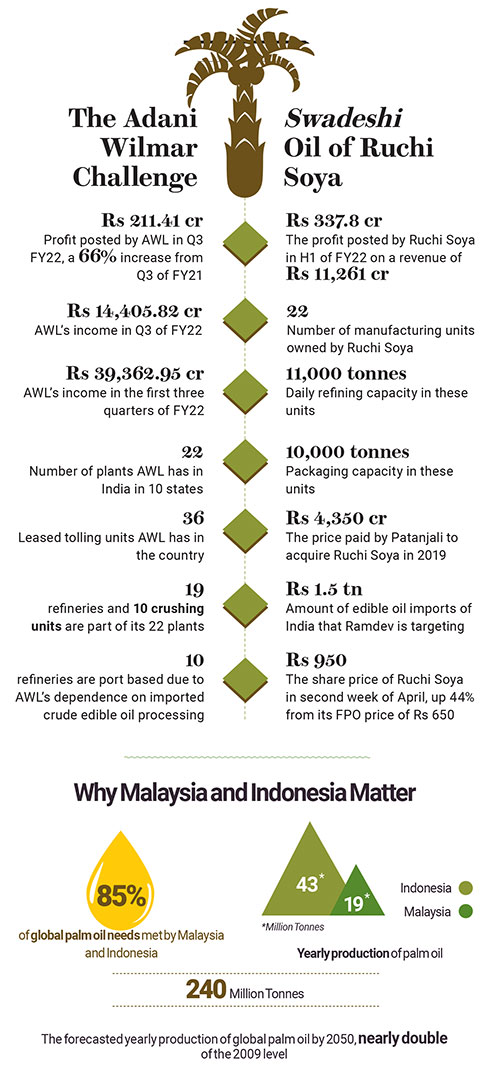 In India, too, there are many risk factors that can influence the course of the programme, specifically in the northeastern states and the Andman and Nicobar Islands. Industry projections put the expansion of area under cultivation to the extent of 3.28 lakh hectares by 2025-26 in these regions out of a total of additional 6.5 lakh hectares under NMEO–OP by 2025-26. Experts say that the Centre must ensure that environmental safeguards are in place before it undertakes a large-scale expansion of oil palm cultivation.
The palm oil supply chain usually involves several steps, beginning from plantation to mill then to refinery for further chemical processing and manufacturing, and finally, to the products of daily use. India does not have capacities that can take care of the complete demand seen in the sector domestically. Typically, it takes about five years for the oil palm crop to harvest and, only after about 10 years, the real yields of the crop become available. "Even if companies invest heavily in it, it will take a long time to completely neutralise imports," Gorakshakar says.
Edible Oil Diplomacy
India, particularly under the current regime, sees palm oil as a form of diplomacy almost like the way petroleum products formed the core of the Cold War diplomacy. When, in August 2019, Parliament read down Article 370 about the special constitutional status of Jammu and Kashmir, then Malaysian prime minister Mahathir Mohamad, who sees himself as a credible voice in the Muslim world, strongly criticised India in a speech at the UN General Assembly in September, saying that India "invaded and occupied" Kashmir. In four months, India responded by asking its traders not to import palm oil from Malaysia. The ban stayed operational for a few months till a new government took over in Malaysia and Mohamad was no longer the prime minister of the country. Later in 2020, he admitted that his Kashmir remark had strained his country's ties with India.
In this background, India launched NMEO–OP in August 2021, by when Ruchi Soya had been restructured in favour of Ramdev's Patanjali. His swadeshi pitch for domestic palm oil production through Ruchi Soya may be a business decision, but it looks umbilically tied to the geopolitics of Southeast Asia. Adani Wilmar, in the meantime, is sitting pretty with its crude palm oil imports and effectively filling the domestic demand-production gap.