India wants to catch the sustainability and good governance bandwagon to be counted as a serious global corporate player. India Inc. is fast embracing global regimes built around environmental, social and governance (ESG) parameters, while the government wants to push the industry to self-reporting on ESG frameworks. The Securities and Exchange Board of India (SEBI) decisively pushed listed firms towards ESG adoption when it made reporting compulsory for top 1,000 listed companies by market capitalisation from 2021–22 through the Business Responsibility and Sustainability Report (BRSR). Realising the global push for ESG programmes and SEBI's continued focus—the market regulator streamlined the disclosure process through BRSR Core, which mandates the top 150 listed firms to follow the norms from 2023–24 while expecting the top 1,000 firms to comply from 2026–27—companies in India are trying to make sense of the new sustainable and fair business regime.
To gauge the preparedness of India Inc. on ESG parameters, The Outlook Group and business consulting firm BDO India joined hands to undertake the Outlook ESGBharat Survey 2023. It is the first-ever industry survey to evaluate full ESG preparedness in the country with an aim to assess business leaders' pulse around ESG adoption and gather the perspectives that may be useful in understanding the overall directional attributes of the ESG framework in India.
The survey includes responses from over 100 leaders from companies representing a broad cross-section of industries and revenues. It shows their apprehension about meeting ESG targets and inability to grapple with an unavoidable global reality.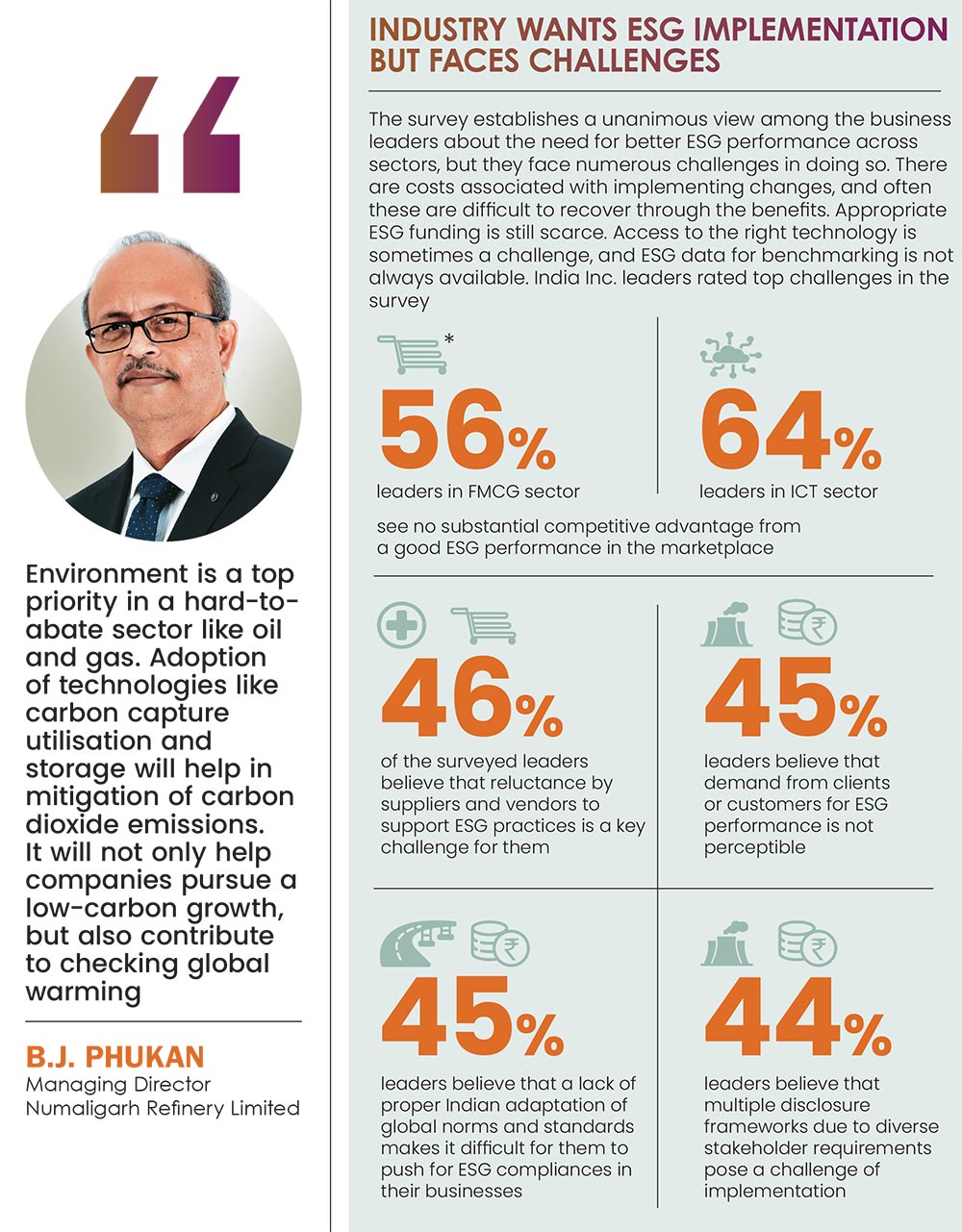 ---
Analysis and reporting Dipankar Ghosh & Indra Guha BDO India
Research, data and content support Rahul Singh, Venezia D'cruz, Mahima Uttreja and Kasturi Basu BDO India
Idea and Concept Suchetana Ray & Nishant Outlook Business
Project Head Rajiv Tikoo Consulting Editor, Sustainability, Outlook Group
Project coordination Naina Gautam Outlook Business
Survey Design Vinay Dominic Outlook Business
Technology Partner for data collection Toluna India