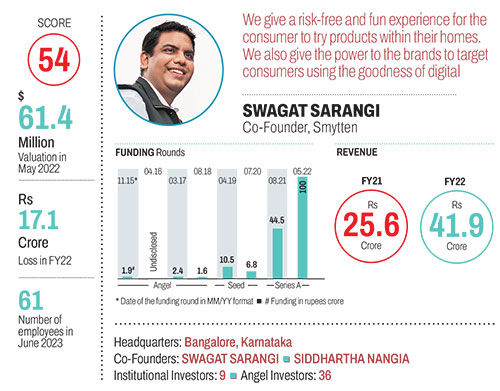 01 Smytten
The Company That Cuts the Clutter for Online Shoppers
While digital boom has transformed shopping experience, there is a large gap between product discovery and consumption because of which online shoppers find themselves lost in the efforts to discover a product. To narrow this gulf, Smytten established itself as a product discovery and direct-to-consumer sampling platform.
The brands on the platform—more than 1,500—get the option of gaining new market insights from the data offered by the company via its latest product, Smytten Pulse. With over 16 million users till now, the sampling platform views itself as a data black box focused on demand generation instead of demand fulfillment. Within six months of its launch, the software-as-a-service offering from Smytten has onboarded over 100 brands.
The company has also launched physical stores, or brand experience centres. Smytten plans to expand its physical footprint to 100 cities in the next 12 months. An expansion into the Southeast Asian market is also on the cards by end of next year.
---
02 Truemeds
Making a Business Out of Generic Medicines
Choosing between branded and generic medicines can be difficult. Truemeds, founded in 2018, has been trying to address this conundrum. The company sources medicines from the top 1% manufacturers and has so far conducted over three million patient consultations. It claims to offer chronic patients the chance to save approximately 51% of the expenses on their monthly medication.
The e-pharmacy has expanded to five warehouse locations. In the next 12 months, the company plans to triple its warehouse facilities. Having catered to nearly one million patients so far, it is now looking to explore additional health-related segments and product offerings.
---
03 Credr
A Business that Rides Pillion on Used and Refurbished Two-Wheelers
CredR, founded by Sasidhar Nandigam and Nikhil Jain, is an online marketplace that specialises in sale of used two-wheelers.
The firm has a business model that resembles that of automobile original equipment manufacturers, except for the manufacturing part. It buys two-wheelers from existing sellers, makes necessary repairs to meet its quality standards and resells them on its online platform. In addition to connecting buyers and sellers over its platform, the start-up also offers an in-house pricing tool that utilises machine learning models to arrive at the appropriate price for refurbished vehicles. Other services offered by the company include providing warranty, refurbishment and servicing, insurance, post-sales support and even buy-back options for its users.
CredR is now planning on expanding to foreign markets, like southeast Asia and Africa. It is also keen on expanding its EV portfolio.
---
04 Ferns N Petals
From a Flower Shop in Delhi to a Pan-Indian Online Gifting Brand
Ferns N Petals started operations in 1994 as a single outlet in south Delhi. By 1998, the company had tapped into the franchise model to expand its presence across more Indian cities. Soon, it started an online business, becoming one of the earliest adopters of the ecommerce experience within the gifting segment.
With a customer base of over 10 million people, the company diversified into cakes, chocolates and other gourmet products to establish itself as a gifting brand. Offering customised gift packages across its product range has helped the company boost its average transaction values and overall sales. According to its own estimates, 75% of its revenue comes from online sales.
---
05 Storeking
Taking Ecommerce to Rural Markets
StoreKing, founded by Sridhar Gundaiah in 2012 with the aim to digitise markets in underserved areas, acts as an interface between the distribution might of the rural kirana stores and the convenience of ecommerce.
The start-up began its journey with 200-odd stores in Karnataka and has now scaled to thousands of stores across India. The technology-driven platform kept its eyes trained on the faulty delivery mechanism in rural markets. Retailers in rural markets, who do not have direct access to big brands and depend on wholesale networks, can use StoreKing services to sell branded products through digital channels. It also improves the access of brands to smaller towns.
The company has raised funds from prominent investors like Mangrove Capital and Malaysia's Axiata Group. It also joined hands with global ecommerce giant Amazon in 2016 and Chinese mobile phone maker Xiaomi in 2017.
In its initial avatar, StoreKing brought beauty and wellness products to the table before expanding to a wider range of products including consumer electronics, jewellery, fashion and apparel, home and kitchen products, food and nutrition, etc.