Twenty-seven years is a long time in the world of technology and surviving for that long while staying relevant is nothing short of a feat. Nobody knows that better than Microsoft as it retired its veteran foot soldier, the iconic Internet Explorer (IE), last month.
Over the span of its 27 years of existence, the browser saw 11 versions and managed to survive—not thrive—as the tech giant kept it alive one way or another. However, the once-popular browser, which ultimately became synonymous with the word "slow", had lost its relevance long before the 11th IE was released in 2013.
Users had started writing its death sentence over a decade ago as they moved en masse to more modern browsers like Google's Chrome, Mozilla's Firefox, Apple's Safari and Opera among others. Ruefully, as the memes rightly suggest, IE had ended up becoming just a medium for people to download other browsers and facilitate the exodus.
In 2012, to capitalise on that sentiment and resuscitate IE, Microsoft decided to be playful and chose the self-mockery route with its "The Browser You Loved To Hate" ad campaign. The advertisement, which is still up on its YouTube channel, starts with a young man's troubled relationship with IE over the years, made very evident with him calling it "ancient" and saying, "The only thing it is good for at all is downloading other browsers" and ends with him making amends and accepting that "IE 9 is actually good".
Ironically, in that ad, Microsoft was still pushing IE 9 when IE 10 was already out and it was just a year away from IE 11. Even after the campaign, chances of revival seemed bleak for IE. The damage was already done.
Fall from Glory
After making its debut in 1995 as part of Windows 95, IE quickly rose to prominence and was pitted against Netscape's Navigator, a popular browser released in 1994, to win the first browser war. Since its inception, Microsoft spent over $100 million every year over developing IE in the late 1990s. The management had also increased the number of developers working on it—from five or six in early 1995 to over 1,000 in 1999.
Many found the first version of IE to be inferior to Navigator, which was dominant back then. But, Microsoft's investments eventually paid off, as it went on to capture about 95% market share by 2003. Things, however, were about to change.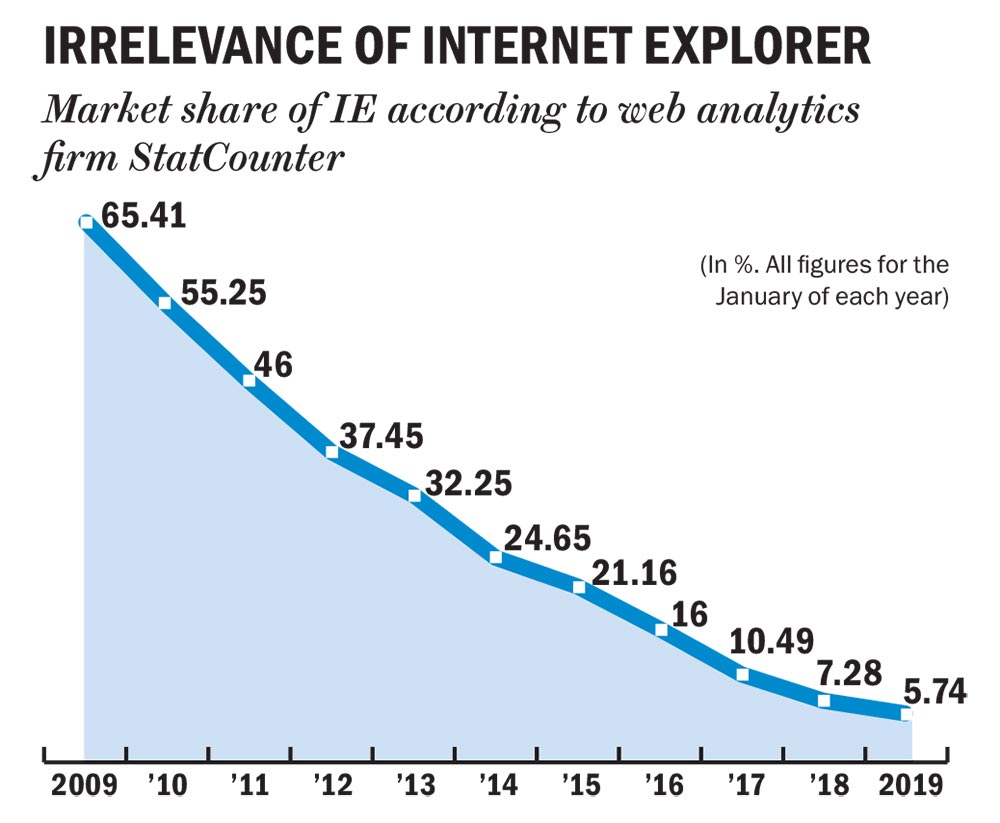 Apple launched Safari in 2003. A year later, Mozilla made Firefox public. Google released Chrome in 2008. The new browsers spelled doom for IE and its market share had fallen below 50% by September 2010.
In the whole of 2000s, the fight for the browser space was between IE and Firefox. The latter had many innovative features, like tabbed browsing, which IE was slow to emulate. The fact that Firefox was open source and had a large independent developer community backing it gave it both moral and technical high ground. By 2010, Firefox had hit a user share between 30% and 35%, while IE kept ceding ground to hover around the 50% mark, according to web analytics companies StatCounter and W3Counter. From then onwards, Chrome, which had technically stabilised by then and incorporated many features and libraries that Mozilla had developed, started growing at the expense of IE and Firefox. The pitch of IE that was queered by Firefox was dug deeper by Chrome, from where IE never recovered. It is worth mentioning that Google kept funding non-profit Mozilla before and after the launch of Chrome, a relationship that still continues.
In May 2012, within four years of its release, a young Chrome was successful in surpassing IE and becoming the most-used browser in the world. Chrome's meteoric rise over the years can be partly attributed to how it has aggressively updated its browser more than 50 times since 2008. In contrast, IE saw fewer updates and did not have much to offer, even through its subsequent versions, lacking the appeal that these modern browsers had.
Another blow for IE came in the form of mobile web browsing when Android and iOS became popular in the midst of a boom in the mobile phone industry. In 2016, with a 51.3% share, mobile web browsing overtook desktop browsing worldwide for the first time, according to StatCounter. Microsoft was slow to intervene in the mobile space, restricting its apps, particularly IE, only to Windows phones. IE missed out on this wave with Chrome and Safari, key browsers in Android and iOS devices, filling the gap. The Windows phone, launched around 2007, could have given IE some edge, but it failed to compete with Apple and Android phones.
Today, as Chrome's market share stands tall at 64.95%, IE has dwindled to a measly 0.64%.

Fight for Relevance
When Microsoft released Edge in 2015, it was clear that it had given up on reviving IE and was keeping it alive only to keep the brand going, especially for users who used it as the default option in older versions of Windows OS. New feature developments for IE were discontinued in 2016 in favour of Edge, which now enjoys a 4% market share.
Last year, the company had said that full support for IE would be discontinued on June 15, 2022, after which, the alternative would be Microsoft Edge with IE mode for legacy websites. The transition was made public last month when Sean Lyndersay, general manager, Microsoft Edge Enterprise, in a blog, said, "We are announcing that the future of Internet Explorer on Windows 10 is in Microsoft Edge. "Not only is Microsoft Edge a faster, more secure, and more modern browsing experience than Internet Explorer, but it is also able to address a key concern: compatibility for older, legacy websites and applications."
Microsoft's lack of innovation in terms of upgrading IE and its reliance only on the fact that it was the default browser of Windows OS, which dominates the PC market, created the perfect environment for modern browsers to eat into IE's share and dominate the market. Though Edge is a trendier and feature-rich browser and is available on mobile devices, Chrome, Firefox and Safari have moved way ahead in addressing cross-device compatibility, syncing personal data across platforms and forcing website developers to create web pages in the standards set by their layout engines. This explains the current market share of Edge, which is not likely to regain for Microsoft the glorious days that IE delivered in the 1990s.