The movie's hero is a champ in racing or dancing or romancing, or any such flamboyant thing. He then meets a formidable challenge – in a new racing champion, a dazzling dancer or a girl who refuses to fall for his charms. As he faces the prospect of defeat or a bigger victory, it's 'Interval'.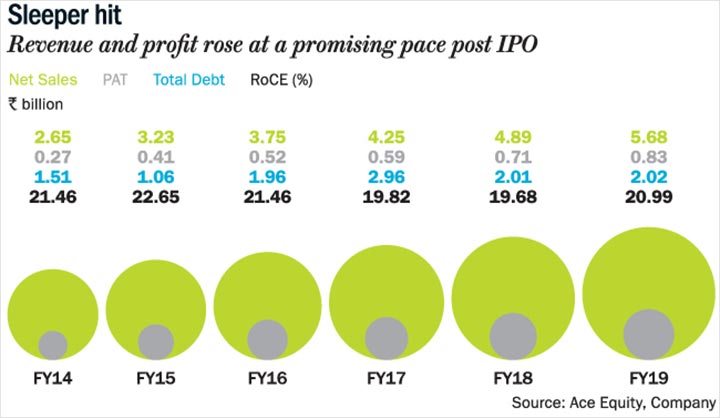 It is at this 'interval' that Shemaroo Entertainment finds itself. The company, which started as a book circulating library at Mumbai's Warden Road in 1962, has since successfully diversified into a leading content owner, aggregator and distributor. Like every hero, the company managed to survive multiple 'villains'– from VHS to TV and OTT. Alongside, revenue and profit rose at a promising pace (See: Sleeper hit) with the company making its debut on the bourse in October 2014 at Rs.170. The stock went on to hit its all-time high of Rs.594 on January 23, 2018. At its peak, it commanded a market cap of Rs.15.3 billion at trailing PE of 24x.
Buoyed by the favourable performance, the newly appointed CEO Hiren Gada made a bold declaration in their FY18 annual report: "We are in essence going to be 'Changing Gears' in order to target a growth of 5x in 5 Years."
But just then, troubles emerged. A macro slowdown depleted ad spends. Without ad revenue, Shemaroo's customers who are largely TV broadcasters contributing 70% of the company's revenue slowed down on buying content. Sarvesh Gupta, founder of Maximal Capital, says that the economic slowdown since 2018 affected traditional and digital businesses, particularly Zee, which is one of Shemaroo's top customers. He says, "Shemaroo's growth trajectory and margins have gone haywire in recent quarters."
The slide has continued, even into FY20. A report by Care Ratings on Shemaroo notes that total revenue from operations decreased 8.97% on y-o-y basis to Rs.3.81 billion in 9MFY20 (vs Rs.4.19 billion in 9MFY19). The stock price has corrected in line with significant drop in growth and margins. Since the start of this year, its stock has fallen 55% and traded at Rs.63 as on July 3.
As things headed south, Shemaroo announced the launch of two TV channels. It left investors baffled. Why is the company trying to crack a highly competitive industry, which is seemingly in its twilight years? The COVID-19 lockdown has only made that decision look worse, with advertisers getting more tight-fisted.
Where then is Shemaroo headed?
Flashback to Present
If we rewind a little, it is clear that a timely pivot has always been the hallmark of the company. Shemaroo's name comes from its founder, Buddhichand Maroo, who started the company in 1962 as a book rental business. In the 70s, VHS format became the norm. India was behind that curve but Shemaroo's customers, who were travelling abroad, were buying VHS of Hollywood and other movies they liked. Gada, a second generation scion of the founding family, says that the family thought of this as a lucrative opportunity and got into the video-rental business in 1979.
In 1987, they went a step further, with video distribution. They bought the copyright from the producer, made video copies of it and distributed them. "That's when brand Shemaroo went pan India," says Gada. While it was a crowded space, with the likes of Bombino, Ultra, Eagle and later Moser Baer, those players remained 'video labels' while Shemaroo had evolved into a content owner. Gradually, the others fell by the wayside while Shemaroo marched on to become a fulll-fledged content house.
Shemaroo today has a library of over 2,000 Hindi film titles and 1,600 regional titles across Gujarati, Marathi, Punjabi and Bengali. Apart from that, they have 3,000 hours of special interest content in kids, devotion and comedy genres. About 80% of this is acquired, though the company has also produced a few films like Omkara, Ishqiya, Dedh Ishqiya, Hunterrr and Bal Ganesh. Its core business is to buy content and distribute it to multiple platform owners – video rentals or TV channels or telecom players or digital platforms. Shemaroo's YouTube channels have 50 million subscribers and contribute 25-30% of their digital revenue, according to analyst estimates.
Having such a varied distribution channel has helped them balance out the bad times in one medium with the good times in another (See: See-Saw).It has also expanded into 150 international markets such as US, UK, UAE and South-East Asia, and business from these markets contributes about 15% of its net revenue.
One of the company's main content-acquisition strategies is to buy 'old' content, or content that is in its second cycle of monetization, after five to seven years of release. This eliminates the risk of buying anything expensive that may or may not sell, though it increases the risk of being outdated. Overall, the strategy has worked well for them. A media analyst, on condition of anonymity, says, "It reduces cost of content acquisition but increase chances of high viewership since they acquire content that is a hit." On average, the company invests about Rs. 3 billion annually for content acquisition.
The anti climax
Shemaroo's most valued asset is its content library but hyper growth there seemed evasive. So, they began investing in adjacent categories: in 2013, in Shemaroo Film and Technology Institute; in 2016 in a merchandising arm Yedaz; in 2019, in a cloud-kitchen Mukka, audio speakers with pre-loaded bhajans and OTT platform ShemarooMe; and in 2020, in the two TV channels. As Gada said during the Q3FY20 earnings call, "the whole idea for us is that whatever we have… is linked to Bollywood… how can we further monetise the content IPR library beyond just the traditional ways." The OTT business, ShemarooMe is in line with their goal to grow their digital revenue. Over the past five years, revenue share of digital business has grown from 10% to 30% and the target is to get it to 50% going forward. The OTT content is streamed through telcos' platforms and through its own app.
According to Sarvesh, the company has invested Rs.150 million in new ventures in the first nine months of FY20. These investments are making analysts and investors uneasy, with little visibility on their return. In the Q3FY20 earnings call, a few raised concerns about spending money when the macro environment was so unfriendly (with ad spend falling since 2018), Shemaroo's inventory rising to an all-time high and its debt increasing to an uncomfortable level. The Care Ratings report notes that 'inventory levels have gone up from Rs. 6.01 billion as on March 31, 2019 to Rs. 6.8 billion as on September 31, 2019. "This means cash generation isn't happening while they are still buying content, leading to requirement of debt," says Sarvesh. In September 2019, debt was Rs.2.14 billion and had risen to Rs. 2.36 billion in December 2019. In fact, last October, the company's board had approved raising an additional Rs.2.5 billion "by way of issue of equity shares / preference shares or any other instruments or security". This didn't come through because the stock price plummeted. Institutional investors are backing out too (See: Mixed feelings).
In the Q3FY20 earnings call, IndiaNivesh's analyst Ankit Gupta was insistent with his questions on the current scenario. He asked, plainly, "Would it not have made sense to step back a bit on our new investments and the new initiatives which we have taken because we have opened lot of fronts in terms of a channel and B2C businesses like ShemarooMe, a merchandise business, the food service business which require different competence and different bandwidth to manage all these businesses." Simply put, in these hard times, would it not have made better sense to hold off investments on these businesses that require different competencies? Gada replied they have taken cost rationalisation measures and that he was taking a "three to five year view".
On Shemaroo launching two channels in January and May this year – a Marathi movie channel called MarathiBana and a Hindi general entertainment channel Shemaroo TV – there has been mixed response, with the sentiment tilting towards skepticism. For one, creating content especially for a GEC channel is not cheap. Typically, for 4-6 hours of original programming in Hindi GEC, costs about Rs.16 million on daily basis. Then there would be distribution and channel marketing cost. Consequently, a Hindi GEC requires a total investment about Rs.1 billion-1.5 billion and takes three years to break even, states an analyst tracking multiple media stocks.
And it would be difficult for Shemaroo to generate sufficient revenue to justify this investment, at least in the near term. "TV broadcasting is a very competitive space and requires a network of channels to penetrate with cable operators. Also, only the number one or two channel can demand premium pricing for their ad spots. Beyond that, it just doesn't matter," says an analyst, who does not want to be named.
Even if Shemaroo does generate or acquire great quality content for its GEC, ad revenue would be hard to come by. "There has been slowdown in ad revenue post Diwali 2019 for print, radio and OOH. January to March 2020 also saw flat or falling advertising for most segments apart from new media. Then Covid-19 came and the fall was steeper," says Ashish Pherwani, partner and media and entertainment leader, EY India. Care Ratings notes that advertisement revenue of all the major broadcasters have declined by around 13%-14% during Q3FY20 which resulted in lower spend on content. Due to the slowdown in the economy, Shemaroo has projected a revenue decline of 20% in FY20 as compared to FY19. Its Q4FY20 result hasn't been announced yet.
And at least for the next two quarters, ad spend is going to be abysmally low, concurs Jinesh Joshi, research analyst at Prabhudas Lilladher. Approximately 60% of ad spend on TV comes from FMCG sector and balance comes from auto, BFSI and the rest. Since advertising is a discretionary spend and there is going to be low demand, most companies are cutting down their ad spend. Post COVID-19, the situation could be worse, says Joshi.
But Gada says that advertisers who are looking for a pan-India presence cannot overlook TV. The EY-FICCI report, 'The era of consumer A.R.T. – Acquisition Retention and Transaction' notes that while pay TV will continue to grow, more new users will enter the free TV market, providing a low-cost advertising opportunity to marketers. Also, television is expected to remain the largest earner of advertising revenue even in 2025, approaching Rs.570 billion. Plus, it remains the cheapest source of entertainment, says Gada. For Rs.350-400, one gets about 300 channels while for a digital channel, you need to shell out Rs.200 for a data plan and Rs.500-700 for subscription.
A few like Amarjeet Maurya, analyst, mid-caps, Angel Broking, believe the TV channels could improve the company's earnings. Marathi movie channels are an Rs.8 billion-10 billion market in terms of ad spend, while Hindi GEC is about Rs.65 billion. Of this, even if Shemaroo gets a small share, it would be a huge addition to their topline, he says. Sarvesh, too, says that, if the company gets the content right, there is a huge market to be served. He raises a concern about competition though."What I remain doubtful about is how this will impact their relations with other broadcasters who are their customers. They are still small and can fly under the radar. But if Shemaroo TV and MarathiBana get big, then I don't know how this will impact their business on the traditional side," he says.At the current price of Rs.63, the stock is trading at trailing P/E of 2.5x, significantly lower than the 10x, it enjoyed only a year ago (See: Flop show). With declining ad spend and the challenge of creating consistently hit content, analysts say it is difficult to say when and from which vertical growth will pick up for Shemaroo. It also makes it hard to estimate future valuation. But by marrying its expansive content library with its multi-medium presence, the company is hoping to turn the tide in its favour.
As they say, picture abhi baaki hai mere dost.