If you are familiar with the show 'Friends', which ran between 1994 and 2004, you would also be familiar with the fear of being made redundant at your workplace. Offices are getting younger and hipper, so anyone upwards of 35 years is peering over the brink of a VUCA or volatile-uncertain-complex-ambiguous world. The only way to hold on, and may be even thrive, is to keep upskilling. Serial entrepreneur Ronnie Screwvala has made this massive market opportunity his business.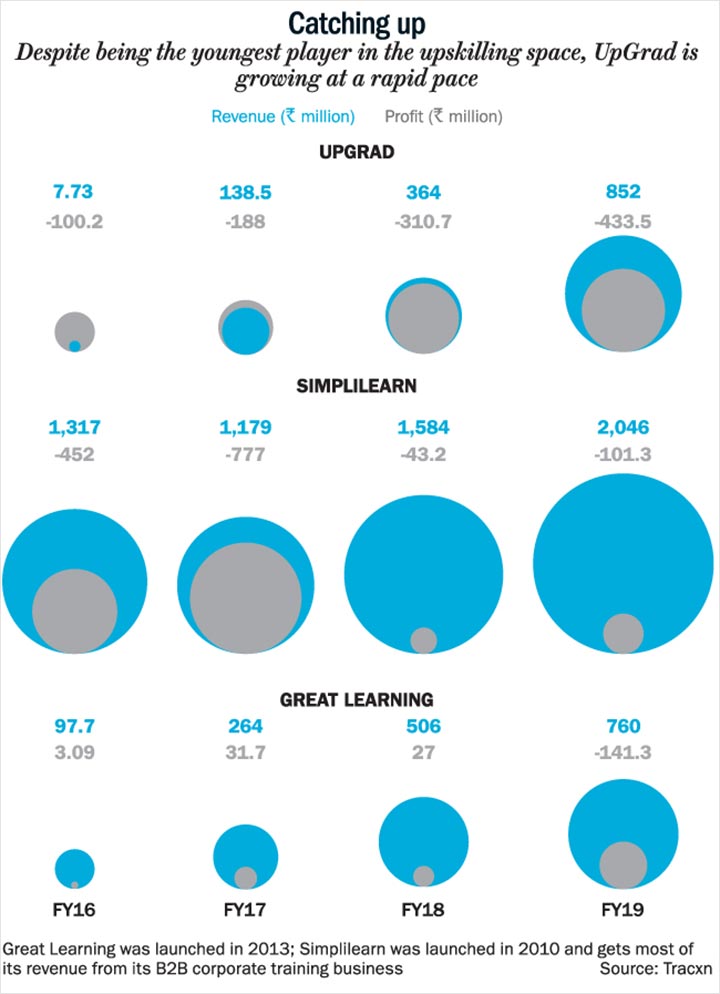 He, along with Mayank Kumar, Phalgun Kompalli and Ravijot Chugh, founded upGrad in 2015. This Mumbai-based start-up offers an online, higher-education platform for anyone between 18 and 48 years, drawing a salary of anything between Rs.600,000 and Rs.1.2 million, and it is doing extraordinarily well. Over the past three years, the start-up has grown at over 100% year on year! Here are the numbers: in FY17, their gross fee revenue (which includes GST and the partnering fee paid to an educational institution) was Rs.200 million; in FY18, it shot up to Rs.570 million; and in FY19, it multiplied to Rs.1.2 billion. In FY18, their net income (after expenses) was Rs.364 million and, for FY19, it more than doubled to Rs.852 million (See: Catching up). It has 53,000 users, makes average revenue of Rs.250,000 per user, and boasts of university partnerships with IIT Madras, IIIT Bangalore, MICA, NMIMS Global Access, Jindal Global Law School, Duke CE, Deakin University and Liverpool John Moores University among others. Investors came calling in 2018 and there was talk of the founder selling 10% stake at $40 million, valuing the start-up at $400 million. Having pumped Rs.1.1 billion into the venture himself, Screwvala held back on the fund raise and the start-up has only grown since then.
So, what's the secret? Is it having the man with the Midas touch on board, or is it the carefully thought out product design?
Model pupil
Screwvala, who made his billions by selling his media empire UTV to Walt Disney in 2012, revels in enterprise. In an interview to Outlook Business, for the Secret Diary series, he fondly remembered the first sale he had made. At the age of 13, he sold 'tickets' to the verandah of his home in South Mumbai's Grant Road, from where one could see film stars attending the premiere screenings at Novelty Cinema. It wasn't about the Rs.10 he made per ticket or the billions he made from selling his media empire. For him, it has always been about building something from ground up.
"I never was a venture capitalist. I did it only for a year, when I was the chairman and managing director of UTV and Disney, when I briefly invested in a few companies. Within nine months of this, I was thoroughly bored," he says. That said, his private equity and venture capital firm Unilazer Ventures has spotted a few great opportunities such as Lenskart. They invested in the eyewear marketplace when it was valued at $30 million-40 million and now it is valued at $1.4 billion.
In 2014, he was looking to get back into the start-up game, rather than watch from the sidelines as a VC. A friend living in his apartment building introduced him to Kumar, then vice president of Bertelsmann India managing its investments in the digital, tech and education sectors. Kumar was exploring the edtech space in India, and started exchanging notes and ideating with Screwvala. But edtech was already years into its online transformation, with players such as Byju's and Toppr making their entry in the early part of the decade.
These start-ups were catering to K-12 students or to those who were preparing for entrance tests taken immediately after schooling. But none of them focused on formal education that could be useful for fresh out-of-college students. upGrad decided to go a step ahead — those who were pursuing their graduation, starting their first job or working in mid or senior management. First, they built a content team to create a syllabus, which would keep up with current industry trends. Kumar, Chugh and Kompalli already had experience in the education space while working at Parthenon Group, an education consulting firm. While Chugh exited the company in January 2020, Kumar handles overall operations at upGrad and Kompalli heads sales and marketing. Screwvala says that they steered clear of K-12 because it is a low-hanging fruit, where half the consumption is driven by the guilt of parents. That's not a sustainable drive. Besides, he says, it is highly regulated. "Therefore, what you can do is peripheral (prep tests and online coaching), like what Byju's does, which are add-ons. It's fluff."
Once the segment was identified, the strategy was to reverse engineer courses by looking at what was in demand in the job market. "The identification of the courses (upskilling and professional levels) is best done there," says Kumar. The start-up started tracking top job sites and professional networks such as Naukri and LinkedIn. The final customer of their product would not be the learner but the recruiter, so Kumar and team met the recruiters and hiring managers to understand their requirement. That's how they came up with their current portfolio of online courses, covering subject areas such as data science, technology, management and digital marketing.
It wasn't easy to get companies to recognise these online certificates and degrees. In the beginning, many were dismissive of these 'part-time' programmes. Today, upGrad has insurance companies such as HDFC Life and PNB Metlife partnering with them to build specialised courses. Screwvala says the initial resistance was expected, even from people taking the courses, on the need to upskill even after getting a job. Therefore, the founding team calculated five to seven years of wait time, for consumer behaviour to change. "We built credibility by showing outcomes and bringing in seriousness, so that people didn't think of it as a platform where you just log on and log off," says Screwvala.
Universities were reluctant too. So, the start-up smartly decided not to compete with the universities by offering courses that weren't part of the regular syllabus. "In designing our courses, we focus on'careers of tomorrow' and look at large-volume ones," says Screwvala. For instance, law is a permanent career for today, tomorrow and forever. Also, how can it be taught in a shorter period of time, in two years instead of three? While designing the courses, which include pre-recorded lectures and live doubt-solving sessions, the start-up partners with the universities who provide the certificates and degrees. The university lecturers take 30% of the classes and 70% is by guest lecturers. The revenue is finally shared 80:20 or 70:30, where the start-up gets the higher percentage because they acquire students and build a large part of the content, even having an in-house production team shooting and fine-tuning the video lessons.
Unlike upGrad, competitor Coursera aggregates content from partnering universities on 50:50 revenue sharing basis, acting like a marketplace for MOOCs (massive open online courses), that are about 10-15 hours long and free to access, unless a user wants to be certified. "The content is continuously updated to stay in line with the industry. Courses not performing well are taken off or replaced," says Raghav Gupta, MD-India and APAC, Coursera. The core idea behind Coursera is all kinds of learning, including personality development. It charges Rs.3,600 to Rs.7,000 ($49 to $99) for certification courses and Rs.150,000 ($2,000) at the higher end for MasterTrack certificate. On the other hand, one of the most popular global upskilling start-ups, Udemy, offers short-duration certificate courses that sometimes cost as little as Rs.400 to Rs.12,000. It also allows professionals and instructors to create and price their own courses, with revenue sharing agreement of 50:50. Irwin Anand, MD- India & APAC, Udemy, says, "At Udemy we believe that world's best teachers could be from anywhere. They get to define their curriculum and skills and we provide the platform." Udemy does give a course completion certificate but Anand mentions that it is more focused on personal development and upskilling. It doesn't guarantee a job.
Meanwhile, upGrad's charges vary according to certifications and degrees, which are priced at a premium,when compared to other platforms since they are long-term courses. For instance, a six-10 month long certification course costs about Rs.80,000-100,000; whereas degree courses are more expensive.
Amitabh Jhingan, partner and leader-education practice, EY Parthenon says this might backfire for upGrad. "So far, they have concentrated on higher value programmes, which in a country like India is relevant and affordable only to a section of the society," he explains. But Screwvala argues that they are focusing on "deep learning and do not want to venture into low-cost month-long courses". He believes that the fee is part of the experience and, by offering discounts to increase market share, the start-up would do itself a disservice. "In education, if you start discounting, people will not value your product and brand," he says.
He is not worried about competition from Coursera or Udemy. In fact, he does not even see them as competition. The total revenue of Coursera is less than 10% of upGrad's, he points out, adding confidently that the percentage will be less than 5% next year. Despite a user base of around 7.6 million in India, Coursera clocked revenue of Rs.42.7 million in FY18 and Rs.96.5 million in FY19, due to free access to content."They are in the low-cost, low value, low impact base… They aggregate the best courses while we create our courses in-house. We have vastly different models," says Screwvala.
While Ankur Bisen, senior vice president at Technopak agrees that they have different business models, he says that it is too early for upGrad to write-off the threat from Coursera. "It is a growing market and it's not the question of whether an Indian company can compete with an international one. Even the international companies are trying to discover their moat," he says. Coursera has some of the top global universities on board, such as Stanford University, Yale University, University of Pennsylvania, and University of Michigan. The game and its players are still evolving, so what is to stop Coursera from changing its play?
Raman Roy, co-founder, Indian Angel Network and former Nasscom chairman concurs. He says that although content is important, ultimately, it's the university partnerships that will make you stay ahead. "It is like having multiple textbooks on the same subject in a course. No matter which text book you pick, your grades and the college degree matter the most. The influencer will be the certifying colleges," he says.
Then there are domestic peers, who have, for the most part, stuck to niche categories unlike upGrad. For instance, Great Learning and Simplilearn focus on areas such as AI, data science, machine learning and cloud computing, but the former offers post graduation courses while the latter engages in corporate training. The two platforms offer courses that cost anything as low as Rs.50,000 for certificates to Rs.600,000 for degrees. While they could be cause for worry for upGrad, analysts believe there is enough room for several players to play to their strengths; especially post COVID-19.
More ground to cover

During the lockdown, edtech space has boomed, finally getting the limelight it has been vying for all these years. Byju's became the third-most valued Indian unicorn, Unacademy is eyeing the unicorn tag with another funding round of $150 million and upGrad witnessed more than 100% QoQ growth in Q4FY20 and recorded 72% revenue growth in April. From 35 courses for working professionals, it is looking to take that number to 70-75. Earlier, they would start a class or cohort once in three months, but now, the frequency has increased to once in a month.
So far, upGrad has been conservative in terms of burning cash, spending only Rs.1 billion over the past five years. But this year, the team is doubling down on marketing with an investment of Rs.1.75 billion. This aggressive push to grow is not without reason since the pandemic has also forced several universities to consider online transition. Abhishek Gupta, senior consultant at RedSeer says, "One big reason for upGrad to go a bit aggressive on marketing is because the markets have now opened up."
Screwvala isn't much perturbed. He believes the universities and government-run programmes have a long way to go before they can catch up. "Placing the camera before the teacher and running a class is not online education," he scoffs, adding, "The deep learning experience in online education through grading mechanism, feed back and the ability of the teachers to explain with augmented graphs and images makes it no competition." Instead, Gupta sees a symbiotic relationship evolving between the universities and start-ups such as upGrad. "Universities can have certain specialised portions of the syllabus covered through shorter courses via such platforms," he says.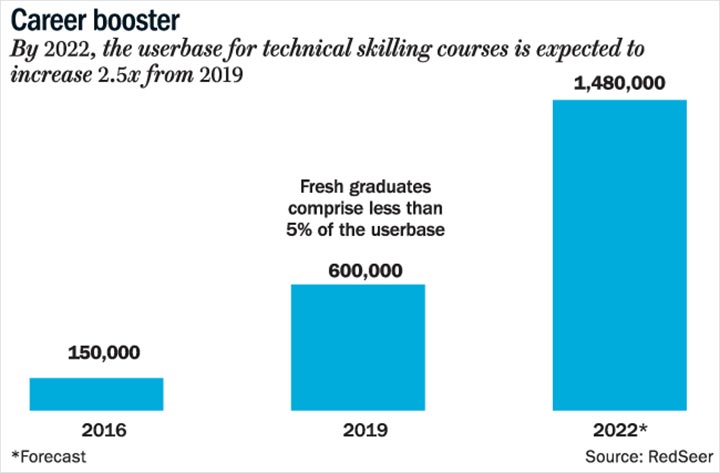 It won't be surprising to see start-ups double their upskilling offerings in the coming years, especially since fear of unemployment is rising among white collar workers (See: Career booster). Radhika Agarwal, investment analyst, Blume Ventures (investor in Unacademy and Classplus) points out, "The best time for upskilling start-ups has just begun. With staggering number of job losses and industries seeing a great shift, the post-COVID world will witness more people opting for reskilling or upskilling courses to fit into different job profiles."
According to a report by Blume Ventures, the edtech segment at present stands at $750 million and will touch $4 billion by 2025. Of this, upskilling alone will have a share of $1 billion. Agarwal adds that India is a country that anyway spends on good education, "which will create enormous and never-ending demand for edtech." And just like most Indians, Screwvala's aspirations are sky-high. He isn't restricting himself to dominating the $1 billion market share in this country. "The South Asian diaspora of 40 million overseas is also our target consumer," he says. Unlike most, this crisis has come as an opportunity for upGrad, which is taking a leaf out of its own book, and up selling.