IT Hardware
Perhaps the government will need to be more generous with the incentives and strike out the localisation clause to see more enthusiastic participation here. The scheme, which extends an incentive of 4% to 2%/1% on incremental sales over FY20 and for four years, was cleared in February this year with a Rs 73.25-billion outlay. Foxconn, Wistron, Dell and Lava are among the 19 who have sent in their applications. While the international firms have proposed production worth over Rs 1.35 trillion, domestic ones have planned only around Rs 250 billion as against the total amount of Rs 3.26 trillion expected by the government. Experts say the lack of enthusiasm could be from the incentive offered and the localisation requirement that kicks in from the second year. The basic customs duty on 217 products under the IT Agreement of WTO is zero, which might make the global players think twice before moving from China and Vietnam to India. The government is expecting that the domestic value addition will rise to 20% to 25% by 2025 from the current 5% to 10%.
Medical equipment
Here, too, there is grumbling in terms of the incentive percentage. Companies want it to be raised to 10% from the current 5% citing inadequate infrastructure and higher costs. The Rs 34.20-billion scheme offers an incentive on incremental sales over FY20 between FY21 and FY28. So far, across the four target segments, 28 applications have been received and 14 have been approved. Those who have made it include Siemens Healthcare, Wipro GE Healthcare, BPL Medical Technologies and Nipro India, and they have committed Rs 8.73 billion. The maximum incentive proposed for disbursement is Rs 16.94 billion with an expected employment generation of about 4,212. The medical device sector in India was valued at Rs 500.26 billion for 2018-19 and is expected to reach Rs 868.40 billion by 2021-22. The country currently imports 85% of medical devices to meet domestic demand.
Mobile phones
Despite concerns about the base year, top players have queued up for the scheme that extends an incentive of 6% to 4% on incremental sales over FY20 for a period of five years. The scheme was notified on April 1, 2020, and by October, the government had cleared 16 proposals from Samsung, Foxconn Hon Hai, Pegatron, Rising Star, Wistron, Lava, Bhagwati (Micromax), among others, with an outlay of Rs 364.4 billion. Selected manufacturers invested Rs 13 billion and produced goods worth around Rs 350 billion in Q3FY21. Industry leaders, however, are asking for a revision of the first year of production and rumours have it that the government may revise it to FY22. The pandemic, lockdowns, global chip shortage, delayed approvals for units and so on have slowed production.
Pharma
This is one vertical that is seeing a lot of interest since India imports nearly 70% of its bulk drugs from China. The scheme, which covers APIs and key starting materials (KSMs), was notified this March and aims to promote the setting up of greenfield plants in four segments. It offers 20% to 10% on incremental sales of 41 products between FY21 and FY29 with a total outlay of Rs 69.40 billion. Aurobindo Pharma, Hetero, Karnataka Antibiotics and Pharmaceuticals, Kinvan and Natural Biogenex are among the 215 who sent in applications for 36 products. 47 have been approved with a committed investment of Rs 53.66 billion. The scheme is eyeing an investment of Rs 150 billion for an incremental sale of Rs 2.94 trillion. Drugmakers, however, have been saying that the scheme promotes monopoly with the possibility of one firm being picked per product.
Food processing
Perhaps you can leave that suitcase crammed with instant rasam or desiccated coconut powder behind when travelling abroad now. This incentive scheme approved in March 2021 aims to support and promote Indian processed food products globally. Under it, a sales-based incentive would be paid for six years (FY22 to FY27) on incremental sales over FY20 with an outlay of Rs 109 billion. Indian companies and subsidiaries of MNCs in India will be encouraged to invest in four segments— ready to cook or ready to eat, processed fruits & vegetables, marine products and mozzarella cheese—and interestingly, even offered branding and marketing support abroad. The government says it has been well received by majors such as Nestle, ITC, Britannia, Keventer Agro and Amul. It has also set aside Rs 2.5 billion to incentivise SMEs manufacturing innovative and organic products, though no definition has been offered for 'innovative' and industry leaders say that this might shortchange the SMEs and the MSMEs. The government expects food processing capacity to expand to the tune of Rs 334.94 billion and exports to rise to Rs 278.16 billion with employment generation for 250,000 people over six years.
ACC batteries
With India looking to run on cleaner fuel and electric wheels, it needs to build capacities in advanced chemical cell (ACC) batteries that can power anything from consumer electronics and electric vehicles (EVs) to entire electricity grids. As of today, the entire demand for ACC batteries is met through imports. To reduce this imbalance, the country is aiming to build a manufacturing capacity for 50 GWh of ACC and 5 GWh of "niche" ACC batteries with its PLI scheme approved this May with an outlay of Rs 181 billion. The manufacturers will be picked after a competitive bidding process and incentive will be disbursed over a period of five years with facilities commissioned within two years. Companies would also have to commit to setting up a facility of a minimum of 5 GWh capacity and ensure a minimum 60% domestic value addition at the project level within five years. The government expects a direct investment of around Rs 450 billion and also a significant push for the EV sector. On their part, the EV players expect the scheme to bring down the cost of EVs and are eyeing major investments in the coming years.
High-Efficiency Solar PV Modules
India has set an ambitious renewable energy (RE) target of 450GW by 2030 even as its total energy production capacity today is around 380GW and RE production is around 90GW. In order to reach that target, solar power is expected to play a large role and therefore, the government approved a scheme in April 2021 to achieve a capacity of 10,000 MW of integrated solar PV module manufacturing plants with an outlay of Rs 45 billion. The PLI will be disbursed for five years post commissioning of the plants. The government, which recently invited bids, expects a direct investment of around Rs 172 billion and import substitution of around Rs 175 billion every year. Manufacturers will also be incentivised for higher efficiencies of solar PV modules and also for sourcing material domestically. Domestic manufacturers aren't too happy with the incentives which they say will be only around 3% to 5% of their sales value when they aren't even sure how much they can sell. Foreign companies, too, may be less enthusiastic in investing in solar power projects with customs duty on imported solar cells and modules.
White goods
While this scheme was welcomed with much enthusiasm by the manufacturers of white goods and its components, there are still concerns around land availability and delay in getting approvals. The scheme extends an incentive of 6% to 4% on incremental sales for a period of five years over FY20 to companies manufacturing air conditioners and LED lights through brownfield or greenfield investments. Approved in April this year with an outlay of Rs 62.38 billion, the government expects the scheme to lead to an incremental investment of Rs 79.20 billion and exports worth Rs 644 billion. One entity, however, will be allowed to apply for only one target segment. The scheme doesn't incentivise the assembly of finished goods which would also boost the Make-In-India aspect of the scheme as a lot of components are currently imported.
Telecom and networking products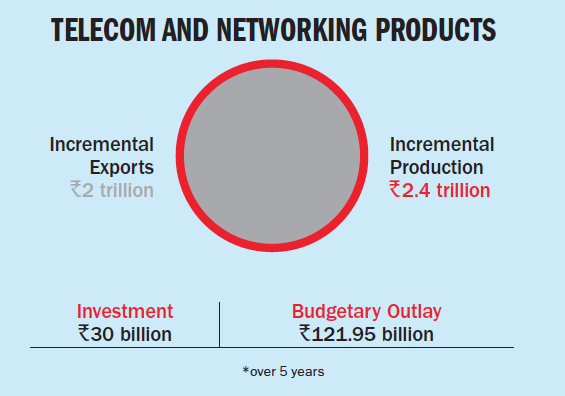 Nearly three years ago, India's telecom regulator had recommended a reduction in the country's import dependence on telecom products to zero by 2022. It seems drastic but it was suggested for economic and security reasons. The incentive scheme, which was approved in February 2021 with a budgetary outlay of Rs 121.95 billion, aims to reduce imports by more than Rs 500 billion. The PLIS is for five years over the base year of FY20. With a minimum investment threshold of Rs 100 million for MSME with incentives from 7% to 4% and Rs 1 billion for others with incentives from 6% to 4 %, it is estimated to lead to incremental production of around Rs 2.4 trillion with exports of around Rs 2 trillion. It is also expected to draw an investment of around Rs 30 billion. As per the government, leading players such as Samsung, Cisco and Foxconn have shown interest in the scheme, though guidelines for this are yet to be released.