It's been nice knowing you," said once-close partners, in the two-wheeler space, before heading their own ways. Players such as Hero Honda, TVS Suzuki and Bajaj-Kawasaki that formed joint ventures in the 1980s have split. For auto ancillary player India Nippon Electricals (INEL), however, the bond is still tight. The company, in fact, is all set to cash in as domestic OEMs shift to electronic ignition systems to meet BS-VI emission norms effective from April 2020.
INEL is a joint venture (JV) between Japan's Kokusan Denki (20.52% stake) and TVS group's Lucas Indian Service (45.87% stake). Set up to service the TVS Suzuki combine, the company has since increased its mileage in terms of both, clients and products.
Gearing up
While INEL has been getting the bulk of its revenue from electrical products, analysts expect this to change in the coming years. They reckon that the share of components such as electronic fuel injections, integrated starter generators and throttle position sensors would go up to 50% in the coming years. As of 9MFY18, electrical components contributed 60%, with its electrical generator — flywheel magneto — alone accounting for 48% of the topline. "We are now moving towards manufacturing more electronic products like electronic control units and integrated starter generators where we expect to have better margins," says Elango Srinivasan, CFO, INEL. Revenue share from new products is also expected to go up to 40% by FY21 from 12% in FY17.
The margin for electronics segment is 300-400 basis points (bps) higher than electrical parts as these products are more complex. For instance, a throttle position sensor helps maintain optimal fuel efficiency as it sends signals to the fuel injection system, indicating the power needs of the engine. "Most of the electronic products are made using customised solutions. So, we can add value and reap the benefits," adds Srinivasan.
As of now, INEL's core operating margin stands at 10.8%. Analysts expect the margin to improve by 420 bps to 15% by FY21. "India Nippon will benefit from the rising proportion of electronics in automobiles. Government agencies indicate that the share of electronics in a vehicle's cost will go up from 23% to 45% by FY30. The domestic production of automotive electronics is expected to go up from Rs.50 billion in FY14 to Rs.360 billion by FY20, which translates to a 30% CAGR growth," says Aditya Bapat, analyst at IIFL Securities.
As things stand, INEL operates in a niche market, which is less than Rs.19 billion. However, that can change in a few years. "India Nippon's focus and readiness to align its product mix towards electronic products would improve its addressable market to 50-55% of two-wheeler/three-wheeler electronic components market (ex-wiring/lighting) in the next two to three years, compared to 30% now," says Jaspreet Arora, vice president, Systematix. By FY22-23, the company's addressable market is expected to reach Rs.79 billion.
Turning point
Currently, INEL has a 19% market share in the segments in which it operates. While the segments are primarily dominated by MNCs like Denso, Arora says that INEL has an advantage due to its low-cost structure.
INEL's competitive prices act as a strong entry barrier. Domestic OEMs operating in the mass market are increasingly looking to localise sourcing of electronic components instead of opting for costlier imports. About 65-70% of electronic requirements of domestic OEMs are still met through imports from countries like China and Taiwan. Having fully absorbed the technical expertise of its Japanese partner, INEL is uniquely poised to tap the needs.
The company's genesis, of course, lies in the government diktat that bulk of the parts should be manufactured in India, after it had opened up the two-wheeler sector to foreign companies. As with others, Suzuki struck a JV with TVS Motor to enter the two-wheeler market in India, which was until then dominated by scooters. It, however, wanted a Japanese supplier. Thus, INEL was set up to meet the ignition system requirements of TVS Suzuki.
Soon, it started supplying parts to other JVs including Bajaj-Kawasaki and Hero Honda. In the 1990s, it entered the genset business supplying parts to Birla Power Solutions and ignition systems to three-wheeler manufacturers Greaves Cotton and LML. In 2005, it commenced exports. US-based Stanadyne, which manufactures diesel fuel systems at its Chennai facility, is a more recent client acquisition.
For FY18, sales to TVS Motor comprised the bulk of INEL's revenue at 47%. Hero MotoCorp accounted for 28% and about 15% came from selling ignition systems to Greaves Cotton. Some of its other clients include Suzuki, Yamaha and Honda.
New shores
To reduce its dependence on top clients, the company is exploring opportunities in the Asia-Pacific region to diversify its customer base. As opportunities are expected to rise multi-fold, given the emission norms deadline, INEL is on an expansion spree.
In FY18, it deployed Rs.250 million towards fresh capacity. From a single unit in Hosur (Tamil Nadu), INEL has set up three more units — in Puducherry, Rewari (Haryana) and the latest in Kolhapur. The remainder of the capex is to be used for de-bottlenecking and maintenance. Its capacity utilisation currently stands at 70%.
Over the next two years, INEL is expected to incur capex of Rs.550 million to expand its new product capabilities, which includes electronic ignition systems, and set up an independent R&D facility for emerging disruptive technologies.
Staggered capex and expanding capacity incrementally has helped INEL maintain healthy return ratios. The company's RoIC was 31% in FY17.
The company has set up its plants close to its domestic clients so that it doesn't have to maintain a huge inventory. Besides, INEL has been employing cost reduction measures such as e-auction for material procurement, cost benchmarking, low-cost automation and productivity improvement initiatives. "Given that imported material is around 15% of the company's raw material costs, localisation initiatives could improve margins by 130 bps in the next couple of years. We expect sustainable PBT margin of 13% (EBITDA margin of close to 15%) for the electronic components segment, given the lack of too many domestic players," adds Arora (see: Steady growth).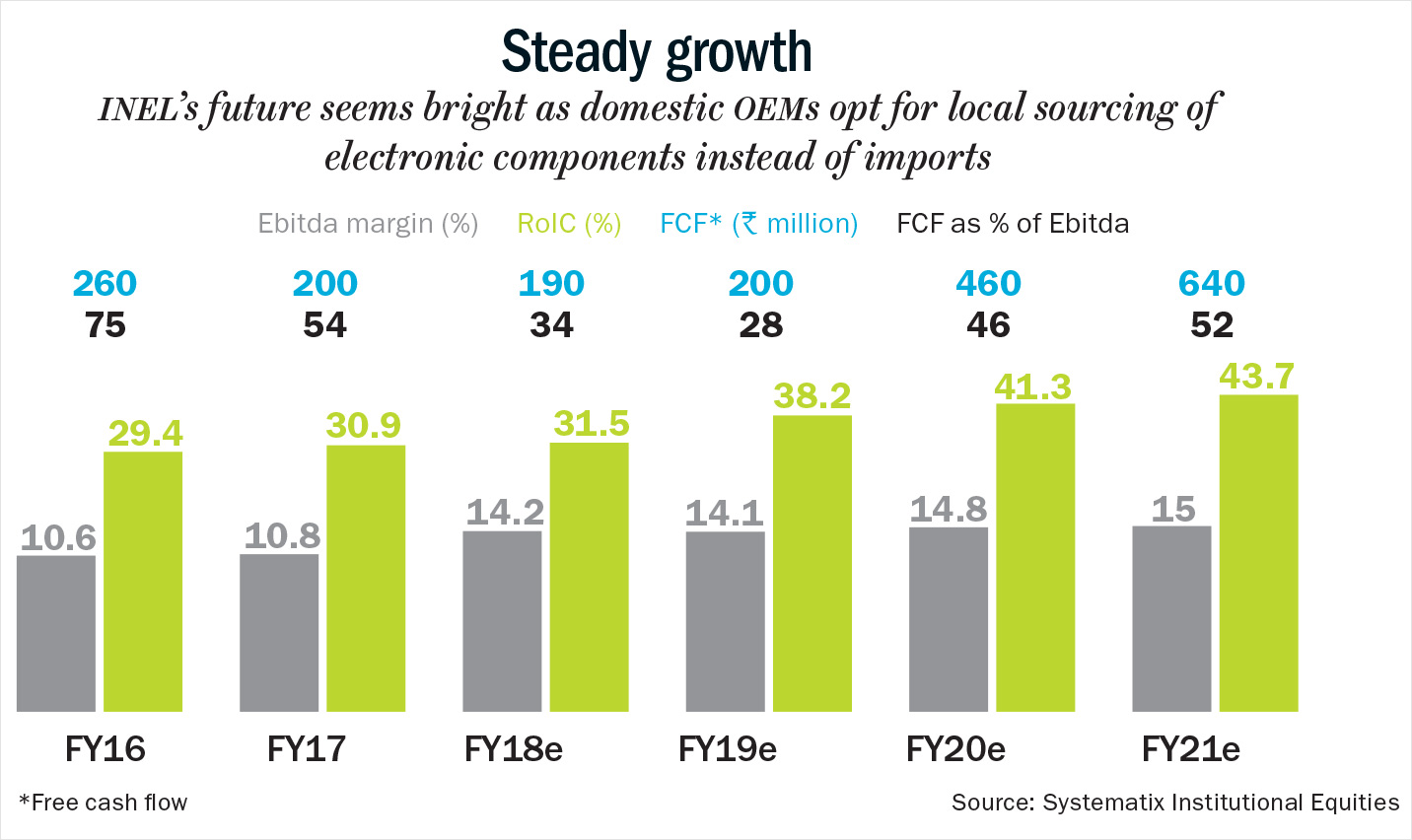 The company is also banking on automation and Internet of Things (IoT). With the help of technology, it believes that it can lower cost and achieve greater efficiency. "Currently, production processes are labour-intensive. Thus, we are deploying automation to improve the process and efficiency and reduce labour cost. We are also implementing IoT which will help to monitor the process in real-time," says Srinivasan.
Test drive
The company's plan to increase its product range and reach will further help absorb costs. "Improving our sales in products like integrator starter generator and increasing the volume of ignition coil where we have negligible presence, will help us to manage margins," says Srinivasan. The auto ancillary player is also looking to expand in North India and abroad in a bid to increase its profitability and turnover (see: Overseas foray).
It recently tied up with Athena, Italy, for its foray into electronic fuel injection systems. The company's electronic fuel injection (EFI) systems are already under validation with certain domestic OEMs. The company is also in talks with US-based Visteon, which is a global leader in digital display. Besides flashing various performance indicators, these digital displays can be connected to mobile phones for call notifications or for controlling the music playlist.
Apart from electronic ignition systems, INEL has identified electric vehicles as a focus area. As smooth charging is crucial for any battery-powered vehicle, the company is focusing on power management system, besides body control module — DC/DC convertor. A DC/DC convertor converts high voltage batteries to 14v electrical device voltage. The company is also setting up a new dedicated R&D centre in Hosur to attract talent from tech start-ups to focus on two-wheeler technologies for electric vehicles and other futuristic technologies.
Moreover, the management is exploring inorganic growth to build a futuristic electric vehicle component ecosystem. The company may target niche acquisitions (automotive technology start-ups) to strengthen its product capabilities. "India Nippon has zero debt on its balance sheet and has a disciplined approach towards managing its working capital cycle. Its working capital has shrunk from 58 days in FY14 to 38 days in FY17. This has led to steady increase in cash and liquid investments. With liquid investments worth Rs.1.24 billion as of FY18, the company is in a comfortable position to invest in new products or target related acquisitions," says Bapat.
Analysts estimate that the company would see topline growth of 11.75% CAGR over FY17-20 and earnings growth of 19% CAGR during the same period.
Steady finish
For INEL, it hasn't been a smooth ride. It saw a dip in sales in FY14 due to muted growth from TVS and the revamp of Honda Activa. Since then, it has recorded steady growth in its domestic and export revenue, led by product diversification and growth in the two-wheeler industry.
The promoter entity, Lucas India Services' strong distribution network has helped the company post strong growth in the aftermarket business. Lucas Indian Services has a pan-India presence with a network of 550 service dealerships and 15,000 retailers. Aftermarket and export sales have grown at 35% and 25% CAGR over FY14-17. The topline has grown at 10% CAGR to Rs.3.49 billion, while bottomline has grown at 16% CAGR to Rs.322 million over FY14-17. INEL's FY17 topline was Rs.4.66 billion and net profit was Rs.501 million. In contrast, the recent JV between Hero MotoCorp and Italian giant Magneti Marelli — HMC MM Auto — to tap into electronic ignition systems, reported a topline of Rs.210 million and loss of Rs.94 million in FY17.
Additionally, in the past 20 years, INEL has not incurred a loss in any financial year. The management's approach may be conservative but it is also in sync with the emerging trends in the industry, having developed complex products like EFI and throttle position sensor.
On a one-year forward basis, the stock is trading at 19x its FY19 earning estimates. In relation to FY20, by when all OEMs need to meet BS-VI norms, the stock is trading at 17x estimated earnings. With a strong balance sheet and prudent management, the stock would be a good addition to the portfolio, subject to the expected demand scenario playing out.