Avenue Supermarts is not yet in the league of Wal-Mart. But Radhakishan Damani, the astute stock market investor who owns it, was deeply inspired by Sam Walton, the legendary founder of America's biggest retail chain, when he entered the retail business in 1999. It all began in 1999 when Damani decided to test the waters by taking up a 5,000 sq ft Apna Bazar franchisee in Nerul. After gaining hands-on experience of how the retail trade worked, Damani took the plunge by setting up D-Mart in 2002.
Fifteen years later, D-Mart has not only become a household name but also the most valued retailer in the country. A 100% gain on listing has given Avenue Supermarts, which owns the retail chain, a market cap of over Rs.38,000 crore. D-Mart operates 118 stores (as of January 2017) in about 41 cities compared with 231 stores operated by Future Retail in 238 cities (See: Spot the difference). D-Mart has conservatively expanded, without much reliance on debt and by focusing on selected geographies. Against 25 states that Future Retail operates in, 73% of D-Mart's stores are located in Maharashtra and Gujarat. In FY16, 66% of its revenue came from Maharashtra, followed by 19% from Gujarat.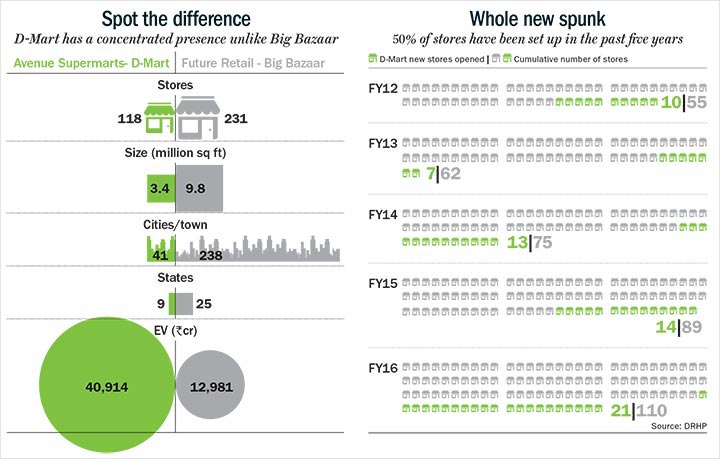 It prefers to open new stores in a tried-and-tested market in a densely populated middle class or lower middle class locality. "We focus on existing markets which we know very well. When a particular store is generating very high return on investment and is flooded with customers, then that is the right time for us to add a new store," says Neville Noronha, managing director, Avenue Supermart. Even as D-Mart stuck to selected markets, it kept growing on two counts: growth in same-store sales and opening up of stores in existing markets (See: Meteoric rise). But the concentrated presence has not come at the expense of growth. Avenue Supermarts currently clocks a turnover of over Rs.8,500 crore.
Besides the two western states, D-Mart also has a presence in Telangana (13), Karnataka (7), Andhra Pradesh (4), Madhya Pradesh (3), Chhattisgarh (1) and NCR (1) Daman (1) and Rajasthan (2). In the current fiscal, NCR, Daman and Rajasthan were the new markets where the value retailer began its innings with one store each. "India is a very complex market. After every 100 km, things change. Some of the markets we recently entered are still being evaluated and tested. So, our strategy remains the same. We will grow our presence in markets which we know very well," adds Noronha. This is precisely the reason that the share of key markets such as Gujarat and Maharashtra might reduce marginally but the revenue mix will still be concentrated between the two in the near term. Elaborating on the company's store strategy, Noronha says, "We handhold a particular store for about two years until it reach a stage where it generates a 10% return on investment, thereafter it is on autopilot."
Contra play
As against conventional thinking, that suggests an asset-light business model is far more superior, D-Mart is asset intensive and owns the majority of its stores. What's impressive is that it has managed to build a huge network without relying too much on debt (Rs.1,240 crore as on December 2016). The retail chain's low operating cost is its biggest edge compared with its established peers. By virtue of its owned-properties, rent as a percentage of sales is 0.2% in the case of D-Mart compared with 8.8% in the case of Future Retail, which owns Big Bazaar. Even for players such as HyperCity and Spencer, rent is close to 5% of sales.
High operating cost restricts the ability of a retailer to compete on price. Ankit Tikmany, who tracks retail at IIFL, says, "If D-Mart buys a product at Rs.100 and sells it at Rs.110, it can still make Rs.6. Whereas if a competitor buys the same product at Rs.100 and sells it at Rs.110, it will not make more than Rs.2 on the same product. This is because D-Mart's low operating cost helps it give deep discounts. And that becomes an advantage, which over a period of time also gives you bargaining power with suppliers."
Because D-Mart runs an asset intensive business, its asset turnover ratio — a measure of how efficiently a company is leveraging its assets — at 4x is far lower compared with 31x in the case of Future Retail and 6.5x in the case of V-Mart. But D-Mart's return on equity of 24% is far superior to that of Future Retail (See: Fast-mover). Wal-Mart has an asset turnover of 2.5x and a return on equity of 18.2%.
D-Mart also manages its inventory sharply. Inventory accounted for close to 23% of capital employed in FY16 and its inventory turnover ratio is close to 12x which is far efficient than the inventory turn reported by its competitors. "It's an efficient business model where the entire focus is on creating savings for the customer. You do not shop at D-Mart for a shopping experience or comfort. Customers go there to buy at a cheaper price. This is why it has a very high inventory turnover ratio as things just get sold the moment they hit the shelves," adds Tikmany. This high turnover is very visibly reflected in D-Mart's per sq ft sales of Rs.28,000-30,000 vis-à-vis that of Rs.9,500-10,500 of Future Retail.
Low cost is key to D-Mart's business model right from opening a store, procuring goods and selling them. It's here that the chain's concentrated presence comes into play as it is able to move goods more efficiently. The company has 22 distribution centres in four states namely Maharashtra, Gujarat, Telangana and Karnataka. "Cluster based approach gives it pricing power. Since there are a bunch of stores in a particular market, it can negotiate for the products available with the local distributors," reveals Tikmany.
What's in store?
Avenue Supermarts is the only company since 2010 to list at over a 100% premium. At its current market cap, the retailer is bigger than leading players across sectors such as Britannia Industries and Marico (FMCG), Idea Cellular (telecom) and Bank of Baroda (financials). Of the Rs.1,870 crore raised through IPO, a chunk (Rs.1,080 crore) of it will be used for retiring debt and Rs.366 crore for spending on stores. With the debt-equity ratio at 0.8x being further lowered after repayment, D-Mart's balance sheet will become even more strong, powered by its strong operating cash flows (Rs.447 crore in FY16).
Ramakant Baheti, chief financial officer, Avenue Supermarts, says the company's expansion has never been a function of availability of capital. "We have never faced any capital constraints. If we want to open a store, it has to make sense to begin with. Adding new stores just because you can borrow or raise capital does not fit into our philosophy," says Baheti. That, indeed, has been the case. The first D-Mart was opened in 2002 and at the end of eight years, there were only 25 stores.
The calculated ramping up that followed has delivered 40% compounded growth in revenue followed by 52% growth in profit between FY12 and FY16. While these are very high growth numbers, it is quite possible that the incremental growth might cool down The YoY revenue growth rate has been falling from 51% in FY13 to 40% in FY14 and thereafter to 37% in FY15 and 33.26% in FY16. But that is also because of a high base. In terms of sales, D-Mart is 4x bigger than what it was in FY12.
At its current price of Rs.617, the stock is trading at 73x annualised FY17 earnings. If we assume that the retailer will replicate its 50% profit growth over the next three years, it will close FY19 at about Rs.1,000 crore in profit. In the past four years, except in FY15, when profit grew at 32%, profit growth has never dipped below 50%. Even after accounting for such high growth, it is still not cheap at 40x FY19 earnings. On a comparative basis, Future Retail is trading at 1.76x EV/EBITDA as against D-Mart's 4.5x. While the valuation is expensive, the fact that Damani chose not to sell a single share in the IPO, speaks a lot about the confidence that the legendary investor has in his retail business.