While the behemoths of the Indian pharma industry are still battling the gaze of the USFDA and witnessing sharp erosion of their market cap, the clouds of uncertainty have receded for a niche player like Laurus Labs. Based in Hyderabad, in a span of about a decade, this mid-sized firm has become a leading manufacturer and developer of generic active pharmaceutical ingredients (APIs).
Laurus supplies APIs to nine of the top ten pharmaceutical players in the world (top customers include Aspen, Aurobindo, Cipla, Mylan and Natco). The firm's constant emphasis on cost efficiency, quality control, a higher off-take by global procurement agencies and most importantly, a qualified and experienced management at the helm of affairs has been instrumental in driving growth (see: Fruitful therapy). Incorporated in 2005, the firm went public in December 2016 to pay back a portion of its debt and for funding its expansion. Founder Satyanarayana Chava says, "Customers are willing to bet on us due to our ultramodern facilities, cost effectiveness and an excellent compliance track record. Another important dimension is that we built a product-specific capacity. If we create a multipurpose facility, we will have to make a lot of compromises. Our ability to create a large capacity, more than our current requirement (unlike our peers) has been one critical success factor for us, so far."
Laurus' emphasis on automation and quality control has ensured a good compliance track record. In August 2017, USFDA completed the inspection of its API facilities at Visakhapatnam and granted an establishment inspection report (EIR). The company received two form 483 observations for its unit I and unit III, which were procedural in nature. It also recently announced the successful completion of USFDA audit without any observations for its unit II (formulations unit) at Visakhapatnam. In comparison, Shilpa Medicare, which is foraying into formulations, got three form 483 observations in January for its unit I and unit II in Raichur. And earlier in December 2017, it had received 10 form 483 observations for its SEZ formulation facilities in Jadcherla, Telangana. A form 483 enlists deficiencies found during the course of inspection. If no enforcement action is contemplated, or after the enforcement action is concluded, the USFDA provides inspected establishment with a final inspection report, called an EIR.
Siddhartha Khemka, head of research (retail) at Motilal Oswal Financial Services says Laurus' strong presence in the anti-retroviral (ARV) business, its consistency in compliance and forward integration into formulations business have cemented its position as a niche pharma player. However, on the back of below-than-expected Q3FY18 performance and a weak sentiment for the sector, its stock hit a 52-week low in February. It has since recovered after the final approval for its maiden launch in the US for Tenofovir Disoproxil Fumarate (TDF). But this good news is not the only reason the stock could climb in the coming year, analysts reckon (see: Muted gain). While some of its key business challenges recede, it could also reap the fruits of its earlier labour.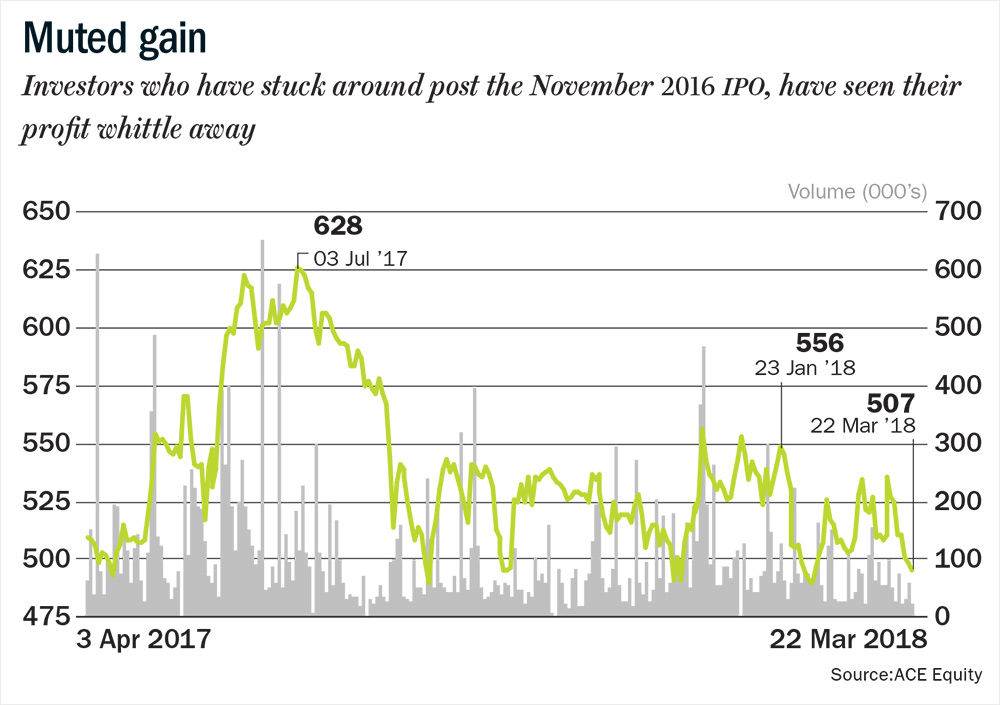 Good tidings
Laurus' first product to be launched in the US is TDF, for the treatment of HIV-1 infection in adults and paediatric patients. It is to be launched in June 2018 and is estimated to have a market size of $50 million. As the drug remains the backbone in first-line therapy for adults, it is expected to see continued increase in usage, with more than 70% coverage expected by CY19.
The approval for TDF has stirred optimism around its ANDA pipeline. Over the past four years, Laurus has spent a sizeable amount on R&D, from 3.74% of total sales in FY14 to 6.7% of total sales in FY17. The R&D expenditure of its peers like Shilpa Medicare and Granules India, during the same period has hovered around 5% and 1%, respectively. Today, Laurus has a sizeable ANDA pipeline, with 8-10 approvals lined up for each year. Till date, the firm has filed 45 DMFs and eight ANDAs with the USFDA. Khemka says, "We feel that the company has reached an inflection point, because of the effort they have put in over the last two to three years in R&D and in building the pipeline. In FY19, we expect a huge jump in numbers."
While the firm's current focus is on making APIs for three major therapies — ARV drugs for treating HIVs patients (65% of its revenue), Hepatitis C (9%) and oncology (8%) — the firm is also investing in the high-margin synthesis and formulation business. Despite being a late entrant in the ARV and API market, it has become the largest producer in a short time frame. The firm is in a sweet spot, given a complete portfolio in the ARV segment, with 65% market share in Efavirenz (EFV) a drug, which has been given the preferred drug status for treatment of adults, pregnant and breast-feeding women and adolescents.
While the World Health Organisation (WHO) forecasts EFV ceding some of its market share to dolutegravir (DTG) based combinations, analysts reckon that it will remain a net beneficiary, even if industry sales taper off. According to Atul Karwa, analyst, HDFC Securities, "Although the treatment with DTG combined with two other medicines has proved to be more effective than EFV combination, the cost is significantly higher due to the limited availability of DTG. We do not see any wide scale implementation of the treatment with DTG for the next few years. Even if the cost reduces going forward, Laurus is prepared to supply DTG combination at the lowest cost to gain maximum share of business."
According to VV Ravi Kumar, CFO, Laurus Labs, "For EFV, we are projecting a constant demand till FY21 as WHO is targeting an addition of two million patients each year to the ARV treatment. Having said that, we are already working towards DTG, and we don't see any challenge there." In addition, the management has announced that it would commission one of its largest manufacturing plants for Lamivudine, another WHO preferred drug for HIV treatment.
For its Hepatitis C portfolio, the firm has entered into a 50:50 profit sharing agreement with Natco Pharma, which involves manufacturing and selling Hepatitis C APIs to Natco and others. For 9MFY18, all other therapies, except Hepatitis C segment, have reported an increase in revenue. There is significant pricing pressure on APIs as well as in formulations, given that some of the Hepatitis C formulations fall under the Drugs Price Control Order and the market itself is seeing flat growth. The management, though, is positive despite the steep revenue decline of Rs.70 crore and expects profit from this segment to remain stable in FY19. The firm has also not ceded market share in ARV and Hepatitis C to any other API player, despite lower sales.
Karwa isn't entirely convinced, and remarks, "An increasing number of licensing agreements have been signed between international pharmaceutical companies and Indian drug manufacturers to make generic versions of Hepatitis C drugs. Laurus being one of the most cost-efficient manufacturers is poised to gain volume market share. However, due to pricing pressure, revenue is expected to remain subdued."
With the Hepatitis C segment under pressure, the management is now focusing on cardiovascular and diabetes therapy. According to Chava, "Currently the share of revenue from the diabetes portfolio is zero, but it will become a significant part. We have approval for metformin, and are expecting approvals for other molecules as well." Since, there are five major pharma companies, where the market share is concentrated; metformin presents a major opportunity for Laurus. The drug could potentially garner revenue of $5 million-$8 million on an annualised basis for Laurus, as it has scope to capture 20-30% share from large existing players, which are choosing to exit low-profitability and high-volume products such as metformin (see: Volume play).
The oncology segment has had a good FY18, after witnessing a rough patch in FY17, when API sales declined 24%. According to Kumar, the oncology segment is poised to become the second-largest contributor to overall revenue. Laurus is building on its oncology franchise for not only generic, but also for new chemical entities. The synthesis business is still in its nascent stage,but the deal with Aspen, the world's sixth largest generic drug maker, provides a potential for 4x growth over the next couple of years. As part of this deal, Aspen will lend Rs.200 crore in the form of an interest-free loan for setting up a dedicated contract manufacturing plant in Visakhapatnam to produce hormonal and steroid APIs for its Europe business.
Overall, Khemka expects the top-line to grow 20% in FY19 and margin to increase to 23%, led by greater contribution of value-added products and increasing share of the US market. "The benefits of operating leverage will kick in meaningfully, and the depreciation, which had gone up significantly over the past few years, should come down," adds Khemka. That should bump up the return ratios, which were subdued over the past three years due to high R&D expenditure.
Over the past year, while the CNX Nifty Pharma Index has declined 20%, Laurus has declined 1.7%. It currently trades at 19.6x, FY19 estimates versus 20.9x for Shilpa Medicare and 14.8x for Granules India. Divi's Laboratories, which is in a similar space as Laurus, but operating at a larger scale, trades at 24.4x FY19 estimates. One of the key negatives at this juncture is that Laurus has not delivered the double-digit growth in the ARV segment that it promised at the time of the IPO. The ARV segment reported 4% growth for 9MFY18. Its ability to fulfil its promise of double-digit growth in the ARV and oncology space in FY19, and its progress in the synthesis segment will be closely monitored.