Over the past couple of years, automakers were on a fast lane. FY18, in particular, was one of the best years for the industry when automobile sales went up by 14.22% with passenger vehicles growing by 8% (hitting a record high of 3.28 million units); commercial vehicles (CVs) by 20%; and two-wheelers by 14.8%. Between FY16 and FY18 too, passenger vehicles, CVs and two-wheeler segments saw a CAGR of 8.5%, 12% and 10.7% respectively driven by ease of access to credit and robust demand.
Tyre companies too had a decent growth of 6.7% (average) between FY16 and FY18 thanks to the original equipment manufacturers' (OEMs) sales, imposition of anti-dumping duty on truck and bus radial (TBR) tyres from China, and implementation of the Goods and Services Tax (GST) that gave them an advantage over the unorganised market.
It was a good run until FY19, when the slow down began due to factors such as insurance regulations, credit crunch and higher fuel cost. Growth in automobile sales turned tepid with a mere 5% rise; passenger vehicle saw growth of 2.7%, the lowest in the past five years; and two-wheelers grew at 4.8%. CVs however managed to buck the trend by clocking an annual growth of 17.6%.
Though auto manufacturers are facing a bumpy ride, with some even cutting down production, tyre makers are set to bask in the warmth of the three good years (FY16-18). "Vehicles which were sold in those years — especially commercial vehicles — their tyres should be due for replacement. So, tyre makers are expected to see better demand in the next two years," says Jayasree Ram, an auto analyst at Karvy (See: Growth uptick).
Market leaders, particularly in the CV tyre segment such as Apollo Tyres and JK Tyre, are expected to benefit as trucks and buses continue their good run. More than 70% of the revenue of the two companies comes from the CV category. "Volume growth in the MHCV (medium and heavy commercial vehicle) tyre segment is primarily driven by replacement demand, which has historically accounted for around 70% of the market," Vaikam Kumar, auto and auto ancillaries sector analyst at JM Financial Institutional Securities.
Kumar adds that replacement demand improves with better economic activity, freight demand and infrastructure development. While the International Monetary Fund (IMF) has trimmed the growth forecast, the Indian economy is predicted to still grow at an average of 7.4% over FY20-21. "With continuously improving capacity utilisation and the end of the de-leveraging phase for corporates, conditions are ripe for a revival of private corporate investments," stated CRISIL in its January report on the economy.
Analysts claim that the other significant drivers for the tyre replacement demand will be increase in vehicle ownership and better roads. "The most important reason which causes replacement demand to go up is the increase in vehicle population," says Kaushal Maroo, an auto analyst at DSP Mutual Fund. He adds that better roads help too, since they lead to trucks travelling longer distances in the same day. This means fleet owners make more money and will be willing to invest in the vehicle upkeep.
Replacement sales give better profits, compared to OEMs sales, say market experts. "The realisation is higher for replacement of tyres because companies can easily pass on the hike. Once a person has bought a vehicle, he or she has to replace tyres after a certain period so the person will be willing to buy even at a higher price. And, the companies can also offer more commission to a dealer to push their products," says Mayuresh Joshi, head of portfolio management at Angel Broking. While passing on sharp rises in raw material cost to OEMs is a "challenge", according to an Alpha Invesco report, generally, tyre manufacturers are afraid of losing their bulk orders and market share.
Green Shoots
In addition to tyre replacement demand, MHCV tyre sales could receive a boost from pre-buying ahead of the implementation of Bharat Stage (BS) VI norms. The norms, to reduce vehicular emissions, will come into effect by end of FY20. After the new rules are adopted, one won't be able to manufacture and sell cheaper BS-IV vehicles but can drive them. Hence, fleet owners are expected to flock towards BS-IV vehicles — which will be cheaper compared to newer BS-VI-compliant models — driving up sales of commercial vehicles in the second half of FY20. Industry expects the CV segment to garner growth of 10-12% in FY20, whereas two-wheelers are expected to grow at 5-7%. "For FY20, CVs as a category will grow faster than the four-wheeler and two-wheeler segments," says an analyst.
Another government policy that has given a boost to this sector is the implementation of GST. Post that, fast-moving consumer goods companies and retail players have adopted a new consolidated warehousing model which increased the demand for CVs and therefore tyres. Large warehouses are replacing godowns that were stationed in each state, since GST has subsumed several state-level taxes. Companies will now require light commercial vehicles (LCV) to transport goods to their final destination from large warehouses. "The increased need for last-mile connectivity following the emergence of the hub-and-spoke model is expected to sustain LCV demand," states a JM Financial Institutional Securities' report.
While commercial vehicles are driving demand in the near-term, analysts are betting on increasing demand from two-wheelers in the long term as the two-wheeler penetration increases from around 120 people per 1,000 people. Based on higher demand from OEMs and the replacement market, analysts at Jefferies Financial Group estimate a 10-12% production growth in passenger vehicles and 6-10% for two-wheeler tyres over FY19-21. In fact two-wheeler manufacturers are cutting back on prices to bolster volumes. Last July, Bajaj Auto initiated an intense price war in the entry level segment, which drove up demand for the company with sales going up by 21% and 16% in September and December quarters respectively. The price war is expected to bring cheer to the tyre industries, reviving OEM sales. "A strong preference for quality is also evident in the passenger vehicle and two-wheeler segments," says Kumar. This is likely to bring benefits to players such as CEAT, who have a firm footing in the CV as well as two-wheeler segments. The company's 42% revenue comes from selling tyres used by trucks, buses and LCV, whereas two-wheelers make for 31% of the top line.
Improving Quality
Facing stiff competition from global counterparts such as Bridgestone Corporation and The Goodyear Tire & Rubber Company, India's tyre industry is now focusing on improving product quality. The move to increase spends in research and development (R&D) is likely to translate into better margins. "Continuous improvement in technology has improved industry dynamics with technology leaders benefiting from better pricing discipline. Consequently, the industry is gradually weeding out margin volatility," says Kumar.
The average spend on R&D by big Indian tyre companies has gone up from 0.6% to 1.4% of sales over FY14-18 and is approaching the global benchmark, a JM Financial Institutional Securities report claims. Apollo Tyres, CEAT and MRF Tyres, have raised R&D expenditure from 1.1%, 0.4% and 0.3% of sales in FY14 to 1.5%. 1.7% and 1.1% in FY18.
In fact, Apollo Tyres, a market leader in the TBR segment, has been able to reduce the pricing gap with global players due to a sharp focus on R&D. "The pricing gap of its (Apollo) TBR tyres with Michelin (considered the benchmark in quality) has come down to only 2% now vs 30% a few years back," states a Nomura report. As the radialisation in the tyre industry continues with strong capacity additions, Apollo's TBR category, which accounts for 35% of its standalone revenue, is likely to rise further to 44% by FY21, predicts Nomura.
As compared to bias tyres, radial tyres carry certain advantages such as higher fuel efficiency and better manoeuvrability and longevity. This has mainly been beneficial for CV fleet owners. "CV fleet operators typically base their purchase decisions on the total cost of ownership. This is reflected in the rapid adoption of radial technology with its share rising from 35% in December 2016 to 45% in March 2018 despite the cost of initial acquisition being 20%-40% higher," says Kumar.
Companies can make better margins as the radial tyres are around 35% costlier than bias. "Most of the OEMs have already shifted to radial tyres but, in replacement demand, the shift is gradual. This will be a long term positive for these companies," says Maroo.
Analysts also state that implementation of strict emission norms is expected to drive further investments in R&D and benefit companies with superior technology. "For instance, there are visible signs of rising traction for tyres with low rolling resistance. Additionally, implementation of tyre labelling norms will go a long way in establishing quality standards and incentivise companies to raise the bar in terms of technology," says Kumar.
In The Range
Despite decent growth in revenue in FY19, the margins were under pressure due to rise in cost of raw material. There was volatility in the price of crude and rubber – the two key ingredients needed for manufacturing of tyres. With the raw material cost accounting for around 70% of the total cost in the tyre industry, operating efficiency of the tyre producers was dented in the past financial year.
Crude prices had peaked to $84 per barrel in October last year, escalating the cost of crude derivatives which are used in manufacturing of tyres. But from its high of October, the price of crude has cooled off by 30%, being range-bound between $60 and $70 per barrel. In three quarters of FY19, Apollo, CEAT, JK Tyre and MRF reported Ebitda margin of 11.48%, 9.23%, 11.13% and 14.62% respectively, with the raw material cost rising between 20-25%.
Similarly, rubber prices had remained elevated in three-quarters of FY19 due to floods in Kerala (largest rubber-producing state) and depreciation of rupee. However, the prices have been flat this calendar year, easing off due to higher seasonal import during the Indian monsoon (See: Easing of pain).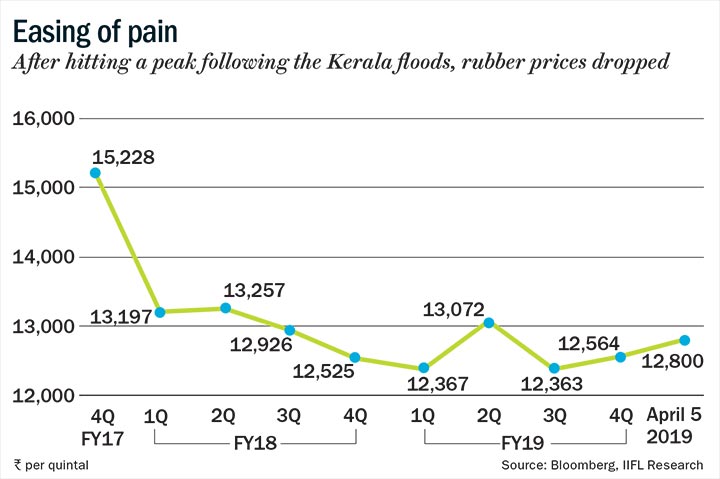 Even international rubber prices are expected to remain subdued. There is a possibility of an over-supply of natural rubber till 2023 due to the rubber-plantation boom in 2011. The trees which were planted when the rubber prices were at a peak in 2011 have matured, leading to a plunge in global prices. Weak global auto demand is also putting pressure on the price of rubber. "The expectation is that rubber prices will remain range bound for the next one year. So this won't turn into a headwind within that period," says Maroo.
With raw material cost expected to drop, the analysts at Jefferies expect Ebitda margins at CEAT and Apollo Tyres to rise 300-350 bps between FY18 and FY21 (See: Smoother ride ahead). "Oil prices are off 30% since October to the lowest in a year, likely moderating prices for inputs such as chemicals, nylon fabrics and carbon black. Benign rubber prices, which makes up half of the raw material costs, will help too, as will a stronger Indian rupee which has also risen 5% from lows," stated a Jefferies' report in November last year.
Unlock Value
Slowdown in the auto sector, and rising crude and rubber prices had weighed down the tyre stocks in FY19. Major players in the sector such as Apollo Tyres, CEAT, JK Tyre and MRF Tyres had corrected between 15% and 40%.
While CEAT's stock price was dented by poor demand in its strong segments, investors were concerned about Apollo Tyres' higher capex, exposure to IL&FS and the lofty remuneration of its top executives.
JK Tyre's stock has also been under pressure due to high debt of Rs.49.88 billion. The company acquired Cavendish Industries for Rs.21.95 billion in 2017. So, even as CVs contribute over 50% of its revenue, the company's financials have been impacted due to rising raw-material cost, depreciating rupee and rising interest costs over the past two years. MRF, the largest tyre manufacturer in the country has also been grappling with higher raw material costs. In 9MFY19, the company's sales rose by just 4.01% to Rs.118.17 billion; profits increased by 7.51% from a low-base of Rs.8.03 billion. According to analysts, MRF's revenue growth was impacted to some extent due to market share loss in OEM segment and slowdown in the farm tyre replacement segment in which MRF is market leader.
Its margins also came under pressure due to rising input costs of raw materials such as carbon black and crude. Though MRF hiked up prices, it was offset by higher operating and manufacturing (O&M) expenses. However, MRF's leadership position in the tyre industry, coupled with product innovation, capacity ramp-up and new launches across all segments including two-wheelers, cars and CVs are expected to help it regain strong growth.
After the sharp drop, the stocks are trading near their six-year-average price-to-equity (PE) ratio with the analysts preferring Apollo and CEAT. JM Financial Institutional Securities estimates the revenue and earnings of Apollo Tyre to grow at CAGR of 13% and 22% over FY18-21 driven by market share gains, ramp up in European operations, robust replacement demand in CV segment and favourable raw-material price movement.(See: Revival in growth)
Similarly, with the expectation of stable growth in two-wheelers and commissioning of new TBR tyre plant, CEAT is also poised for better days. According to analysts at JM Financial Institutional Securities, "strengthening of its product franchise with the new TBR and passenger car radial tyre facilities should aid volume growth while prominence in the profitable two-wheeler segment supports margins." The revenue and earnings are estimated to grow at CAGR of 10% and 13% between FY18-21.
As the tyre companies are set for a speedy drive, the valuations provide a perfect opportunity for investors to jump on to the bandwagon. While Apollo Tyres trades at an attractive valuation of 9x, CEAT is valued at 14x for FY21. And despite the auto sector continuing to grapple with the crisis, these tyre stocks offer the possibility of a smooth drive for investors, riding on a combination of favourable conditions and timely corrections.