After months of scrolling through Pinterest for room décor inspirations, you know exactly what you want in your soon-to-be apartment — a wardrobe with sliding doors, soft ceiling lights, a cozy couch, a bright workstation with a woody bookshelf and a queen-sized bed against a teal-coloured wall. Then you pray that everything falls in place, and the hunt begins — for the right designer, the carpenters, and of course, the furniture. This is when you realise how naïve you were to think you could move into the house within two weeks. And this month you will have to pay an EMI and a rent. If only someone had introduced you to Livspace, the online interior designing service in the country that brings customers, design professionals, brands and vendors on the same platform.
Founded in 2014, Livspace has given life to more than 13,000 homes with its community of over 2,000 designers and 1,000 brands and vendors. According to a report by Mordor Intelligence, the market for home interiors and renovation is estimated to be worth more than $20 billion in India. And Livspace co-founders Anuj Srivastava and Ramakant Sharma have solidified their position as one of the top five players in this space. Vexed by personal experiences of getting their homes designed — Srivastava in San Francisco while working for Google and Sharma in Bengaluru when he was with Myntra — the duo decided it was high time that someone introduced technology in the mix.
"We realised that instead of being a fun and enjoyable experience, designing interiors was a nightmare," says Srivastava. They went to their drawing boards and hatched out a plan to disrupt the unorganised home design industry. Thus, Livspace was born. "Unlike fashion, home design challenges an average Indian consumer with their limited aesthetic sense and understanding of it. They are now happy to take professional help to design their space," says Saloni Nangia, president, Technopak.
House-warming
If you are a fan of TVF's Girliyapa YouTube channel and one of its most popular web series Mr. and Mrs., you will already be familiar with Livspace's work. The young and modern couple's chic house in season two is designed by the start-up, which gets a couple of mentions in every episode. The product (service) placement should have been easy to do, because the service seems tailor-made for young homemakers who are busy but are particular about being unique. (Besides chasing a promotion and learning to play the ukulele, they must have that coral accent chair with unicorn-patterned cushions.)
Therefore, first and foremost, Livspace offers convenience. All a customer has to do is fill up a short online form to 'match' with a designer, who then presents a proposal during a meeting. This includes concept options for the property, product suggestions, price break-up, payment policies and more. "From the very start, homeowners know that what they see is what they get," says Sharma. Everything is laid bare crystal clear. Once a proposal is approved, homeowners pay a design and handling fee, which is 8% of total goods and services value, to compensate the design team. And the homeowners' dream begins to take shape.
In the follow-up sessions, the homeowners and designers collaborate to discuss the finer details (paint, tiles, walls), pick products from an online catalogue, select materials and finalise looks on Canvas, a 3D visualisation tool, which is Livspace's proprietary, cloud-based platform. It's as easy as planning your monthly groceries, and adding them to your cart. "One home can feature as many as 500 products and services — all coming from multiple brands and suppliers," explains Sharma, but the homeowner does not have to deal with 500 touch-points. Just one — Livspace. If the homeowner finalises the exact design as first discussed, the cost remains the same as the quote price. Sharma explains that due to the collaborative nature of the project, the end cost sometimes differs from the initial quote, but it is up to the client to choose. Then, the two parties agree on a timeline, documents are signed and invoices are issued. The start-up has processes to ensure accountability.
The entire progress can be tracked online and, in case of a delay, the start-up also compensates by paying the rent post the scheduled deadline. The company claims that about 91% of its projects get delivered in time. "According to our internal research, that rate is less than 40% in the unorganised market," says Sharma. If you thought this was too good to be true, the marketplace has done you one-up by offering a warranty of up to 10 years on modular solutions. Branded products come with seller's warranty and the rest come with a three-month guarantee.
Due to Livspace's sound business model, investors have come rushing in. The one-stop shop for home interiors has raised over $103 million in funding with backing from Ingka Group (IKEA), TPG Growth, Goldman Sachs, Helion Ventures Partners, Brand Capital and many others. "Livspace is not just selling furniture, but offers value-added services. We saw that as a unique play that is scalable," says Sam Subramaniam, CEO of Brand Capital – the strategic investment arm of The Times Group, adding, "they have created a new category that the market needed."
Besides consumers, the platform has also made its designers' lives easier. Now, they don't have to run after contractors, track every payment manually, or source materials for their clients from the ends of the world. Everything is already in one place since Livspace had acquired DezignUp (design community and marketplace), Dwll.in (online network of 1000+ designers and architects) and YoFloor (mobile platform for virtual home design) within a year of its founding, for undisclosed amounts. While DezignUp and Dwll.in helped Livspace in building a strong community and curating design content, YoFloor's AR based "trial room" for home design helped in creating critical visualisation components of Canvas.
The company claims that the top 50% of the designers have seen their income increase anywhere between 200-400% since joining the company. "I started working for Livspace in 2017 with a few other designers and within six months, we captured 50% of the interior design market in Hyderabad," says Ashmita Banerjee, one of the designers. Vendors associated with Livspace, too, have seen an increment in income and reduction in working capital by up to 30%.
Moreover, with partnerships with brands such as Hettich, Hafele, Urban Ladder, Gulmore Lane and D'décor, who pay a commission for sales, Livspace offers a vast repository of all kinds of furniture. But the company is more focused on its private labels in modular solutions, kids' furniture and upholstery materials, where it gets higher margin. In fact, modular solutions (kitchen, wardrobe, storage) make up for 50% of total goods sold. So, the team is looking to build more in-house brands. Nangia of Technopak believes this will help Livspace complement the brands already on the portal. "A differentiated range vis a vis a me-too in home décor can help capture a larger home market," she says and adds that a successful marketplace "manages both brands and private labels well to offer a complete solution".
Not that it already hasn't. According to the Mordor Intelligence report, the top five players, which include Aamir & Hameeda, Sobha Interiors, Ace Interiors and Livspace, clearly dominate the market in India. For FY20, the company recorded gross sales of Rs.11 billion. They are also planning to expand their omnichannel presence through experience centres, of which there are five in the country, besides 15 experience apartments. Since the launch of these centres in 2017, the company has seen an increase of 30% in customers' shopping cart value. Sharma reveals that they will launch new centres in the later half of the year.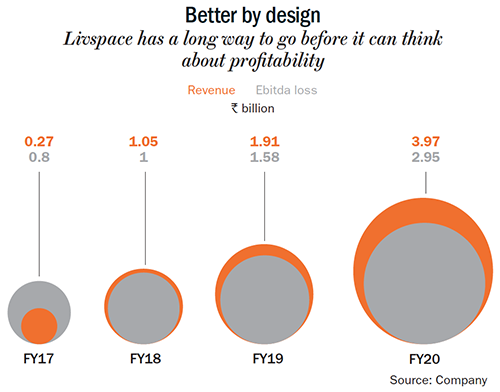 The company is also profitable in a few cities (Delhi-NCR, Bengaluru, Mumbai), but is yet to achieve that on a consolidated level (See: Better by design). "At this stage, it's a market-making moment for Livspace, not a net-profitability-chasing moment," says Sharma. To deepen its presence, it is also foraying into Tier-II cities and venturing overseas, starting with Singapore, where it entered in October 2019. "Overall, the Singapore renovation and home interiors market is worth approximately SGD 4.8 billion. With no dominant aggregator, supplier or retail brand, there was space for an entrant," explains Sharma. He shares that growth here will be driven by renovations and new HDB (Housing and Development Board) apartments. The company is targetting over $50 million gross sales annual run rate in that region by 2021 from $22 million as of February 2020.
Reaching the high ceiling
There is no stopping their ambitious targets despite COVID-19. The company switched to action mode when the lockdown started affecting its business. First, the founders announced that they are giving up their annual salary. The leadership team is writing off its bonuses for the year and the company has laid off 450 employees. "It was a very difficult decision, but we had to steer the company in a more focused and leaner direction," says Sharma. Additionally, to ensure a safe environment for home renovation, the company has put in place processes maintaining social distancing norms and contactless design and delivery wherever possible.
However, amid loss of paychecks, Subramaniam of Brand Capital sounds cautious, especially since consumers are avoiding discretionary spends. "Livspace's growth correlates with real estate growth. And, real estate sector might turn the corner only in the last quarter of this financial year," he says. But there may be a silver lining here. Nangia agrees that there will be short-term challenges for Livspace, but in the medium and long term, COVID-19 will give rise to opportunities as well. "People have spent so much time at home during the lockdown that they are aware of what changes need to be made. With travel and holidays taking a back seat, some of the savings will get directed towards home," she explains.
Livspace has already hopped on to that train. Of the 1,500 people that have met with the company's designers since Unlock 1.0, about one-third of them are considering dedicating at least a corner for a home office. Several people are also looking at foyers that can become spaces of sanitisation — the crucial bridge between the outdoors and the indoor. "The wallet share spent on home office design and foyers is usually low (about 5-7% or less), but we are projecting higher-than-usual volume in this category," says Sharma.
Harsha Razdan, partner and head - consumer markets and internet business, KPMG India expects this proven business model to witness accelerated growth in next two years. "However, the dependency on fragmented ecosystem impacting last mile fulfillment continues to be a challenge," he says, adding "no wonder we continue to see rental reimbursements being offered by these players against project completion date."
In India, Livspace shares the segment with players such as Homelane and MyGubbi. But, according to Nangia, the market opportunity is large enough for multiple businesses to co-exist and flourish. "Many people are buying homes early in life, so they have inclination and budget to design or re-design their homes. Plus, there are financing options for interiors, which can be added into home loans, helping the consumers pay for it over a longer term," she says. After all, the consumers they target aren't exactly struggling to make ends meet. As long as they continue to deliver a seamless experience and address pain points, they are confident that their cozy corner is secure.