For a group of five friends who couldn't distinguish a cow from a bull, life has come a full circle at Stellapps. Ravishankar Shiroor, Ranjith Mukundan, Praveen Nale, Venkatesh Seshasayee and Ramakrishna Adukuri, friends for 15 years, were telecom engineers and technologists at heart. They knew machine-to-machine communications or internet of things (IoT) as it is known now, but what they were clueless about was the vertical where they had chosen to deploy it — dairy farming and milk production. "None of us had reared an animal before," Shiroor guffaws.
The erstwhile embedded engineers of Wipro who also had trysts with companies such as Nokia, Ericsson, and Motorola spent over a year in farms on the outskirts of Bengaluru before taking the plunge in 2011. Years down the lane, Stellapps, short for stellar applications, is India's first dairy technology solutions company providing analytics-backed management solutions to farms, cooperatives and private dairies.
The smart milcher
Subsequent to the white revolution during the 1970s, India has emerged as the world's largest milk producer with 18% market share globally. However, the high milk production is attributed to the large cattle population in India which has been witnessing lower milk yields compared with the US or Europe. The average yield of Indian cattle stands around 4 litres/day, way below that of countries such as the UK, the US and Israel where the numbers are around 22 litres/day, 29 litres/day and 33 litres/day respectively. Low nutrition levels, long dry periods and inferior farm management practices add to the inefficiency, driving yields lower and making it a non-profitable business for farmers.
This is where Stellapps comes in with its comprehensive farm optimisation and monitoring support which aims at helping dairy farmers and cooperatives maximise profits by minimising efforts, by leveraging technologies such as IoT, big data, cloud, mobility and analytics.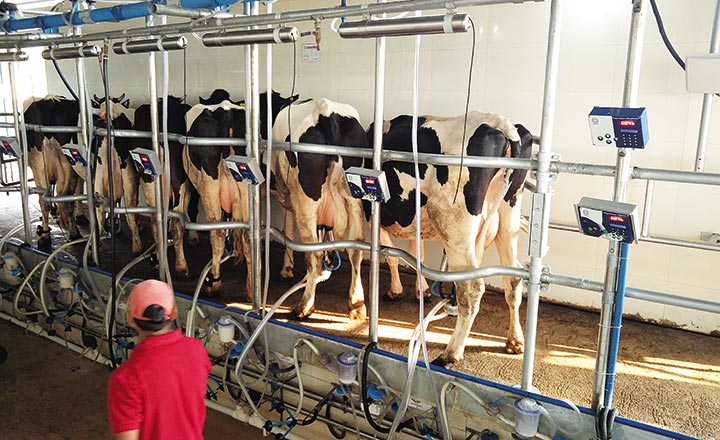 Optimising farm operations and milk procurement processes by adding more hardware and sophistication into the farm have been around in the west for some time now, but viable only for large farms which house 500 to 1,000 cows. So, how does Stellapps make it viable for a country like India where the bovine population in most farms is between five and 25?
"What we have done is taking a cloud approach," says Ranjith Mukundan, CEO and co-founder. "Our whole focus was on commoditising the hardware and shifting the centre of gravity to the cloud. That enables us to amortise cost across multiple farms," he adds. Typically, in European countries, a farm will have an expert vet or a paravet and an IT manager looking after the infrastructure. Stellapps substitutes that with cloud-based machine learning. It provides sensors that are embedded in milking systems, animal wearables, milk chilling equipment and milk procurement devices. A SmartMoo IoT router and in-premise IoT controller receive data via these sensors which is pushed to the cloud where the data crunching takes place. The analytics are then made available to customers.
"We felt cloud-based machine learning will be a reasonable substitute for the lack of expertise on the premise and that has worked. When we go to a farmer or a small collection centre we don't quote a hefty amount. The cloud-based approach allows farmers to pay little, but every month. After implementing our technology, when the farmer earns profit, a portion of it comes to us," says Mukundan.
Stellapps offers three products — SmartFarms, smartAMCU and ConTrak. SmartFarms is a cloud-based farm management solution consisting activity meter, herd management solution and a milk meter. It helps with real-time animal activity monitoring, accessing farm data, maintaining livestock health records and measuring parameters such as cow milk conductivity to detect mastitis in cattle, yield, temperature etc. SmartAMCU (smart automatic milk collection unit) and ConTrak optimise the performance of collection and chilling centres, respectively, by assessing quality and temperature of milk, equipment monitoring and so forth.
Stellapps today covers around 15,000 villages, 200,000 farmers, 5 lakh cows and helps collect 5 million litres of milk per day.
From farmers to farms
Realising that the bottom layer of dairy farming was the most neglected, the Stellapps team started off at that very layer. Till the middle of 2013, they approached farmers directly and took part in farming related events, offering to design scientific dairy farms. However soon they realised that supporting the farmer at the farm was a labour-intensive task.
Dairy farms wake up very early in the morning. If a cable snaps at 5 am while milk collection is in process, that would disrupt the entire process. Taking care of such problems in every farm would require an entire army of technicians. This was when the startup decided to ride on the well-established network of private dairy companies, some of which own captive farms. "These dairy companies have set up very good networks with the farms over the past 60 years. That's not something which we can overnight duplicate. These networks have an amplifying effect and works better than going to individual farms to sell the technology. So, we thought we'd use the farms both as a delivery and a recovery channel," says Mukundan who feels the approach has helped the company to expand faster.
Stellapps, which has around 50 customers, has almost all the dairies in the south including Milma, Aavin, Nandini, Tirumala, Heritage, Kolar-Chikkaballapura District Co-operative Milk Producers Union, Bangalore Urban, Rural & Ramanagara District Co-Operative Milk Producers Societies Union, and Hatsun Agro.
No more dry spells
Stellapps' real-time monitoring acts as a game-changer, addressing one of the biggest problems faced by dairy farmers — long dry periods or the non-lactating period. While this is around 30-60 days in the US, Europe and Israel, it is as long as six months in India since the farmer misses out on 4-5 cycles of the cow. Typically, there is a 4-6 hours window when the cow's ovulation activity is at its peak during its 21-day cycle, thus increasing chances of pregnancy through artificial insemination. But the farmer might not be able to identify it or might be away during this time, thus missing out on it. The cow doesn't lactate without calving and this period is known as dry period. The cow eats continuously during dry periods and this becomes an additional cost for the farmer.
The wearables, which are now in Beta stage, are capable of tracking the activity levels of the animal during its ovulation cycle and sends notifications automatically to the paravet who can carry out the artificial insemination at the right time. The device can also detect other health issues such as lameness, an abnormality that affects a cow's gait, or even stress at a sub-clinical level and helps take preventive measures.
Mahindra Gautam, who has an organic coffee plantation and a dairy farm in Coorg, thanks Stellapps for converting his dairy farm into a profitable business. About three years back he started using Stellapps' solutions and since then things have changed dramatically. "We were losing money every year in the dairy business. I used to actually budget for a Rs.15 lakh loss every year, but now I'm looking at a profit of around Rs.1 crore in the coming year," says Gautam who is presently using the milking, monitoring and processing solutions. The health of the cows has improved significantly and the yield, which was erratic earlier, has become consistent and higher now. "Earlier we were getting 1-2 litres a day per milking cow, but now the minimum yield is four litres per cow and it goes up to eight litres per cow at times," says Gautam, who owns 24 milking cows and plans to expand to 100 in the coming years.
On the increase in efficiency levels, Shiroor explains. "Efficiency is measured in different ways in dairy companies — one is through shelf life of the milk." In normal cases, milk which remains fresh for around six hours since the time of milking, will have only 45 minutes to one hour shelf life left by the time it reaches the processing centre. According to Shiroor, this has gone up to three hours owing to significant improvement in the milk quality. Second way of measuring is by assessing how much water farmers add to milk. "Traditionally they used to add 10% water. Now we are able to show that it has almost stopped in the areas where our solution is deployed. Farmers feel they are getting fair price, in fact if they add water they will lose money," says Shiroor. According to him, this saves expenses for the dairy company which earlier had to process not just milk, but also the additional 10% water, say one lakh litres of water for every 10 lakh litres of milk. "Now they don't need to transport, cool, evaporate and process 11 lakh litres, but only 10 lakh litres which is pure milk. That saves resources and expenses," Shiroor explains.
Additional cost savings are obtained through automatic monitoring and managing processes, which reduce the need for manpower. Automatic alerts are generated if something goes wrong, allowing the person in charge to tend only to that instead of having to visit multiple centres a day and ensuring their functioning. According to Stellapps, companies which had to hire one person for every 20 collection centre now require only one person for every 60 units. A large portion of these cost benefits are passed on to the farmer who earlier used to earn Rs.22 a litre of milk on an average, but now gets Rs.2-3 more per litre.
Ashok D, managing director of Vijayapura Milk Union, a part of KMF which is Asia's second largest cooperative, installed Stellapps solution at all of its 25 bulk milk coolers (BMC) 10 months back, spending Rs.94,000 per unit for installation and equipment charges. But he has been witnessing remarkable results since then and expects to recover the costs in a year. "Earlier for chilling of milk we used to give incentives like electricity expenses, diesel costs etc. to concerned societies who sometimes showed inflated bills to us. Sometimes they would say there was no power supply and the process was run on generator set. This made our chilling costs as high as 45-65 paise per litre," says Ashok. Stellapps shows details like how long the BMCs has been running, how many hours it has run on electricity, what is the average cost of chilling for a month and so on. This brought down the chilling costs to 10-20 paise per litre for the union. "With Stellapps we are saving a lot of money on inspection and chilling costs, manpower and this helps us to pay the local resource person better," says Ashok.
Stellapps follows a capex plus opex revenue model where the customer will be initially charged some amount during the installation process and then on a monthly basis, depending on the quantity of milk produced. On an average, it draws Rs.2-4 crore from large customers, Rs.20 lakh-Rs.1 crore from medium customers and less than Rs.20 lakh from small customers.
Milk procurement solution used at the collection centres has been the biggest revenue earner, bringing in around 70% of the revenue. The solution helps measure the quality of milk, ensures that the farmer gets the right rate for the right quality and assures the dairy company of no leakage. The cold chain system, which helps to increase the shelf life, brings in around 20% of revenue, while the remaining 10% is contributed by products deployed in farms. Stellapps saw a revenue of nearly Rs.20 crore in FY17 with a 300-400% year on year growth and aims to touch over Rs.60 crore in FY18.
The milky way
The company, which started of with an initial investment of Rs.30 lakh, later got seed funded in 2012 by the IIT Madras incubation cell. Subsequently, it was backed by Omnivore Partners in 2013 and then later in a series-A round in July 2017 when investors like Binny Bansal, Venture Highway and Blume Ventures came on board. The founders are presently in talks with a bunch of investors for a larger round of funding.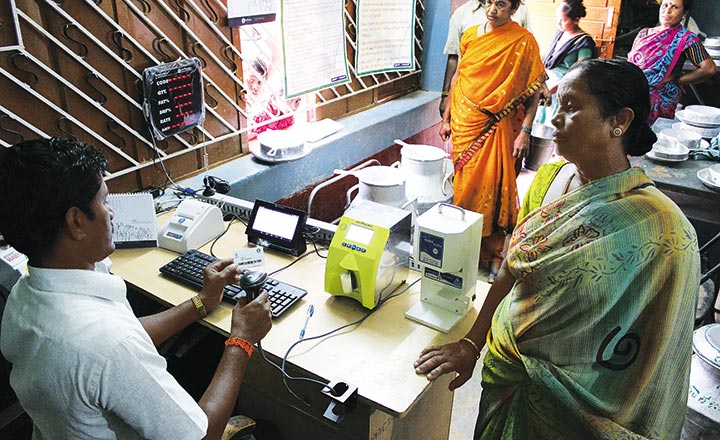 "What Stellapps has done is not something that is reversible or easily substitutable — they have built technology end-to-end and are working with some of the biggest milk aggregators," says Karthik Reddy, managing partner, Blume Ventures. The amount of data points that Stellapps collate, allow further efficiencies to be built in, he feels. "We think there is a 10x growth opportunity for them if not bigger in India in the short term," adds Reddy.
With a strong presence in the south the company is now planning to focus towards the north. A few overseas locations are being considered by the team also which has been working with some customers abroad. "We are the technology partner of a customer in Netherlands who has farms in Kenya and plans to start more farms in places like Vietnam, Cambodia, among others" says Shiroor. The team is considering expanding to markets such as France, Africa and South East Asia over the next three years.
With around 6.5% of the GDP being contributed by milk business, the Stellapps team knows it's a massive opportunity that is lying ahead of them. Getting good talent who are ready to work in the rural areas and convincing companies which rely on intuitive decisions rather than data-driven ones, though, are some of the other challenges. But the team takes in it in its stride and dreams of a time when the dairy industry would just need a Stellapps accreditation to tell the world that their milk is safe.