When private equity firm Westbridge Capital's Sumir Chadha decided to pick up 11% stake in Mayur Uniquoters back in 2014, he must have been confident. This artificial leather producer had scaled up well and was becoming a reliable supplier owing to its large capacity. In fact, its sales had crossed the Rs.400 crore mark in FY14 with a capacity of 30 million metres per annum.
After forging strong relationships with leading domestic OEMs and footwear manufacturers, the company started to work with global OEMs. Export contribution had increased from 11% in FY09 to 21% in FY14. Thanks to these tie-ups, the company's exports had grown at 54% CAGR over FY09-14.
Its RoCE stood at an impressive 50.84% in FY14 against 30.64% in FY09, owing to better asset utilisation and improvement in margins. The margins expanded 840 basis points from 9.97% to 18.37% over FY09-14.
At that point, the promoter was looking for capital to set up a polyurethane plant (PU). Seeing the absence of domestic supplier of PU-based synthetic leather and how Indian players had to import everything from China, Chadha felt Mayur presented a perfect investment opportunity.
So, Westbridge through its Jwalamukhi Investment Holdings first bought a 4% stake worth Rs.80 crore at Rs.462 a share from bulk and block deals on BSE. Westbridge also entered a definitive agreement with the company to invest another Rs.70 crore through a preferential allotment later. In May 2015, the convertible participating preference shares were converted into equity at Rs.236 per share, taking the stake of Westbridge Capital to 11%. On September 7, 2017, Jwalamukhi Investment Holdings sold bulk of its holdings and Westbridge Crossover Fund fully exited their positions in Mayur. Both the Chadha-controlled entities exited at Rs.360 per share. While Westbridge Crossover exited with a profit of Rs.37 crore, thanks to the discounted conversion price, Jwalamukhi Investment Holdings' partial exit was at a loss of Rs.18 crore. The end result was a paltry profit of Rs.19 crore.
After waiting for two years, Chadha made 12% return on his original investments. He has since brought down his 11% stake to 0.12%. And, he had his reasons. Over the past two years, Mayur's revenue remained stagnant. In fact, the revenue saw a marginal decline of around 2%, on an average, over FY15-17, pulled back by the decline in the footwear business and lower pricing due to pass-on of lower crude price. However the saving grace for the company was the fact that net profit growth during the period was much higher at 10.6% CAGR from Rs.66 crore to Rs.81 crore as operating margins expanded thanks to higher contribution of auto sales and lower input costs. About 80% of the raw material is derived from crude. Hence a softening of crude prices, saw margins expanding from 19% to 26%.
However, on the same day that Chadha decided to cut down his exposure, new buyers entered the stock. L&T AMC and Kotak AMC bought bulk of the shares disposed by Chadha, coughing up Rs.72 crore and Rs.63 crore. Post the transaction, L&T AMC held 4.3% stake and Kotak AMC held 3.9% stake. So what is piquing the interest of new investors in this artificial leather producer? Fund managers are betting on the volumes reviving given Mayur's superior quality and the company doing well in the export market.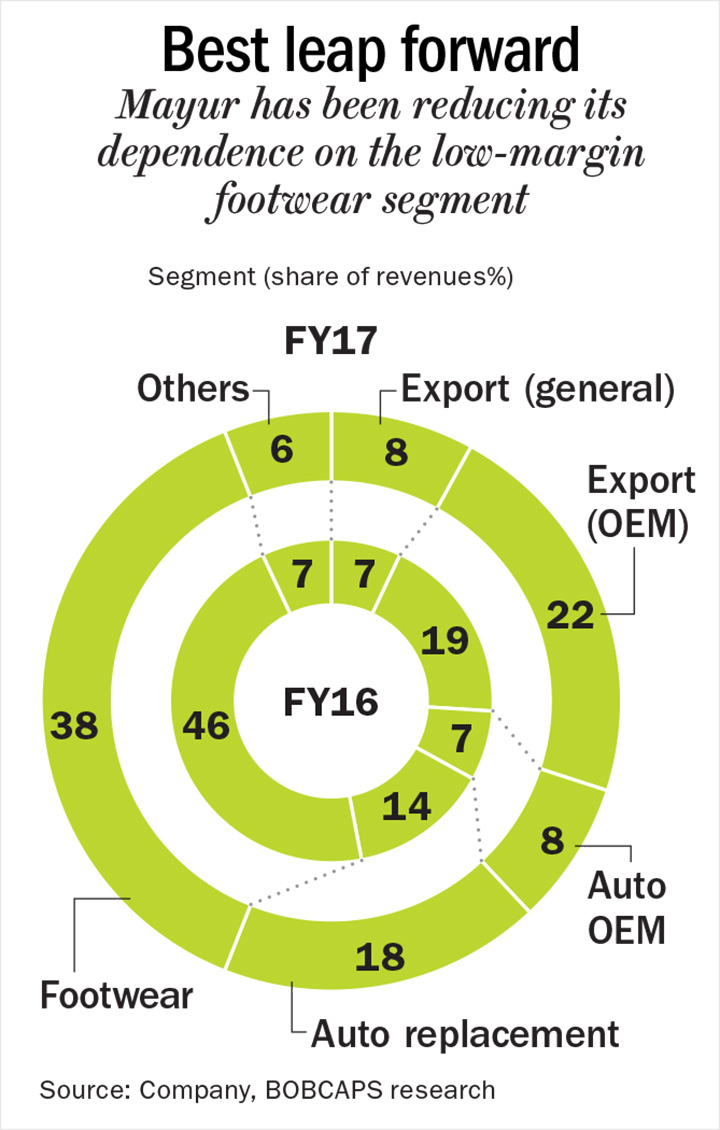 What comes next?
Mayur is the largest synthetic leather manufacturer in the country. Synthetic leather, also known as artificial leather, is made by coating polyvinyl chloride (PVC) on fabric. It's used to make footwear, accessories such as bags and purses, furnishings and car upholstery. Footwear is the company's largest revenue contributor bringing 38% of the overall revenue (see: Best leap forward). While exports to auto OEMs account for 22% of revenue, general exports and domestic auto segments (both OEMs and replacement market) contribute 34%. The balance 6% comes from furnishing, bags and garments. The company's PVC leather is used for seats, door panels, head and arm rests, steering wheel, gear covers and dash board in the automotive industry. Around 90% of its revenue comes from organised players. The company's major clients include VKC, Bata, Paragon, Relaxo, Maruti Suzuki, Tata Motors, Hero Motorcorp and Mahindra & Mahindra. Mayur has a capacity to produce 3 million linear metres per month and operating at an utilisation of 85%.
India is the second-largest manufacturer of footwear in the world, after China, producing 2.1 billion pairs annually. About 65% of it meets the domestic consumption while the rest is exported. However, according to the company, the contribution from the footwear business has been declining owing to supplier diversification. Over the past two years, the company has been focusing on increasing the contribution from the auto segment (both replacement and exports) where the margins are higher. And what's more, these segments are likely to drive the company's growth in the next one year. "We expect a revenue growth of 10-12% in FY18 driven by higher exports and increased demand from auto OEMs," says Suresh Poddar, chairman and managing director, Mayur Uniquoters. He even expects demand from the footwear business to recover when the effects of demonetisation and GST fade away. So, the company is realigning itself and investing in additional capacities, to ensure it meets the increasing demand in the coming days.
For starters, Mayur is opening a new unit in Mysore, Karnataka. "Mayur's customers, whether it is Bata, VKC or Paragon, have large manufacturing presence in South India. Having a unit closer to its clients will help Mayur capture the demand better," says Deepesh Kashyap, analyst at Equirus. "Customers can plan their inventory more efficiently in near-real time instead of keeping the stock for longer days," Kashyap says. "The Mysore plant will also help Mayur save 15-20% on logistics costs," adds Pulakit Suryakar, analyst at Karvy. According to Poddar, 90% of Mayur's footwear customers are within four hours of distance from Mysore.
Mayur plans to add another unit six months later. The capacity of both these two units will be 5 lakh to 6 lakh metres per month. The management expects over 20% incremental growth from these two lines as it expects addition of new customers in the south.
Meanwhile, the PU unit, for which Chadha gave the capital back in 2014, is set to begin construction at Gwalior. The plant would be commissioned in 15-18 months after construction is expected to begin in October. The company will be incurring a capex of around Rs.100 crore.
Preference for PU leather is also on the rise given its distinct touch and feel. Its realisation is also typically 15-20% higher than PVC (polyvinyl chloride) ones. However, the company will be selling less thick PU-based products initially which will be priced at par with PVC products. "Realisation will go up once the product is accepted by the industry and the company starts producing superior products," says Kashyap.
The foray into PU leather would help the company cater to the premium segment of the domestic market which currently relies on imports. Demand for PU leather is also expected to increase in India with the entry of many international brands that use the material in products such as footwear, garments, ladies purses and bags.
If Poddar is to be believed, there are already inquiries for the PU leather that Mayur will be producing. "Our clients have assured us that they will start buying from us when we start manufacturing PU products. They don't want to import from China as the supply is unreliable; they have to stock at least 90-days' inventory which is not feasible in the fashion industry where trends are fleeting. To add to this, if the quality has some flaws, you may not be able to access the supplier who is sitting in China," Poddar adds. Currently, about 10 million metres of PU leather is being imported from China and the company is confident that given the quality, it can replace the imports once it starts production.
In an industry that is fragmented, Mayur stands out for its capacities to offer reliable and quality supply to its clients. "As and when the demand shifts towards PU artificial leather Mayur can scale up its PU capacity. But the shift in demand will take some time," says Suryakar.
The export market is another avenue that can drive the company's topline (see: New frontiers) Mayur is the only Indian manufacturer selling its products to Ford and Chrysler in the US. The realisation from exporting to OEMs is typically twice that of domestic market and ranges from Rs.250-Rs.600 per metre, says Poddar. The share of exports in overall revenue has gone up from 24% in FY14 to 30% in FY17. In Q1FY18, export to OEMs grew 20% on a YoY basis. "To get orders from the US, we signed a contract with a commission agent. In 2012, we also recruited a technician from the US who had 20 years of experience in a US-based leather cloth company that supplied 90% of its material to OEMs. He helped us manufacture products that meet the quality standards of the US market," points out Poddar. In FY16, the company incorporated a fully owned subsidiary, Mayur Uniquoters Corp in the US to remain closer to its global OEM clients and increase its overseas presence.
After getting orders from the US, the company strengthened its laboratory — investing Rs.4 crore for the upgradation — to test its materials. "Earlier, we used to send our materials to Germany or the US for testing. Now, we are able to test 95% of our products in-house. One test would then cost us couple of lakh. We are now able to save money as well as time," explains Poddar.
Mayur faced the problem of sourcing fabric for the US market as fabric specifications were different. So, four years back, the management decided to go for backward integration. Poddar says, "We decided to make circular knitted fabrics ourselves. It cost Rs.40 crore to set up the unit. Today, we have got 35 knitting machines from Germany and Japan to make these fabrics."
Mayur is yet to penetrate the European market, but that can change pretty soon as the company is in advanced talks with German auto giant Mercedes to supply synthetic leather for the cars' interior. Mercedes did its first audit in March 2017 and will be doing the second one in November. If all goes well, Mayur could start supplying to Mercedes by Q1FY19.
According to analysts, once Mercedes comes aboard, other European OEMs may follow suit. "It would be easier for Mayur to convince other OEMs to switch to its products, as it can cite supply to Mercedes as a proof of its superior quality and reliability," says an analyst.
Back on track
In Q1FY18, footwear business which was hurt by demonetisation showed signs of revival. The business was up 22% on a QoQ basis even though it was down 3% YoY. The footwear segment had also seen tepid growth in the run-up to GST. The month of April and May were good for the segment. However, after May 15 (ahead of GST), the overall requirement of footwear manufacturers declined as traders tried reducing their stock. But 10 days after GST came into force Mayur saw an increase in demand.
Analysts believe that GST had a positive and beneficial impact on players such as Mayur. "Earlier, branded players would give orders to unorganised players who could offer lower prices as they didn't pay any taxes. Now that everyone has to pay tax, unorganised players won't be able to quote lower prices," says an analyst with a Mumbai-based brokerage.
Rising exports have also led to a rise in working capital requirements. The working capital cycle days have gone up from 53 days at the end of FY14 to 115 days by FY17. However, the company hopes to control its working capital cycle going ahead. "We have been keeping a stock of Rs.35 crore-Rs.40 crore worth of goods in our US subsidiary for just-in-time requirements of OEM players in the US market. Therefore, our working capital has increased as compared with FY16. However, going ahead, the working capital will be the same or it will reduce from current levels," says Gumanmal Jain, chief financial officer at Mayur Uniquoters.
Post the new units, Mayur's capacity will ramp up to 4.5 million linear metres per month. The company will be incurring capex of Rs.150 crore for the new plants. "We will be funding most of the capex requirements from our internal accruals. However, for machinery available under Technology Upgradation Fund Scheme, we will be borrowing Rs.20 crore-Rs.30 crore from the bank," says Jain. In FY17, the company generated free cash flow of Rs.76 crore.
In view of the increased capex, the return on capital employed is expected to inch slightly lower from 31% at the end of FY17 to 29% by FY19. Even while Mayur is in an expansion phase, the company remains net debt free. Total debt as of FY17 stood at Rs.12 crore with debt to equity at 0.03x. The company is comfortably able to repay debt as per the schedule owing to low cost of funds under TUFS.
Going ahead, analysts estimate that the company would report topline growth of 12.5% CAGR over FY17-19 and profit to grow at 13.6% CAGR over the same period. The volumes are expected to improve 9.4% CAGR from 23.9 million metres to 28.6 million metres, while net realisation is expected to improve to Rs.216/metre from Rs.200/metre.
Mayur seems poised to emerge stronger from the past two years of growth slowdown with a strong RoCE and margin profile. The company's margins are expected to improve from 26% in FY17 to 29% in FY19 thanks to, higher realisation from exports, its backward integration initiatives and increasing contribution from PU products. With synthetic leather being nearly 70% cheaper than pure leather, the demand for it is only set to increase in the coming years from the automotive, footwear, fashion and home furnishing industries. From its high of Rs.514 in April 2015 the stock has corrected around 25% against a benchmark gain of 11% during the same period. However, with other fundamentals largely remaining unchanged and valuation of 16x FY19 earnings much lower than its three-year average of 21x, the stock presents a good opportunity for investors as the company enters a new phase in its growth story.